Fortunately, in Ubuntu 20.04 there are a handful of RSS Feed Readers. Today we are going to talk about a very good client that is perhaps considered one of the best. And since Ubuntu 20.04 is one of the most popular systems out there, it is possible to install it without any problems. In this post, we will talk about how to install QuiteRSS on Ubuntu 20.04.
QuiteRSS
According to the QuiteRSS website:
QuiteRSS is an open-source cross-platform RSS/Atom news feeds reader
This is an open-source feed reader that can be very useful to users, and it is also free and easy to use. All the user will need to do is to take the URL of the feed and add it to the program to receive the latest posts from their favorite sites.
Moreover, QuiteRSS is built with C++/QT so the integration with a Plasma desktop is almost total. The idea is to be Quite fast and comfortable for the user.
Some features of the application are:
Embedded browser (Webkit core)
Feed and news filters: new, unread, starred, deleted (for news until restart application)
User filters
Proxy configuration: automatic or manual
Feed import wizard: Search feed URL if site URL was entered
Adblock
Click to Flash
Mark news starred
Automatic update feeds: on startup, by timer
Automatic cleanup on close using criterias
Enable/Disable images in news preview
Also, we can import the list of feeds in OPML file format and add a lot of RSS feeds at the same time.
Install QuiteRSS on Ubuntu 20.04
QuiteRSS is available in the official repositories of Ubuntu 20.04 so the installation should be very easy to do.
To do this, open the terminal or from the main menu or by pressing the CTRL + ALT + T keys and update the distribution:
sudo apt update
sudo apt upgrade
After that, you can install QuiteRSS by running the following command:
sudo apt install quiterss
After you enter your password, the download and installation will start.
When finished, you can run the application from the main menu.
Optional: Install QuiteRSS from the official PPA
Although the version available from the official repositories is not so obsolete, it is not the latest version available. If you want to have it, it is quite easy, just add it.
sudo add-apt-repository ppa:quiterss/quiterss
Then, refresh APT
sudo apt update
And finally, install or update QuiteRSS by running:
sudo apt install quiterss
This way we can always have the latest stable version of the application and to update it just do it together with the system.
Using QuiteRSS
Once you have run the application, you will see the following screen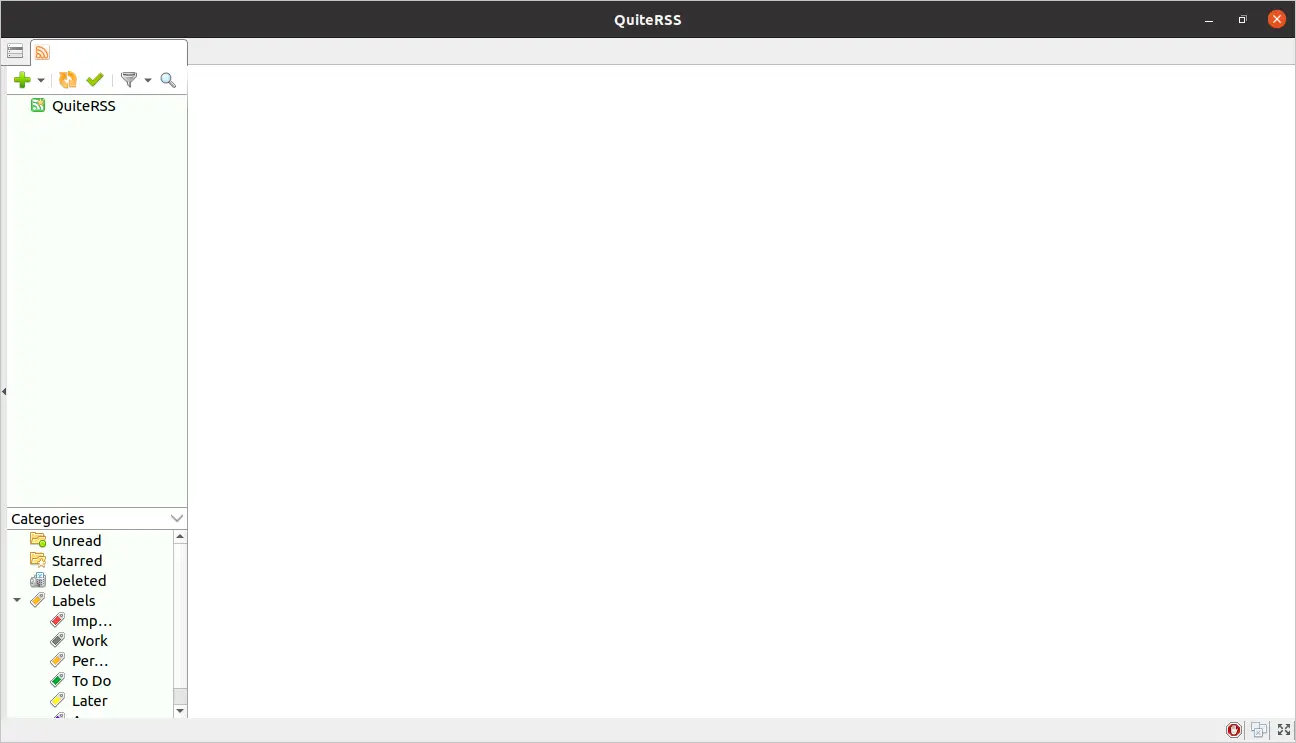 In it, you have the main graphical interface of the application. As you can see it is quite simple, on the left side the list of subscriptions, and on the right panel the list of entries.
Adding a new RSS entry is quite simple, just click on the green + button and you will see this screen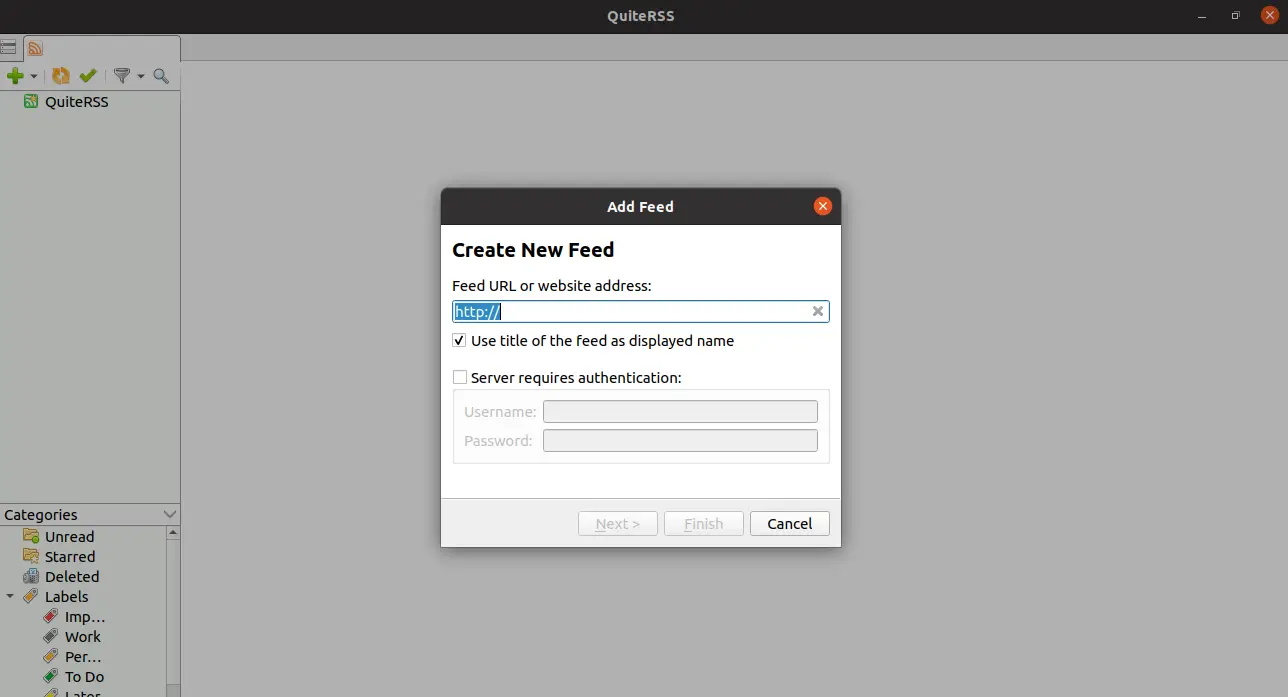 In it, you only have to add the URL address of the Feed you want to subscribe to. If the server requires a username and password, you can also add it.
When the Feed is loaded, you will see how in the program interface you will find all the entries.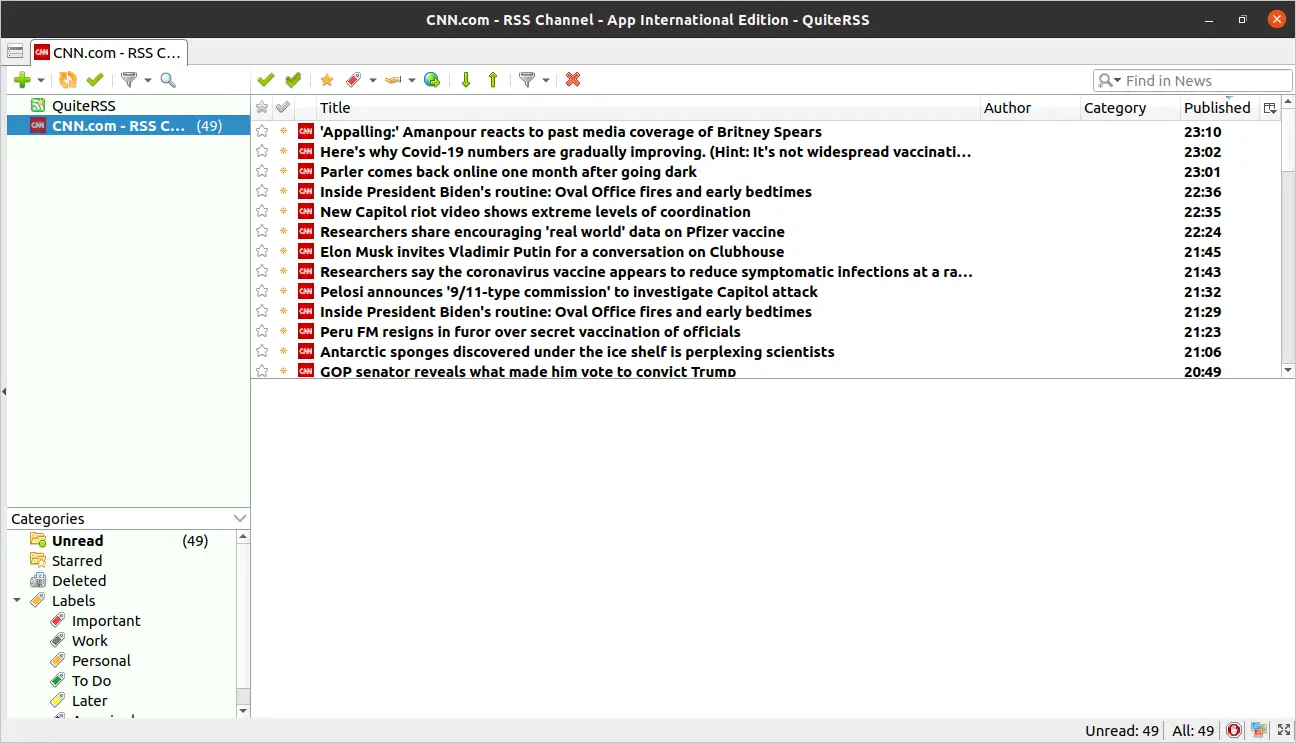 One of the best things about QuiteRSS is that it has a built-in browser so double-clicking on the entry in the bottom panel will load the news.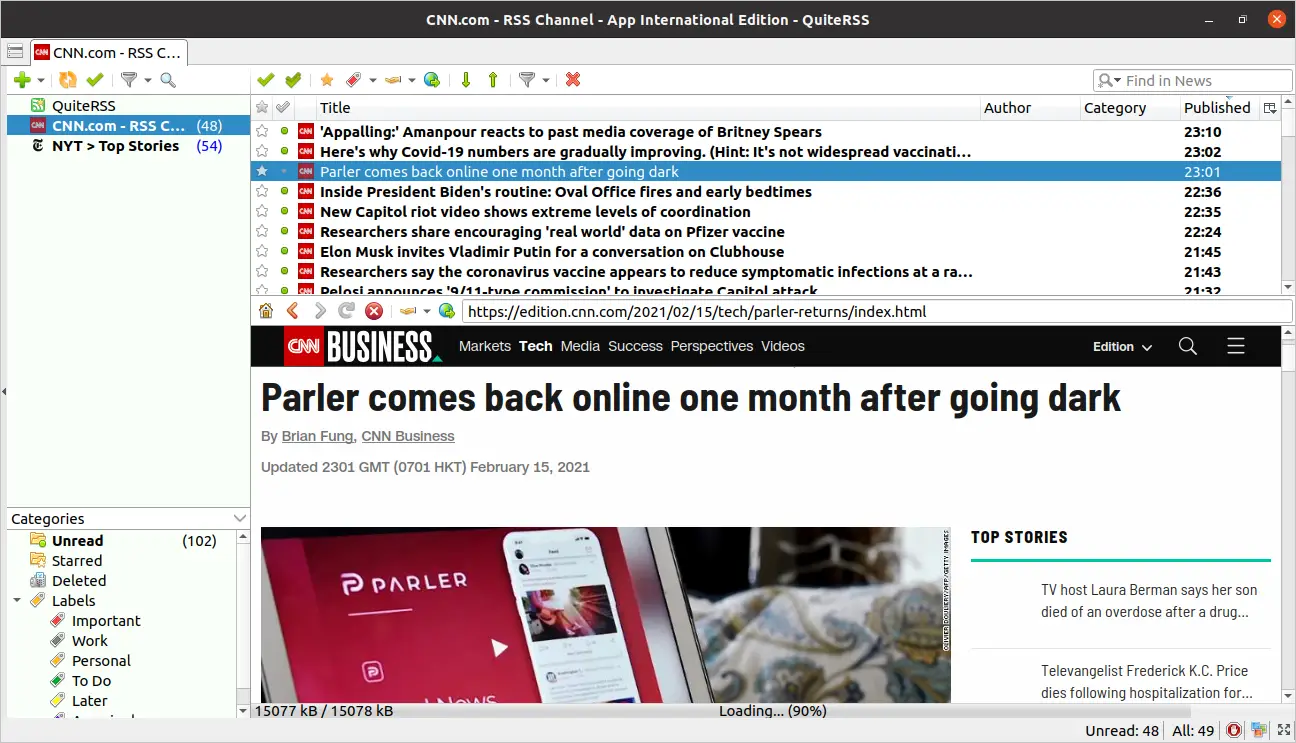 Something quite useful.
Another aspect that is necessary to highlight is that QuiteRSS has a preferences window that you can deploy from the main menu.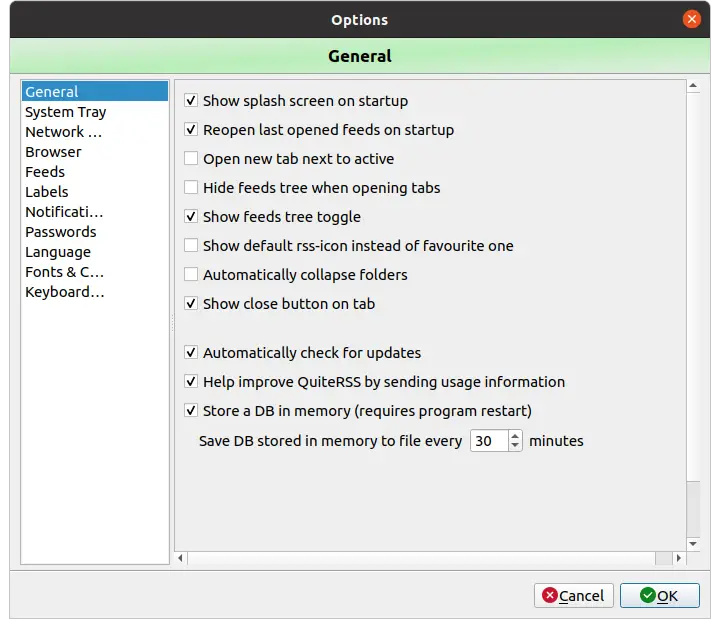 There you can configure many aspects of the application.
Removing QuiteRSS on Ubuntu 20.04
If you no longer wish to have QuiteRSS on your system, it would be best to uninstall it completely. This can be done very easily.
Open a terminal again and run:
sudo apt remove quiterss
If you have added the QuiteRSS PPA it is best to remove it to avoid possible problems.
sudo add-apt-repository - remove ppa:quiterss/quiterss
This way you will not have any trace of the application.
Conclusion
QuiteRSS wants to dethrone Akregator in the field of RSS Feed Readers on QT and the truth is that it has to do it because it is fairly simple to use, powerful, and easy to install the application. If you are still one of those who use RSS Feed then you will like this application.
What do you think about QuiteRSS? Do you like it? Have you used it? Please share this post.