If there is something that differentiates Linux from Windows and macOS is the great ability to customize it. When we talk about customization, we are not only referring to "hacking" the system completely but also to the appearance of the system. This appearance has been criticized over many years and has created the computer legend that Linux is ugly. So today I will show you the best themes for KDE plasma. One of the best desktop environments for Linux.
What is KDE Plasma?
KDE is one of several desktop environments that we can install on Linux. Unlike GNOME it is made with QT technology, which makes it visually different from this environment.
On the other hand, KDE has always had the reputation of being a rather heavy desktop environment, but the truth is that in recent years its consumption and performance have improved. This is thanks to the migration to QML of another technology associated with QT.
Version 5 of KDE, has been known as Plasma. So both terms are often confused and understood as synonyms even if they are not.
By default, KDE Plasma is a pretty nice desktop environment. This is thanks to the Breeze theme that does a great job. However, one thing that characterizes KDE Plasma is that it is even more modular than GNOME. Therefore, we can customize it any way we want, through themes and other things.
Some of the features of KDE are as follows:
Based entirely on QT.
It was created to provide an easy to use user interface.
A modular graphical user interface that allows you to customize your entire environment.
All source code is open source.
It is one of the best-documented desktop environments.
It has a very active user and developer community that provides new themes.
So we are going to show you the best songs for KDE plasma.
Best KDE Plasma themes
KDE Plasma is quite modular, therefore, in this post, the themes have to be complete. Not only the color scheme but other elements.
Also, you have to take into account that these themes, although very nice, do not necessarily have to be liked. In the end, it depends on each one.
Let's start.
1. Adapta KDE theme
We started with a heavyweight for KDE. Adapta KDE is a port of the well-known GTK theme called Adapta.
With Adapta KDE we will have a dark theme, ideal for work. But it is a soft, elegant and sober dark theme.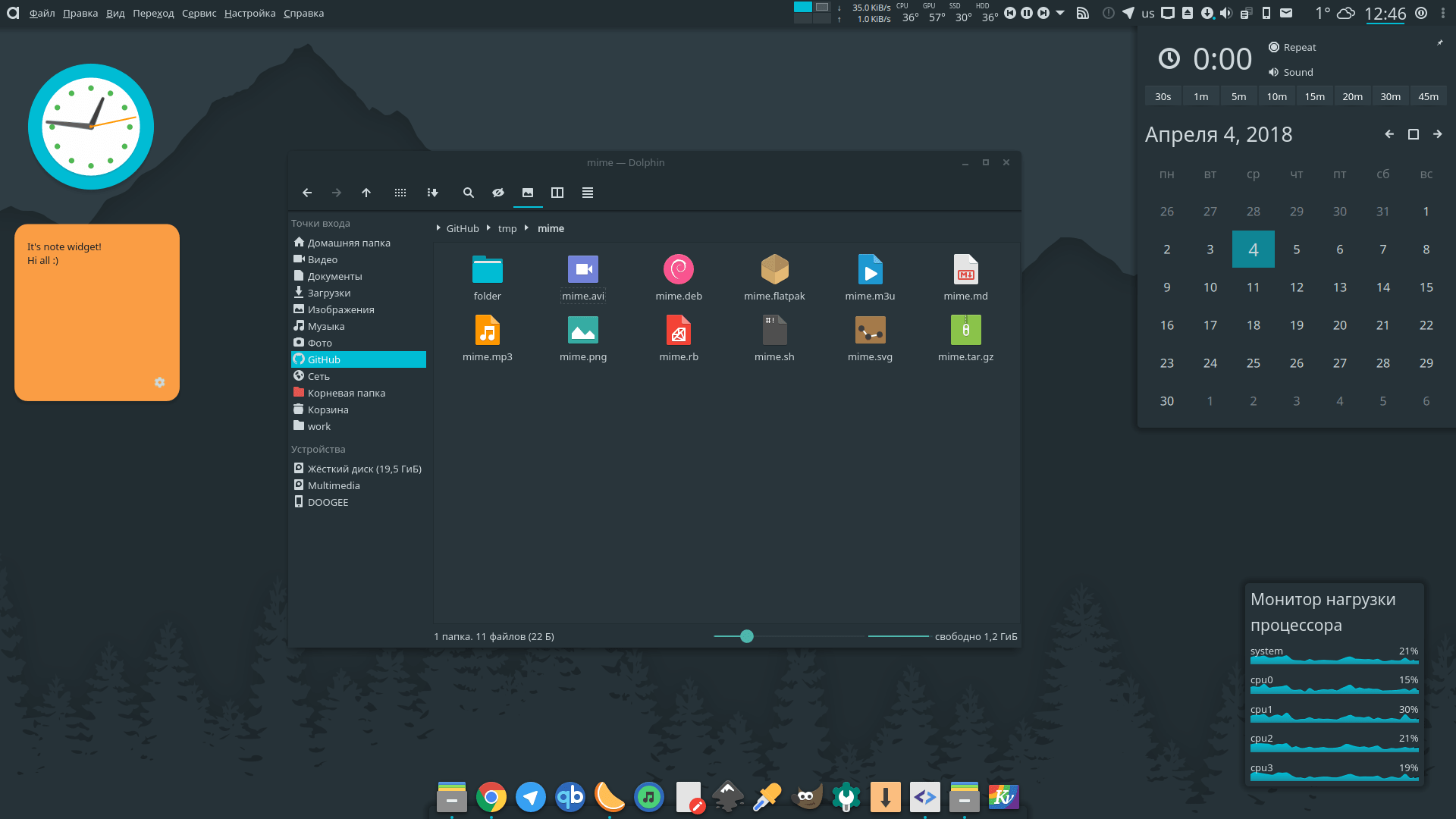 The installation of Adapta KDE is quite simple in Kubuntu or KDE Neon using a PPA. So open a terminal and run:
:~$ sudo add-apt-repository ppa:papirus/papirus
:~$ sudo apt-get update
:~$ sudo apt-get install --install-recommends adapta-kde
However, it is also possible to install this theme on any Linux distribution, thanks to an installation script.
:~$ wget -qO- https://raw.githubusercontent.com/PapirusDevelopmentTeam/adapta-kde/master/install.sh | sh
For more information, you can visit the Github website of the theme's developers.
2. Arc KDE Theme
Now I will introduce you to another great theme.
Arc KDE is an Arc Plasma adaptation for GNOME. This theme is also presented to us as dark but not as Adapta.
Thanks to Arc KDE your system will have an elegant and smooth theme that will make it look very modern.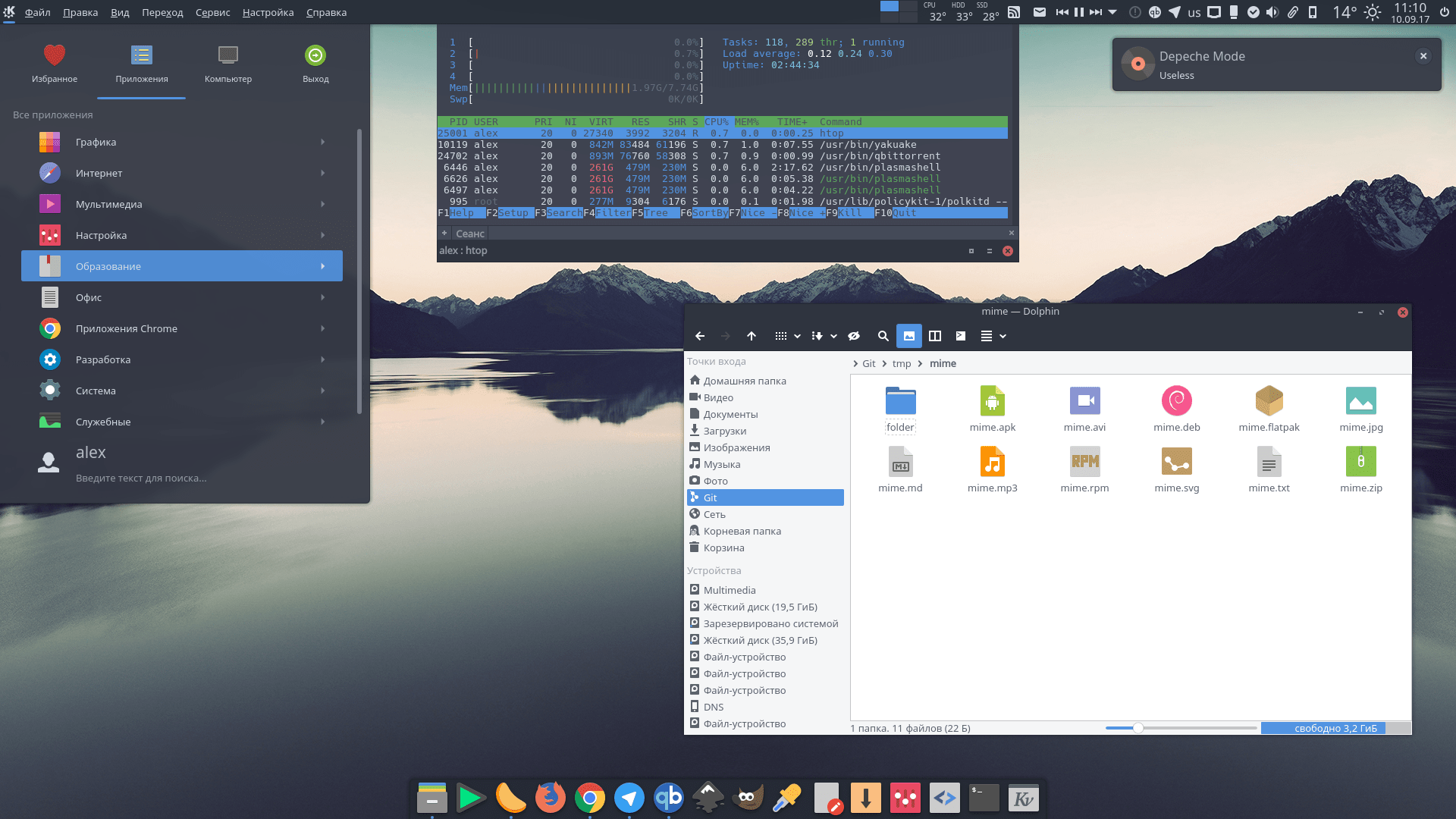 As with Adapta, there is a PPA dedicated to Kubuntu or KDE Neon. So you just have to run these commands:
:~$ sudo add-apt-repository ppa:papirus/papirus
:~$ sudo apt-get update
:~$ sudo apt-get install --install-recommends arc-kde
And for other distributions, you can use the following command:
:~$ wget -qO- https://raw.githubusercontent.com/PapirusDevelopmentTeam/arc-kde/master/install.sh | sh
This theme is developed by the same people as Adapta KDE. Therefore, the commands are similar.
3. Velours
We continue our list with another dark theme.
Velours is a theme for KDE plasma that is even darker than the previous ones. However, the elegance and comfort in using it make it one of the best and most accomplished.
It is inspired by the veteran Caledonian theme but giving it a personal touch to have its own personality.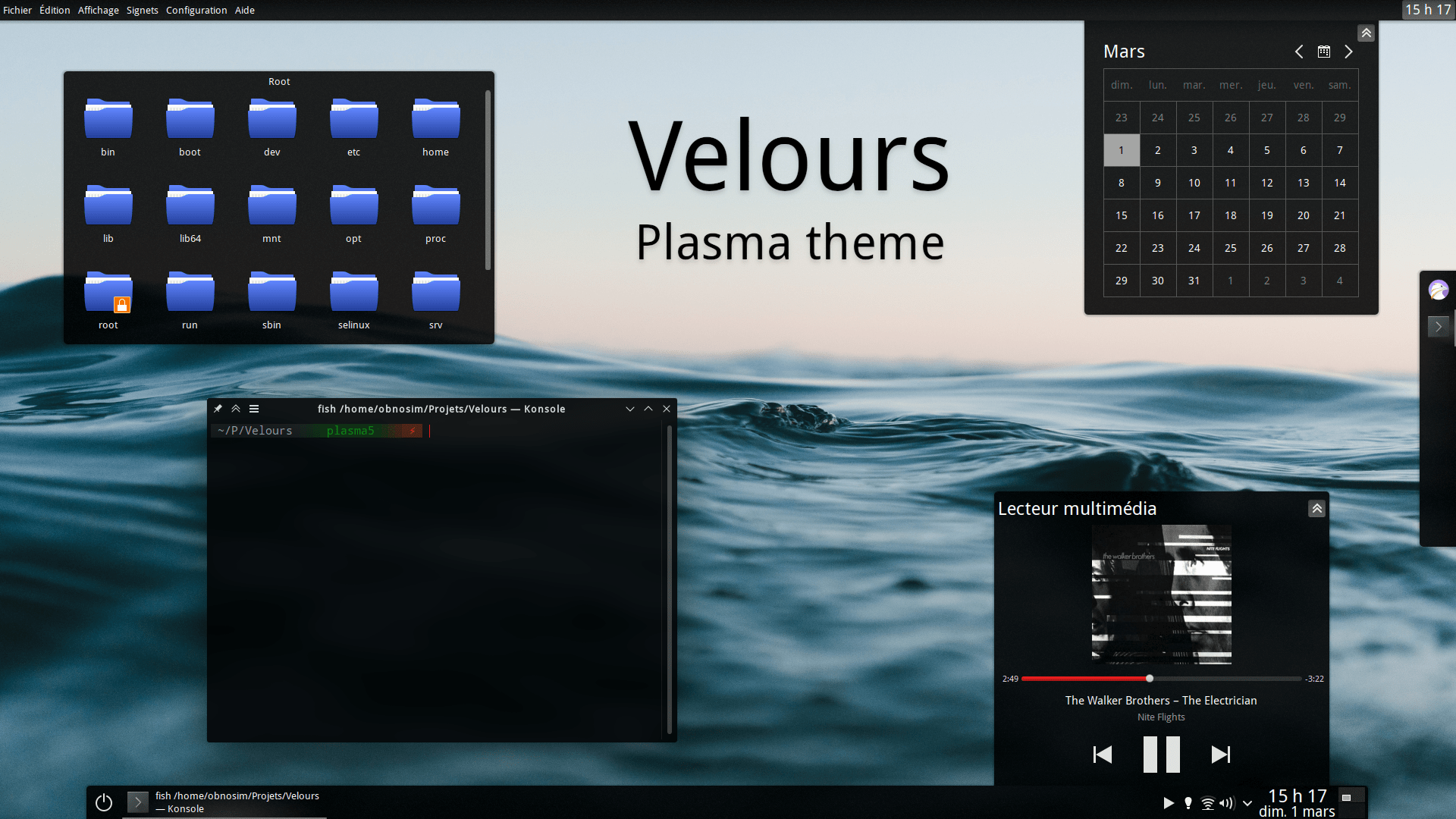 To install this theme, either clone this repository or extract a release in ~/.local/share/plasma/desktoptheme/ for a local user or globally in /usr/share/plasma/desktoptheme/ .
This KDE Plasma theme is hosted on Gitlab and if you want more information about it, you can visit the site.
4. Moe Theme
So far I have shown you dark themes, and this is because they are very fashionable. They make for a better sense to look at after a few hours on the computer.
Apart from this, in KDE Plasma there are many light themes quite good and Moe is the proof of that.
The best description of this theme is given by the same developer in KDE store, "Light theme, with blur transparencies and red tones with gradients".
All those features of Moe make it very nice, elegant and give a touch of modernity with a quite new color scheme. One of my favorites.
5. Vimix KDE Plasma theme
There are people who like dark themes but not so dark. For that kind of person, the Vimix theme is ideal.
Vimix is a theme for KDE Plasma based on the materia-kde theme that stands out for its soft tones. It also has several color styles to complement the theme. This adds even more versatility to the theme.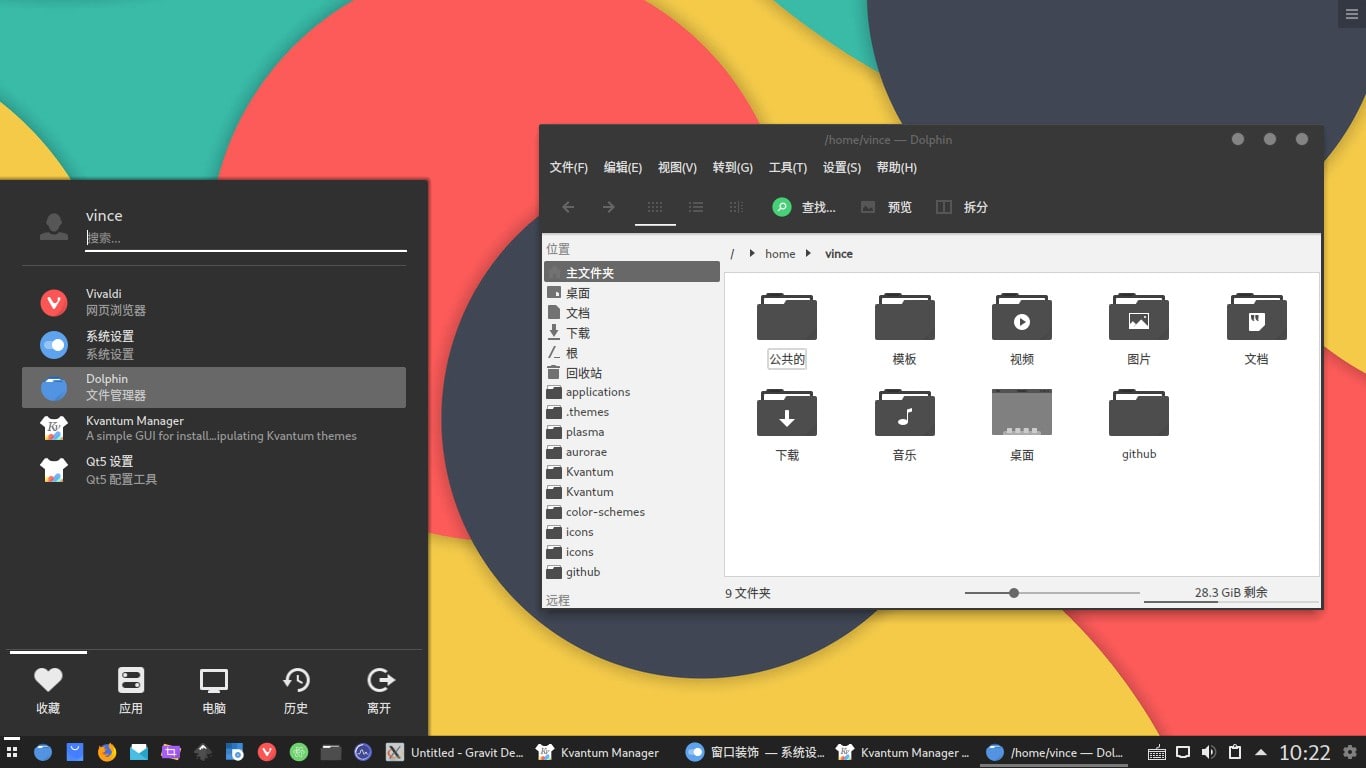 To install it, just clone the Github repository.
:~$ git clone https://github.com/vinceliuice/vimix-kde.git
And then inside the generated folder, run the installation script.
:~$ ./install
All very simple, really.
Conclusion
KDE Plasma is one of the few desktop environments that by default is almost perfect. However, everything can be improved and customized on Linux and especially on this desktop environment.
On the other hand, the variety is fun. There are many beautiful themes that make KDE Plamas change radically. So today you have seen a few that you can fall in love with.
Finally, remember that in KDE Store you have many more themes and it is up to you to choose the best one for you.
Tell us, did you know these songs? do you like them? which one do you use?