If I told you that there is a modern Linux application where you can have music, radio, and podcast in one place, would you believe me? Well, there is and it's called MusicPod.
MusicPod is a modern music player created with Flutter, in which you can not only play your local music, but also manage your podcasts and your internet radio.
It is created in Dart language and one of its most striking features is its comfortable, modern and elegant graphical interface in which you can navigate smoothly through the available options.
As expected, it is an open-source application and its source code is hosted on GitHub and you can always check it.
Finally, this application is under the umbrella of the Ubuntu Flutter community, who develop apps for Ubuntu using Flutter. So, its development should be active and with many improvements for the future.
Install MusicPod on Ubuntu
MusicPod is an application designed for Ubuntu. So, the main method of installation is to install it via Snap. On Ubuntu, Snap comes installed and configured by default, so you don't have to do too much.
Method 1: Install MusicPod using the terminal
If you prefer the terminal because it is a quick and direct method, you can open one from the main menu or by pressing the CTRL + ALT + T keys.
Once the terminal is loaded, you can execute the following command
sudo snap install musicpod
In this quick and easy way, you will be able to install it on your system. All you have to do is start it from the main menu.
Method 2: Using the Ubuntu Software Center
The Ubuntu application store is one of the largest on Linux. As you can imagine, MusicPod is present in it as well. So if you don't like the terminal too much, and you want to do the installation from a comfortable graphical interface, this method is for you.
First, open the Ubuntu Software Center from the main menu of the distribution.
Then in the search field you can type MusicPod and you will notice that you will get only one result. Better.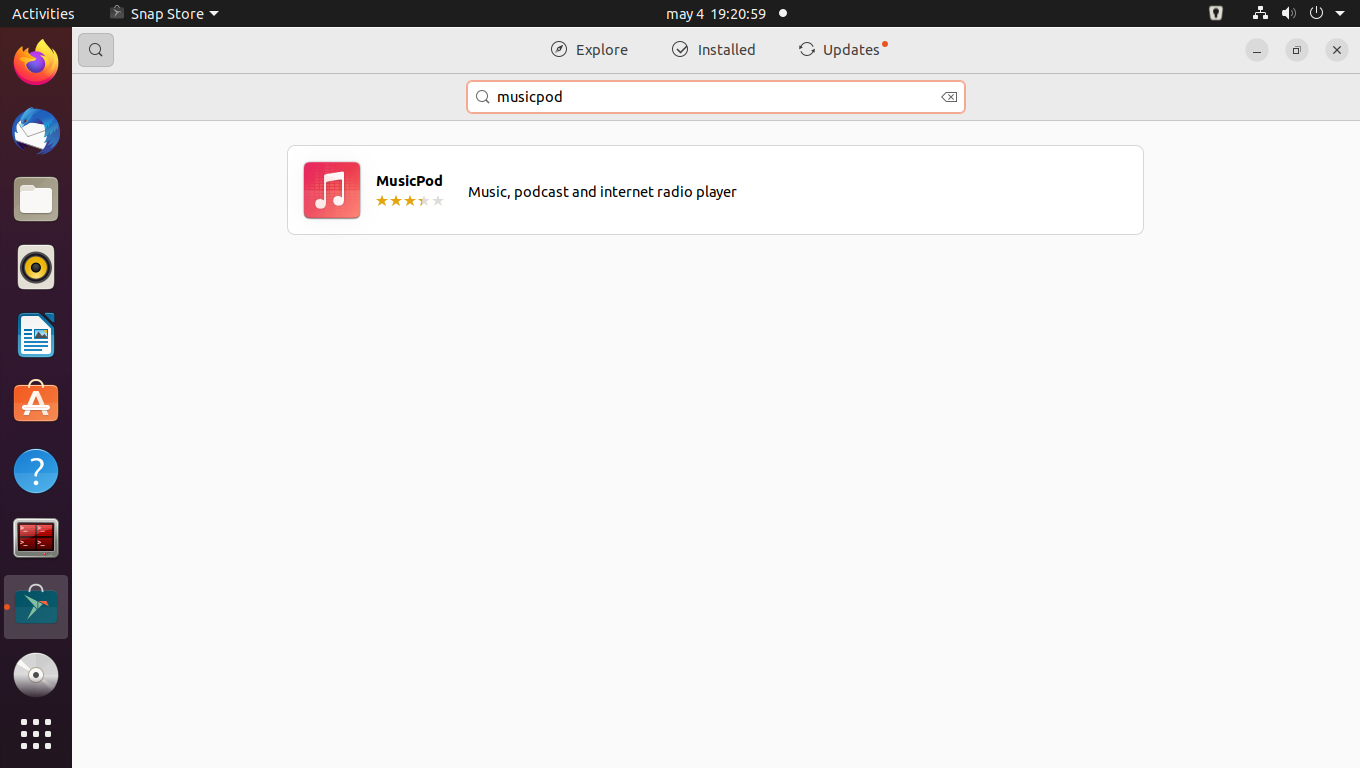 Click on the result, to get additional information about the MusicPod package.
A window with all the information about the package will be displayed. To start the installation, you can click on Install and after entering the password, the download will start.
You can also start it from the main menu.
The MusicPod interface
As I said, the interface of MusicPod is quite nice to look at. The elements are well-placed, and you can't get lost, really.
On the left side, you can access the radio and the podcasts you have. As you can see, everything is very well-thought-out.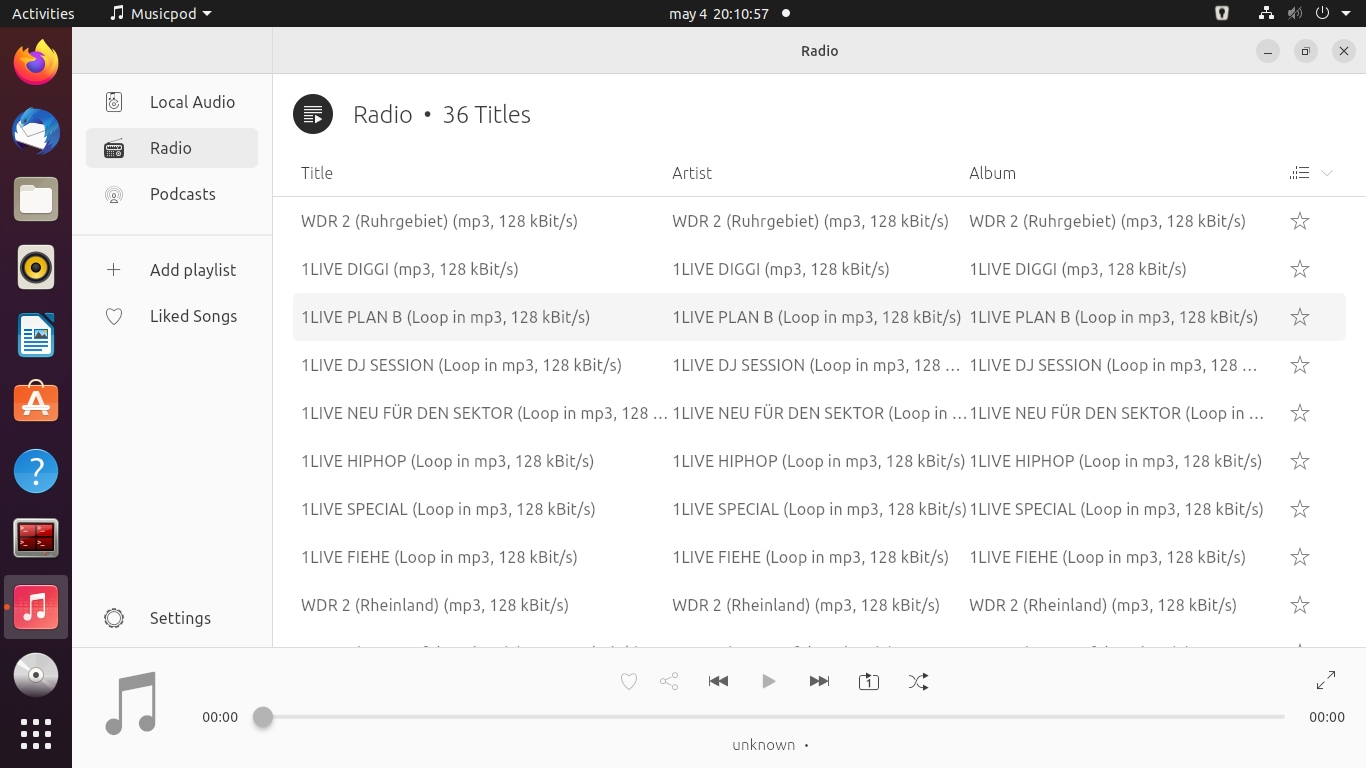 From the options of the tool, you can add your library, without many problems.
Uninstall MusicPod on Ubuntu
So, according to the chosen method, you can easily remove MusicPod from the system.
In the case of method 1, you can go back to the terminal to run
sudo snap remove musicpod
But if you have installed MusicPod using the Ubuntu Software Center, then you can open it again.
Then, search in the search field for MusicPod and click again on the result, but this time a Remove button will appear in red color that you will have to press.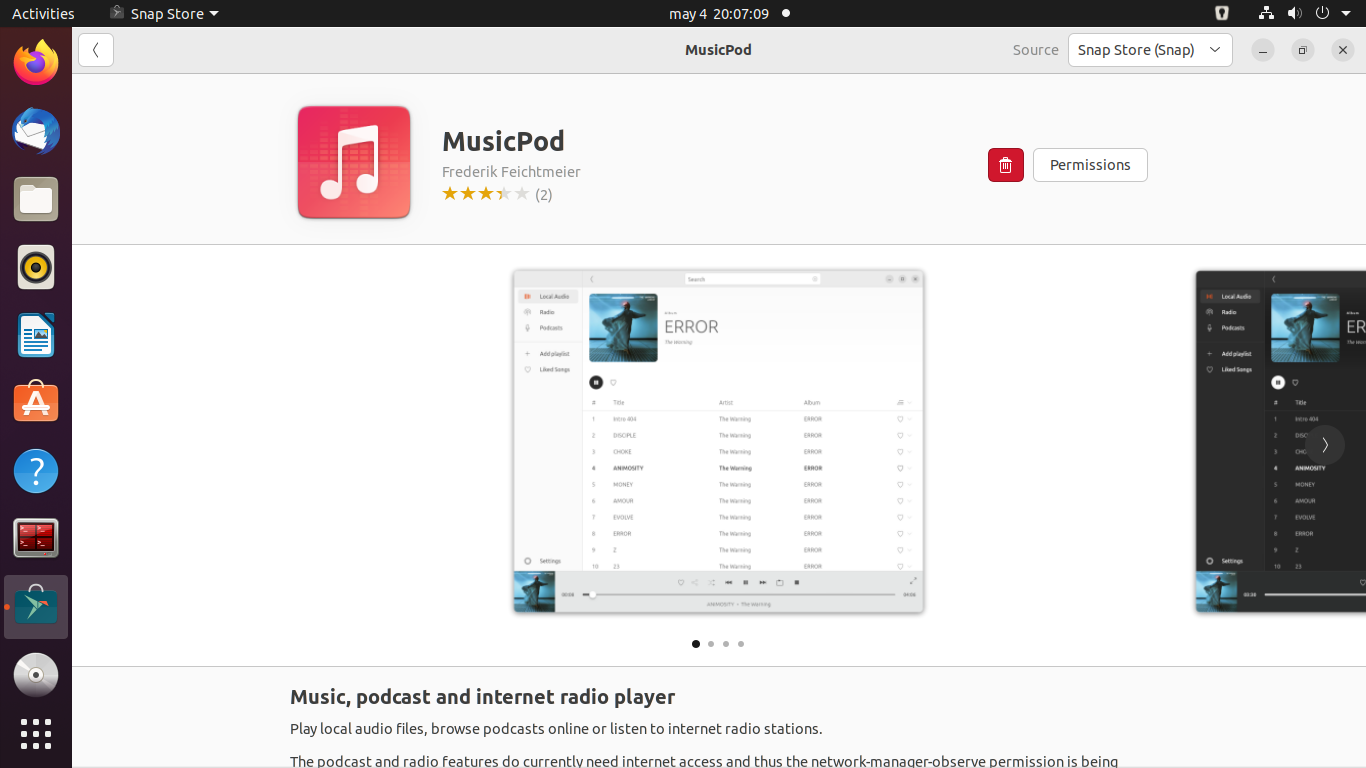 This will remove it from the system.
Conclusion
MusicPod is a modern application where you can listen to your favorite music either from local or radio. But not only that, but you can also manage your podcasts.
Now you know how to install it, and can share this post to reach more and more people.