In this post, we will talk about another GNOME-focused music player that we can use in Ubuntu 20.04. We know that an operating system can be very cool but if it doesn't have a variety of applications then it is of little use. And in the multimedia section, this is very important and fortunately, we have many options and one of them is Lollypop. This application is easy to install but we want to go a little further. So, today you will learn how to install the latest version of Lollypop on Ubuntu 20.04.
Lollypop Music Player
Lollypop is a modern and fast audio player, with a nice design, it's free and works with almost all Linux distributions and FreeBSD.
Lollypop also features a party mode that will automatically select party-related playlists to play; a full-screen view that lets you visually access the player from your couch thanks to its HiDPI support; and native support for replay gain.
Other features are:
Multiple Audio Formats – Play mp3/4, Ogg, and flac files
Metadata – Fetch lyrics, artist bio, and automatically download cover arts
Synchronization – Sync Lollypop with your Android device via MTP
Audio Scrobbling – You can scrob songs to Last.fm, Libre.fm, and ListenBrainz
In short, it is a modern, simple, and well-integrated GNOME desktop player that we can take advantage of. Besides, the application has built-in support for playback from some online sources such as YouTube and Spotify, as well as Internet radio. So we can say that it is quite complete.
Install the latest version of Lollypop on Ubuntu 20.04
To install the latest stable version of Lollypop we have two alternatives. One is via APT which is a recommended method to do the process; the other is to use the Flatpak package.
Method 1: Install the latest version of Lollypop via APT
The developers of Lollypop provide us with a PPA repository that we can add to install the latest version of Lollypop. In addition to this, we can update it along with the system so it is a recommended option.
So, open a terminal from the main menu or by pressing the keys CTRL + ALT + T and update Ubuntu
sudo apt update
sudo apt upgrade
And then add the PPA by running:
sudo add-apt-repository ppa:gnumdk/lollypop
sudo apt update
And finally, run this command to install the latest version of Lollypop.
sudo apt install lollypop
Then you can run it from the terminal.
Method 2: Install Lollypop using Flatpak
The second method is to do it using Flatpak technology which is a form of self-contained package distribution isolated from the system or its libraries. This allows you to have the latest stable version with almost no problems.
To do this, install a recent version of Flatpak via PPA:
sudo add-apt-repository ppa:alexlarsson/flatpak
sudo apt update
Finally:
sudo apt install flatpak
After this, add the Flathub repository
flatpak remote-add --if-not-exists flathub https://flathub.org/repo/flathub.flatpakrepo
And proceed to install the latest version of Lollypop by running:
flatpak install flathub org.gnome.Lollypop
When finished you can start it from the main menu
The Lollypop interface
As soon as you open the application, you will see a screen similar to this one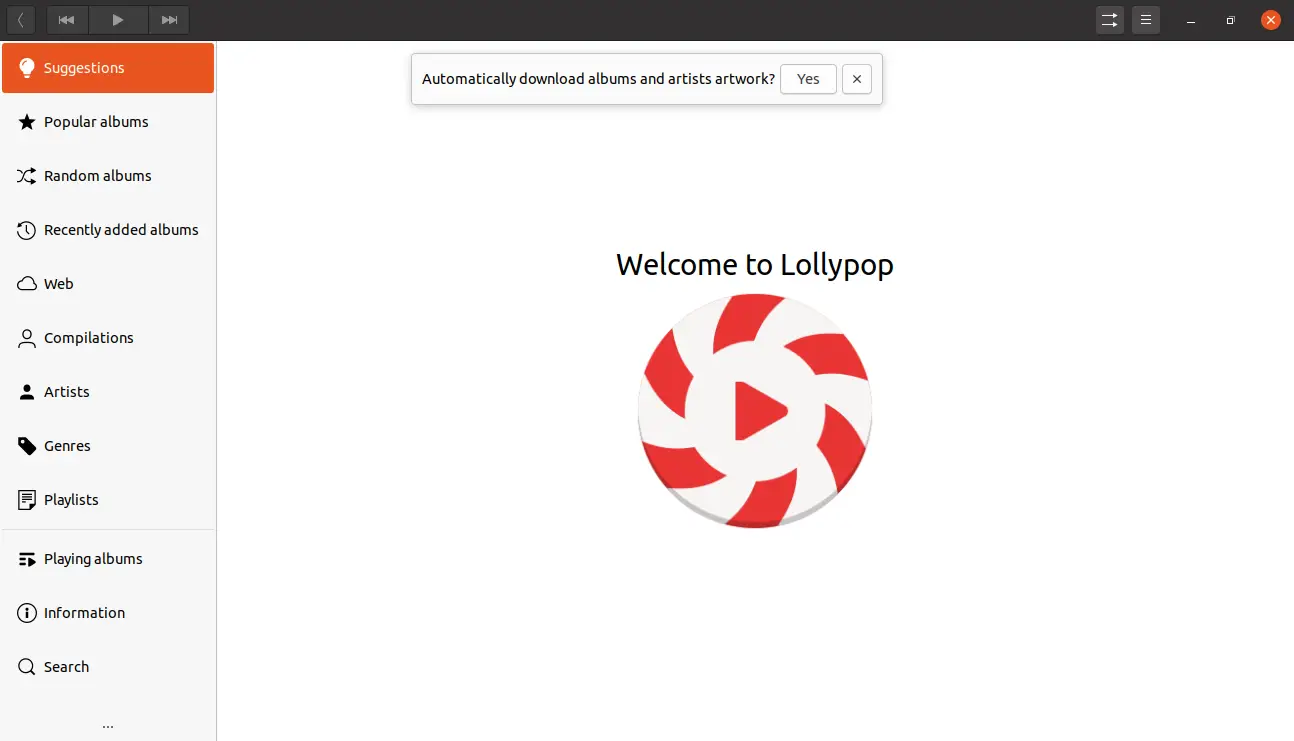 As I don't have any audio files the library is empty. By default, Lollypop looks for audio files in the Music folder inside /home/user/ but you can change this from the preferences. To access them, click on the main menu and then on Preferences.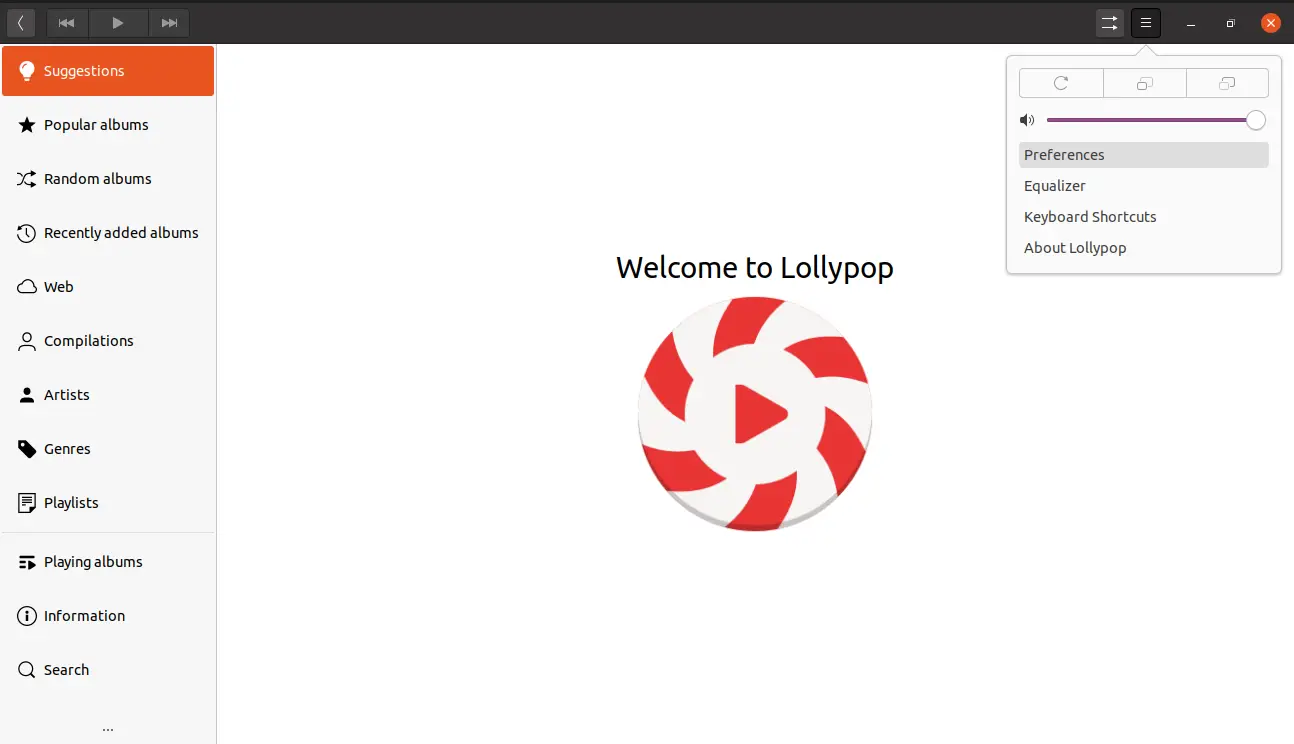 Lollypop preferences are organized by tabs, in the main one, you can modify the behavior of the application and so on. But to modify the path where our music library is located click on the Music tab.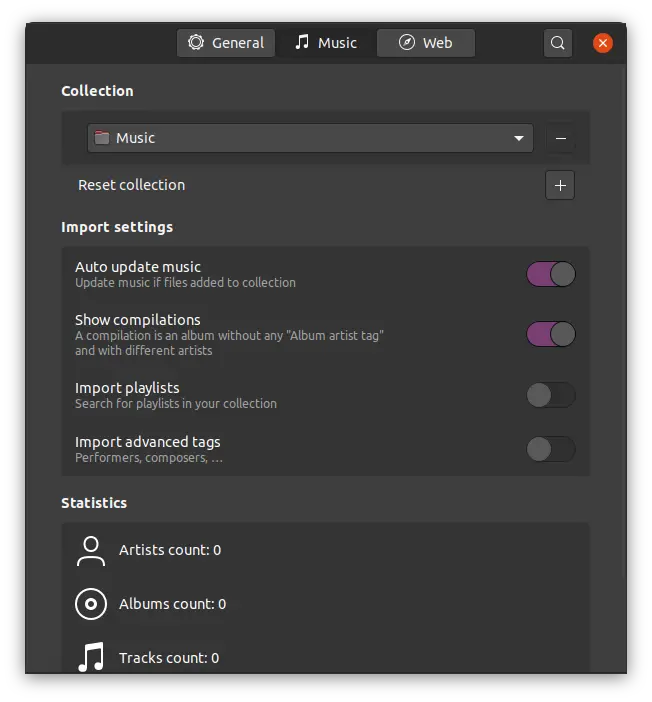 As soon as you add audio files to the library the application will update it. And then you can use it like any other.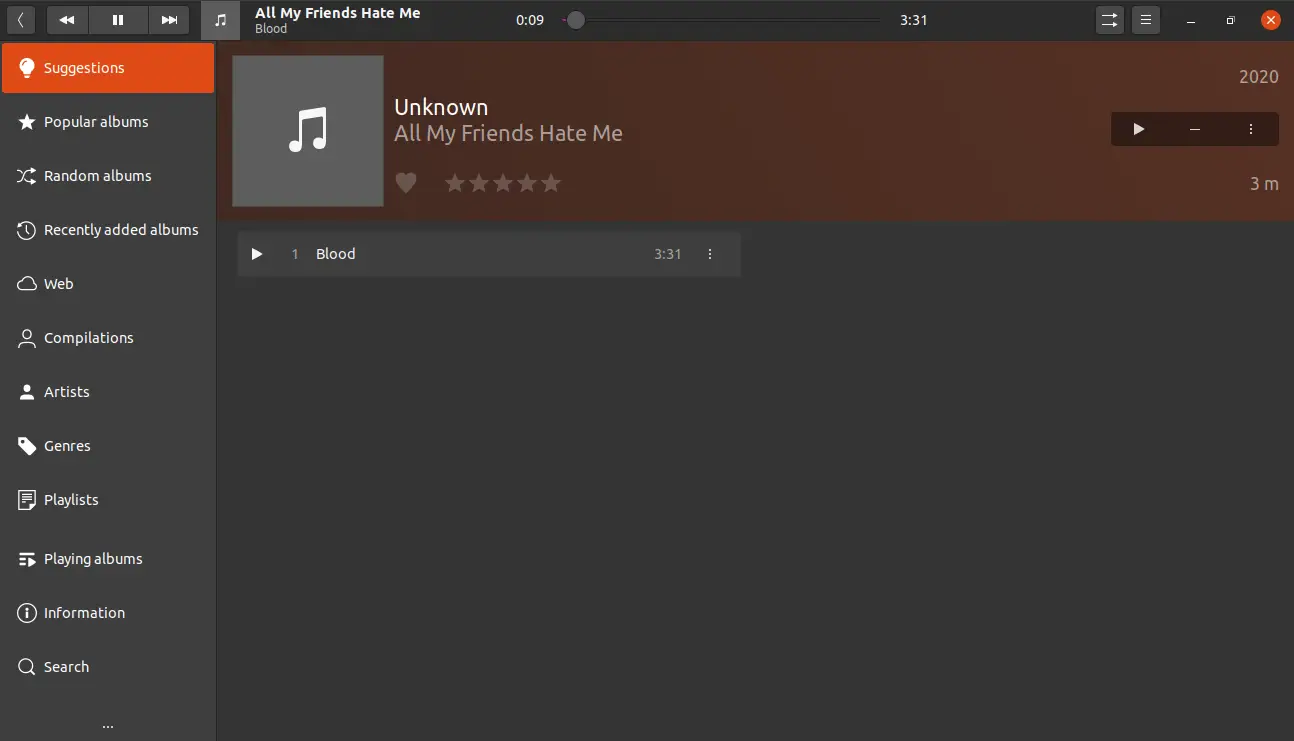 Removing the latest version of Lollypop on Ubuntu 20.04
Similarly, it is quite easy to uninstall Lollypop on Ubuntu, but the process will depend on which installation method you used.
In the case of method 1, just run
sudo apt remove lollypop
And then, remove the PPA
sudo add-apt-repository --remove ppa:gnumdk/lollypop
If you used Flatpak for the installation, what you have to do is remove it with this command
flatpak remove org.gnome.Lollypop
It's as simple as that
Conclusion
Lollypop is what many people are looking for in a music player for Ubuntu and that is simplicity, elegance, and capabilities. Well, this application that is part of GNOME gives it to us with a modern graphical interface and integrated with Ubuntu.
As you can see, the installation of the latest stable version is a very simple task and can be done by several methods. So you have the option to choose the one that suits you best.
So, we want to know your opinion about Lollypop? do you like it? have you used it? what do you think? leave us a comment or share the post.