Google Play Music is the world's most famous search engine company's answer to Spotify, Deezer, and Apple Music. For such a big company it is not surprising that it has an impressive catalog. Therefore, we will show you how to install the Google Play Music Desktop Player on Ubuntu 20.04 which is one of the most popular Linux distributions available.
Although Google is a company that supports open-source, the truth is that sometimes it leaves us out of the loop. Fortunately, the community is always willing to help and that is why we have an unofficial client for the Google Play Music desktop player that will help you enjoy the service from your desktop.
On the project's website, this client is presented to us as:
"A beautiful cross-platform Desktop Player for Google Play Music"
And no wonder, because the creator promises that we will have the same Material Design experience at the desk. That is to say, a fairly polished and comfortable experience.
Features of the Google Play Music desktop player
The first thing to say is that the application is open source which means that the code can be examined and reused. Besides this, the application consumes fewer resources than opening the Google Play player in a Google Chrome tab. So it is quite efficient.
Also, it is customizable. For example, you can change your theme, customize the colors, send your play history straight to last.fm, and it even has a built-in equalizer.
Other features are:
Media Keys support (Play, Pause, Stop, Previous, Next)
Last.FM Scrobbling and Now Playing support!
Desktop notifications on track change
Simplistic mini player
Customizable dark theme
Built-in audio equalizer
Background music playing, minimize to the taskbar
Customizable hotkeys.
And many more.
Install Google Play Music desktop player on Ubuntu 20.04
This application is not in the official distribution repositories but that does not make the installation difficult. We even have several options to install it.
All methods are covered below, but you should use either as per your preference.
Method 1: There is a DEB file to install it
The most efficient and recommended method is to use the Google Play Music desktop player DEB package provided by the developer. This DEB package is compatible with both Ubuntu and Debian.
So, go to the project website and download the DEB package.
Once you've done that, open your terminal by pressing the CTRL + ALT + T keys and navigate to where the package is. In my case, it's in the Downloads folder.
cd Downloads
And install Google Play Music desktop player using APT as shown below.
sudo apt install ./google-play-music-desktop-player_4.7.1_amd64
After you enter your password, it will start the whole process.
This method takes up less disk space but newcomers may not like it very much. Let's look at the other methods.
Method 2: Using the Ubuntu Software center
Google Play Music desktop player is also available from the Ubuntu Software Center which makes installation much easier for novices and those coming from macOS or Windows.
So, open the Ubuntu Software Center from the main menu.
Once inside the search field type in Google Play Music to display the most correct results.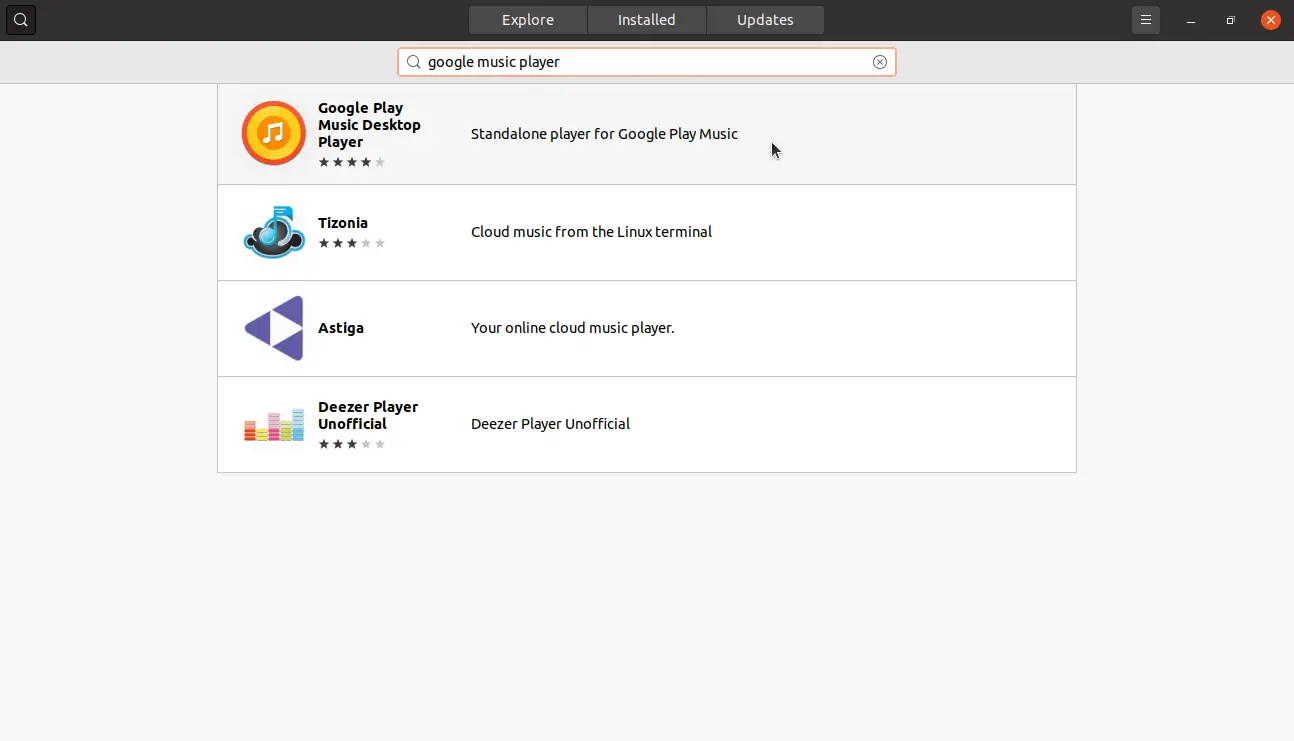 Select the correct package and in the next window, you will have all the information about the package. You can start the installation by pressing the Install button.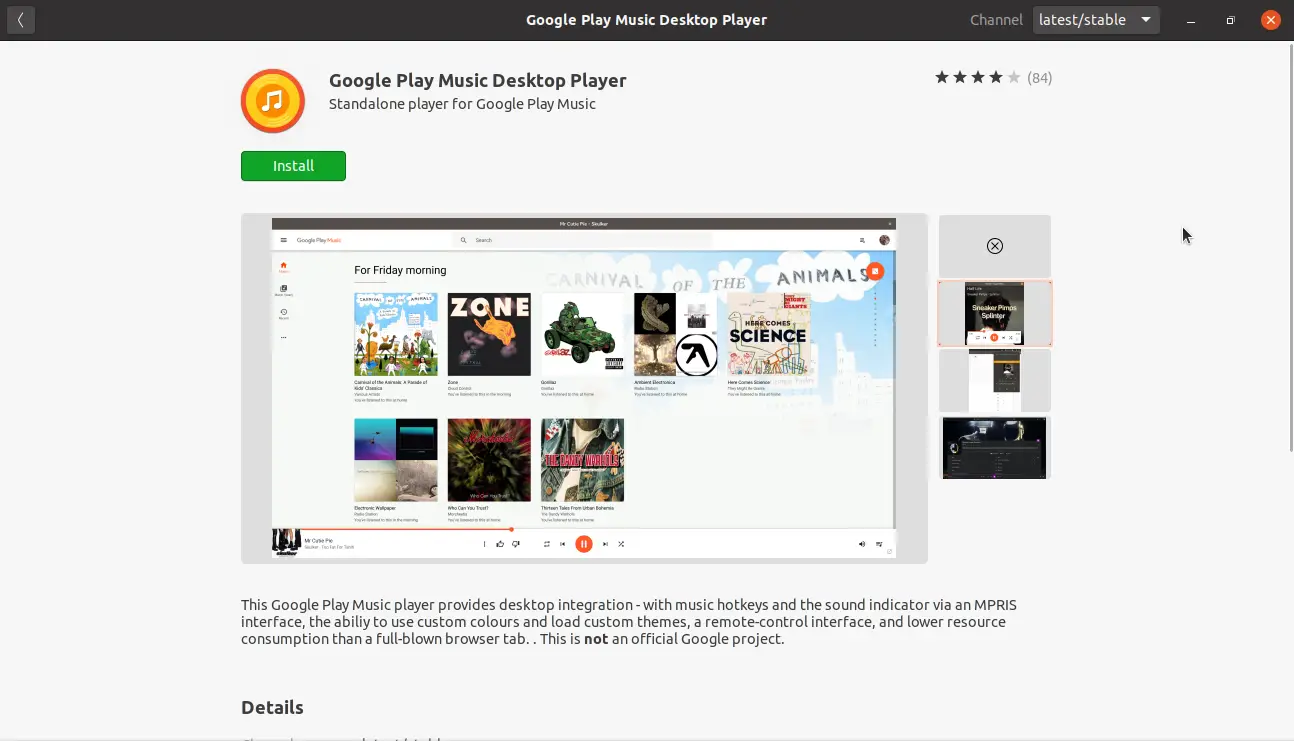 Then you can run it from the main menu as usual.
Method 3: Using the snap command
Google Play Music desktop player is also available as a snap package. You can easily install it using snap install command. This command manages the snapd daemon but if you want to know more about it, I recommend you to read our post about it.
So, the only thing you have to do is open a terminal and run,
sudo snap install google-play-music-desktop-player
And after entering the password, it will start the entire download and installation process.
So, you can launch it.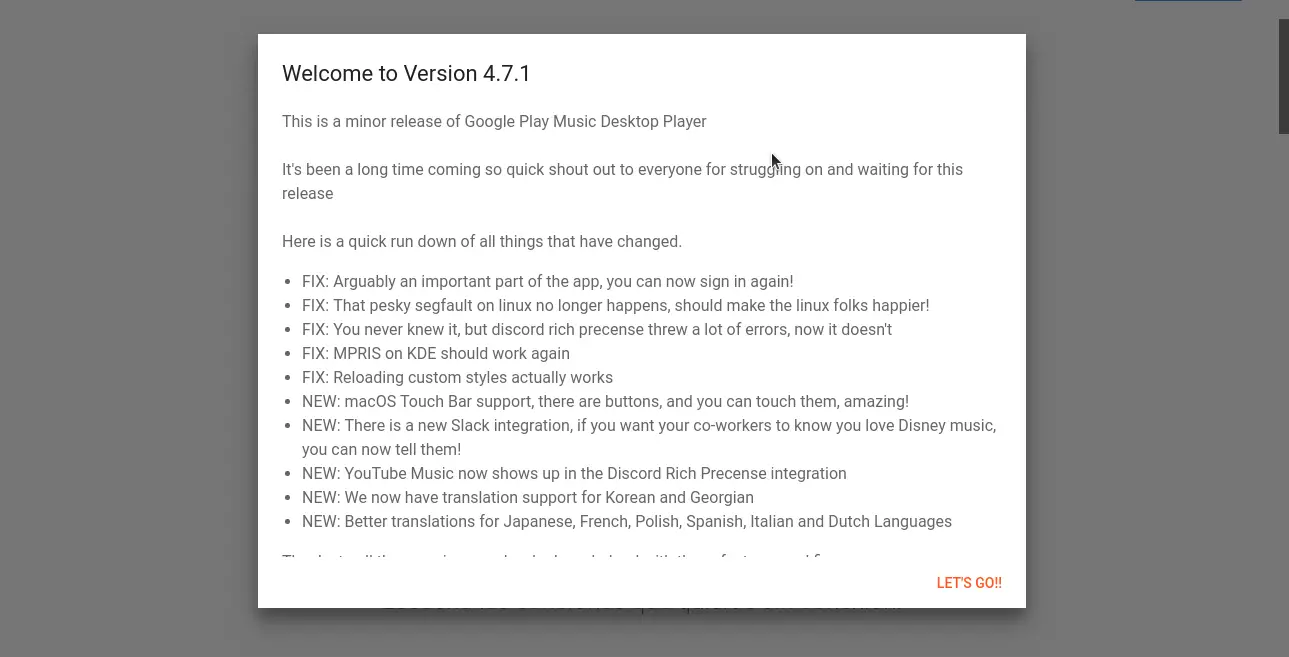 Next, Log in and start to enjoy.
Conclusion
Now thanks to the Internet we will be able to listen to the music we want with a small monthly fee that becomes small thanks to the large catalog that there is in these services.
That is why it is important to know how to install Google Play Music Desktop Player on Ubuntu Linux to enjoy all the potential of this service but with great integration with the desktop.
Now it's your turn, do you like this service? do you use it? what do you think? Leave us a comment and share this post.