Franz is a messaging app for WhatsApp, Facebook Messenger, Slack, Telegram, and many more created with open source technology that aims to unify many different messaging accounts in a single application.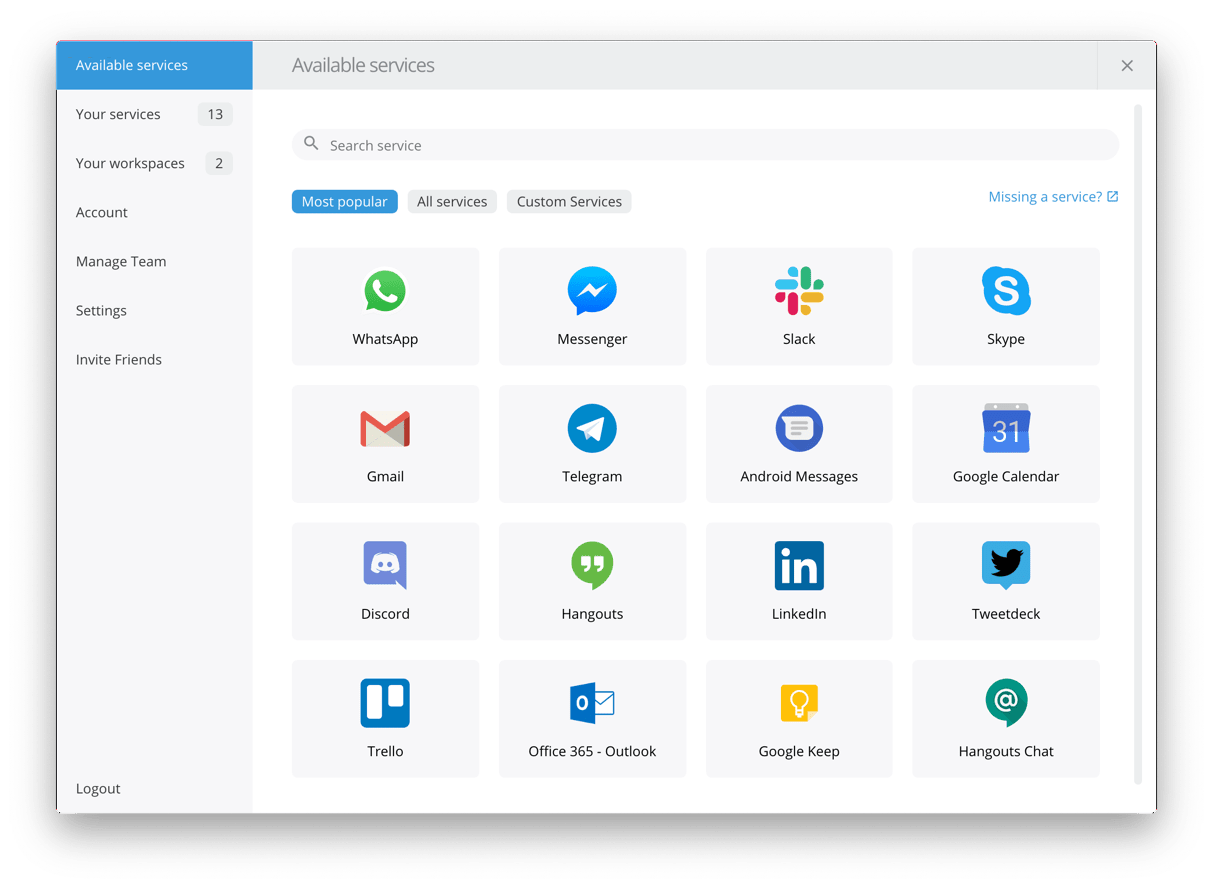 This is a very good idea because currently many of us have many communication accounts. Today, a normal user can have Gmail, Outlook, Telegram, Discord, Tweetdeck, and other accounts. As you can see there are many accounts. And opening a tab in the browser for each of them, may not be productive.
So it is convenient to have an application that encompasses them all like Franz.
Franz is a very interesting application that offers us many things. The most important ones are the following:
Franz allows you to add each service many times. This makes Franz the perfect tool to manage multiple business and private accounts all at the same time.
Franz supports a great variety of business and private messaging & chat services
Desktop notifications.
Dark mode
Extensible
Translated into many languages
Closs-platform
In addition to this, Franz offers a premium account with even more features.
Furthermore, the application has great Linux support, something we have to thank for.
Install Franz on Ubuntu 20.04
One of the things that Franz likes the most is the good support for Linux and especially Ubuntu, and this results in having several installation methods.
Next, we will tell you about some of them.
Method 1: Installing Franz with the DEB package
On the official Franz website, we have access to download a DEB package compatible with Ubuntu 20.04.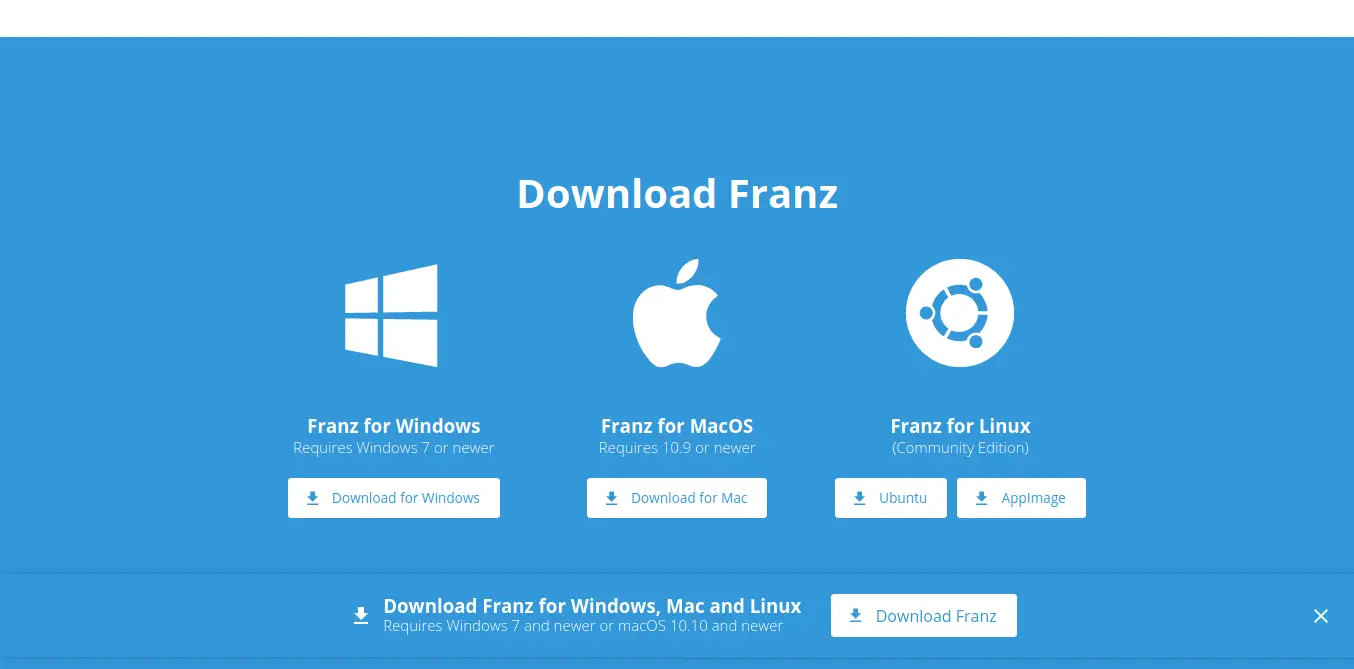 After you have downloaded it you will be redirected to a page where you will be told to open a new account with Franz.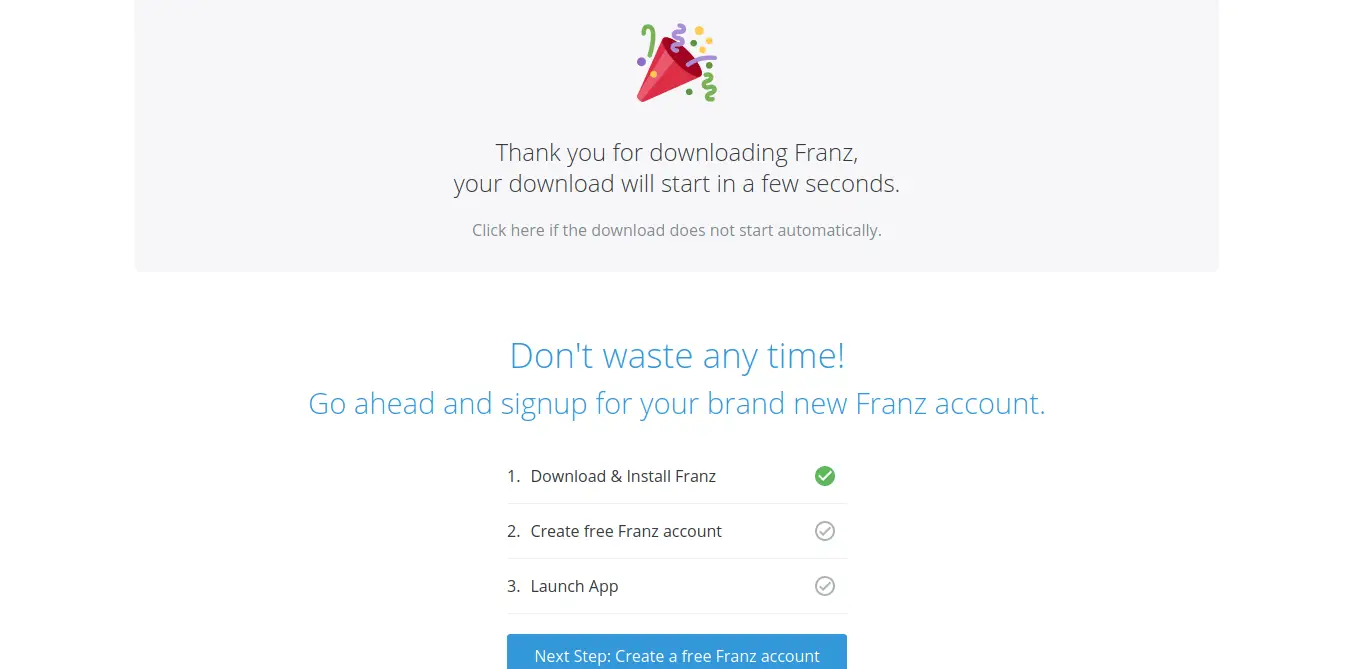 Similarly, when you download it, you can install it using the terminal and APT which is the Ubuntu package manager.
cd Downloads/
sudo apt install ./franz_5.5.0_amd64.deb
After entering the password, the process will start and then you can execute it from the main menu.
Method 2: Using Flatpak
Flatpak is a technology similar to Snap which is from Ubuntu, but Franz is not distributed with this technology. However, it is also possible to take advantage of this technology.
First, you open a terminal and install Flatpak.
sudo apt install flatpak
And then, add the Flathub repository which is where Franz is hosted.
sudo flatpak remote-add --if-not-exists flathub https://flathub.org/repo/flathub.flatpakrepo
So, you can install it with the following command:
sudo flatpak install flathub com.meetfranz.Franz
And then, you can run it from the main menu.
Or from the terminal, by running:
flatpak run com.meetfranz.Franz
And then you will see Franz's graphic interface.
Running Franz on Ubuntu 20.04
Once it is installed, you can run Franz from the main menu and you will see the following screen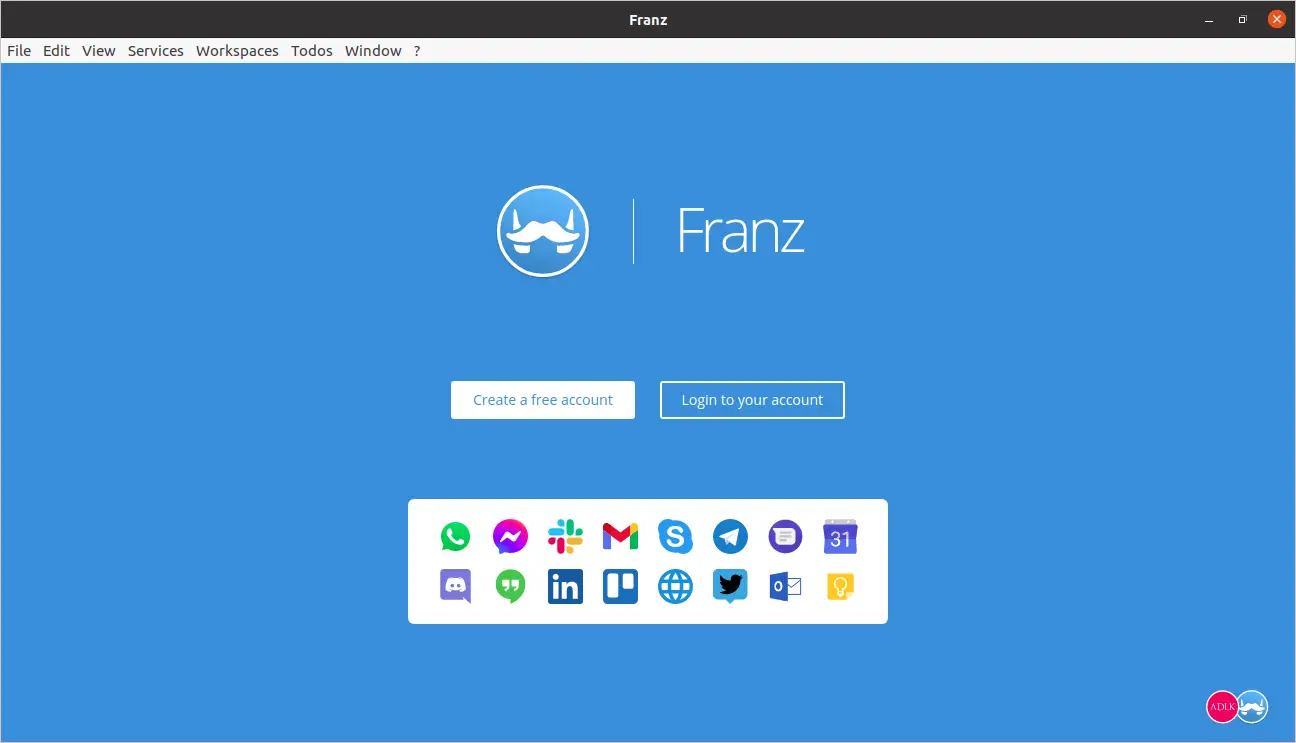 There, you will have to log in or create a new account.
Once you log in or simply create a new account, you will see the following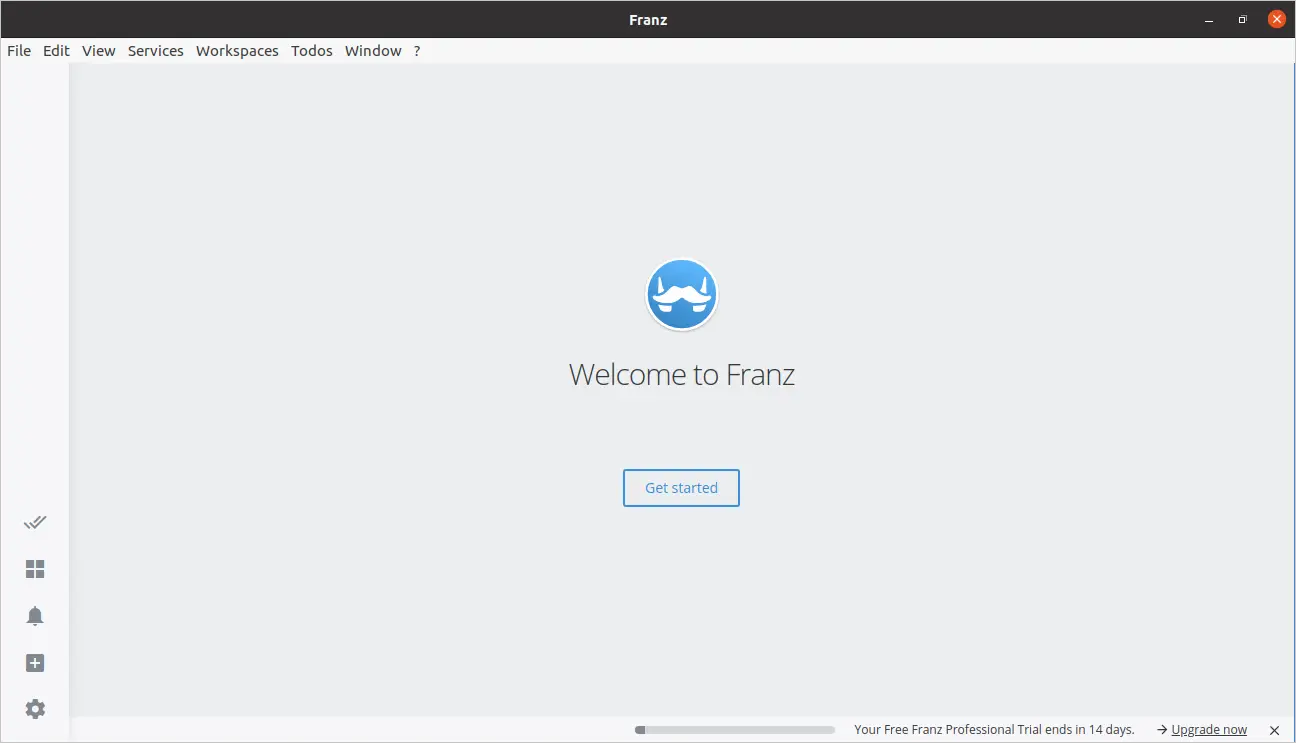 By clicking on Get Started you can add the services you want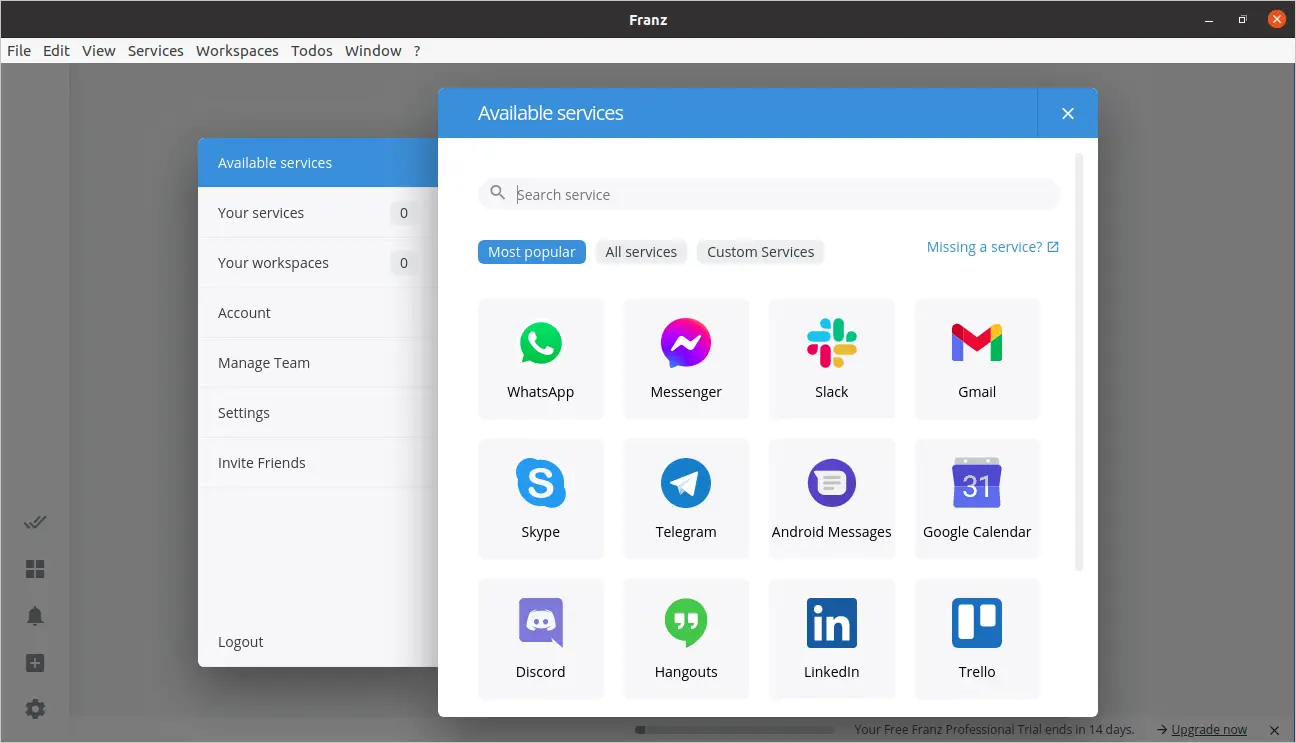 Then, you can take a look at the application options and start using Franz.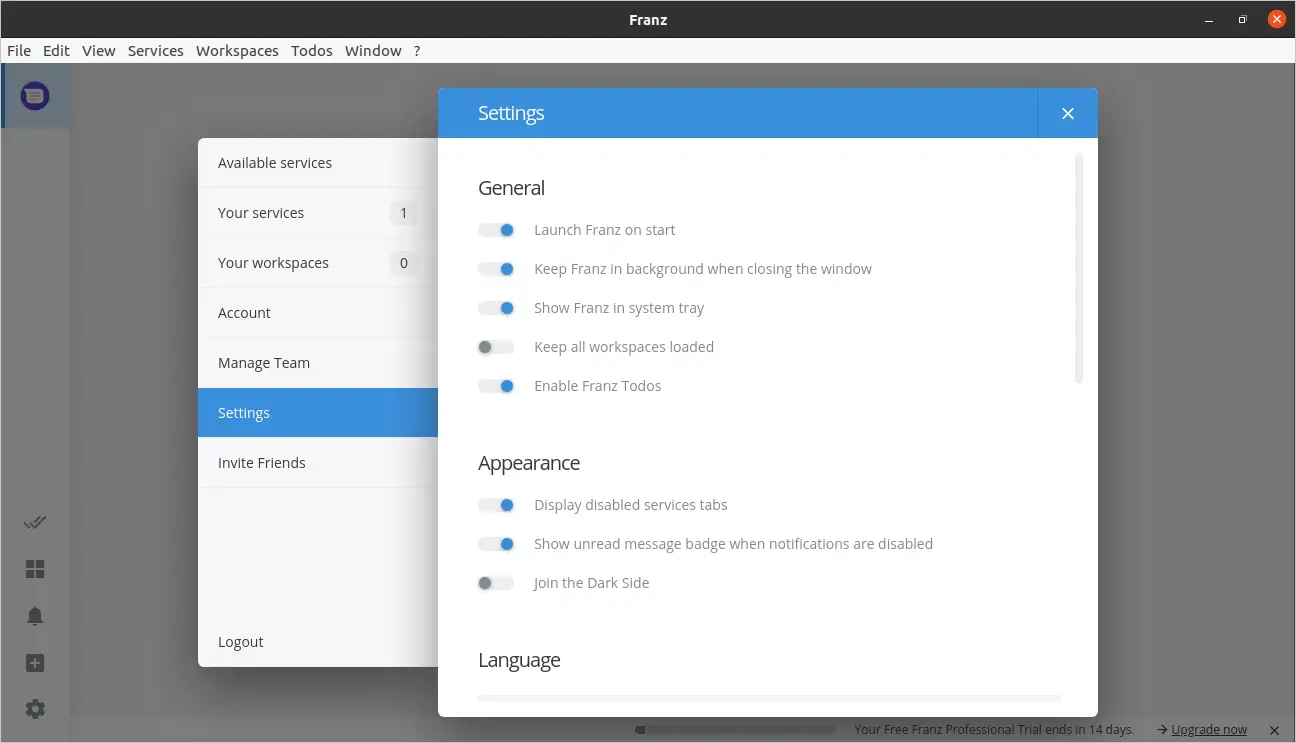 Conclusion
An application like Franz is what we sometimes need to organize all our communications accounts. On the other hand, it also helps us to discover new services and all integrated into the desktop.
Well, so far the post, but first leave us a comment and share it in your networks. It's free.