For Linux, there are applications of all kinds and that is a great advantage when using the operating system. There is also a certain demand for support for viewing documents, books, manuals, and other types of information. This includes ePub. Therefore, if you read books or publications in this format, then you should install Foliate. This powerful ePub reader for Ubuntu is a marvel.
Foliate ePub Reader
The Foliate website is quick to tell us what it is:
A simple and modern eBook viewer for Linux desktops
And it really is, because it's built-in GTK which makes it perfect for Ubuntu 20.04 and it's so simple it's not lacking in features. On the contrary, it is one of the most complete solutions available on Linux.
Some features of Foliate are:
Supports EPUB, Mobipocket, Kindle, FictionBook, and comic book archive formats
Single-column, two-column, or continuous scrolling layouts
Adjust font, line-spacing, and margins
Customize colors and brightness
Auto-hyphenation
Table of contents menu or sidebar
Find in book
Progress slider, with chapter marks
Reading time estimates
So the application is not bad at all because it is simple, powerful, and well-integrated with the desktop.
Install Foliate ePub Reader on Ubuntu 20.04
Fortunately, we have several methods to install Foliate on Ubuntu 20.04 so you can choose the one that suits you best.
Method 1: Install Foliate ePub Reader with APT
In this first method, we will use APT to add the developers' PPA repository. This will provide us with the latest stable version and we will be able to enjoy its advantages.
So, open a terminal from the main menu or by pressing the CTRL + ALT + T keys and make sure you have Ubuntu updated.
sudo apt update
sudo apt upgrade
After that, you can add the developers PPA repository:
sudo add-apt-repository ppa:apandada1/foliate
sudo apt update
Now you can install Foliate by running the following command:
sudo apt install foliate
To start it you can locate the Foliate icon from the main menu.
Method 2: Foliate available on the Ubuntu Software Center
Being one of the largest application shops in all of Linux, it is not surprising that Foliate is available on the Ubuntu Software Center. That's why it is also possible to install it from there without so much trouble.
So, open the Ubuntu Software Center from the main menu
In the search button on the left side, you can type Foliate and some results will appear.
From these results, click on the main one which is the first one.
Then, you will see a screen showing the information about the package we are going to install. Click on the Install button to start the installation.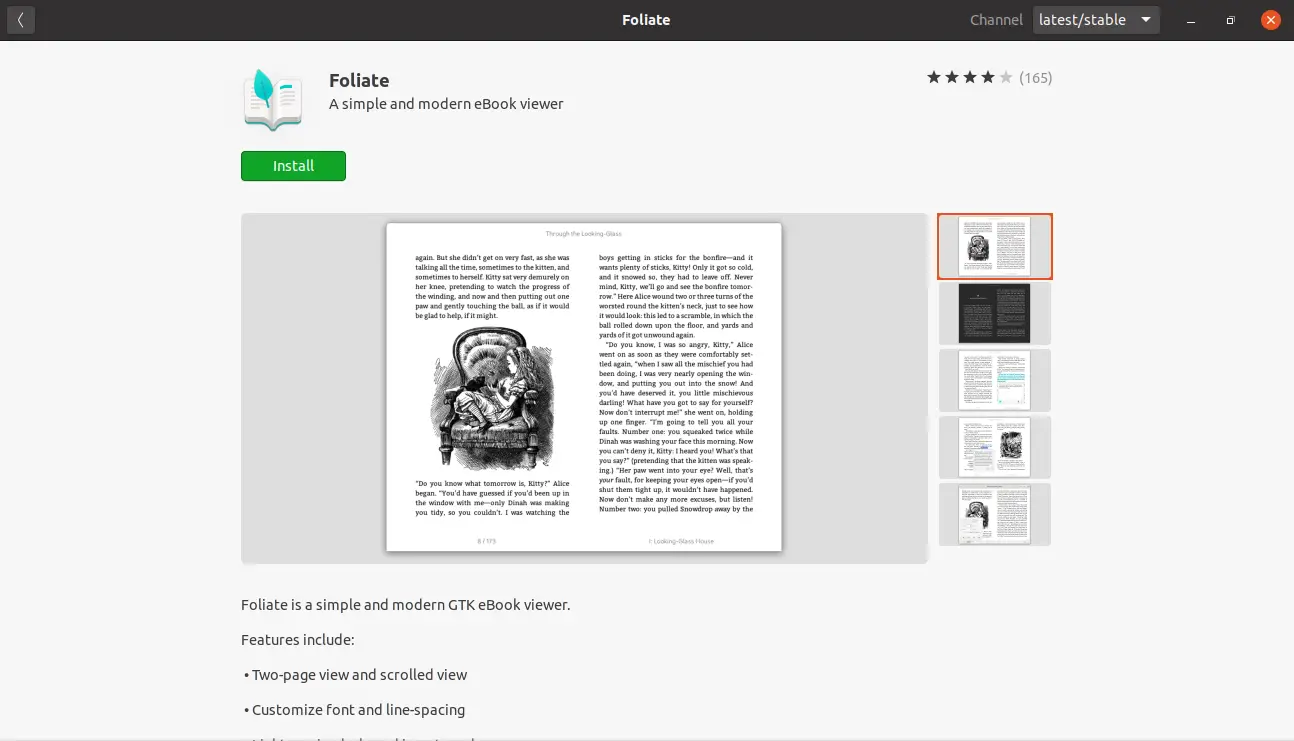 Once the installation is finished, you will be able to start the application from the main menu.
Method 3: Install Foliate using the Snap command
A faster way to install Foliate is to install it using the snap command. This command allows you to install applications using Canonical's own self-contained package technology.
So, to install Foliate using this command, just run the following command:
sudo snap install foliate
Also, when the installation is finished, you can run it from the main menu
Using Foliate on Ubuntu 20.04
By default, when you start the application it will look like this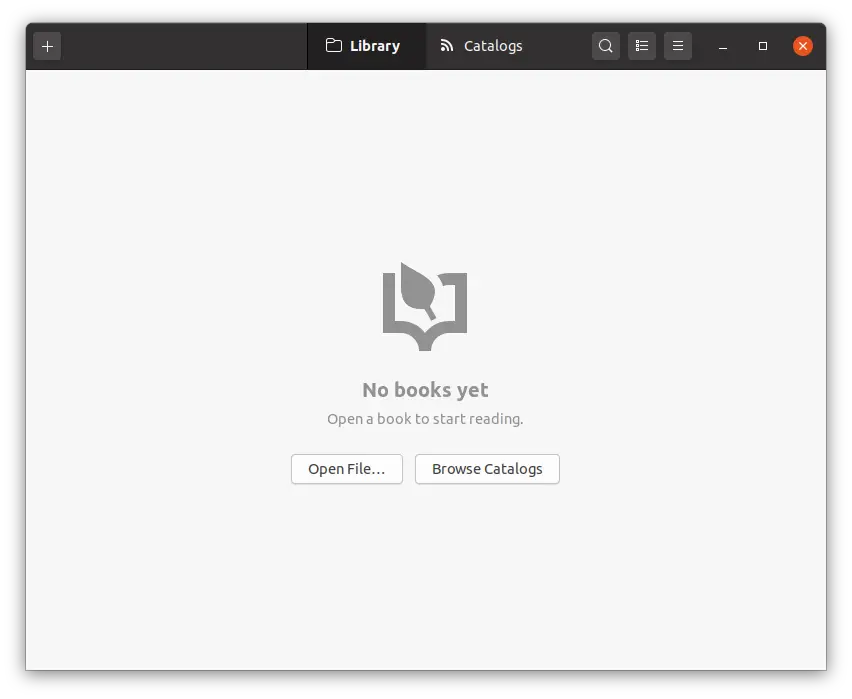 This indicates that we do not have a book loaded in the application yet. So the first thing we have to do is to download a free one.
Once you have done that, use the OpenFile button to open a free one.
When you open it, you will have an interface like the following.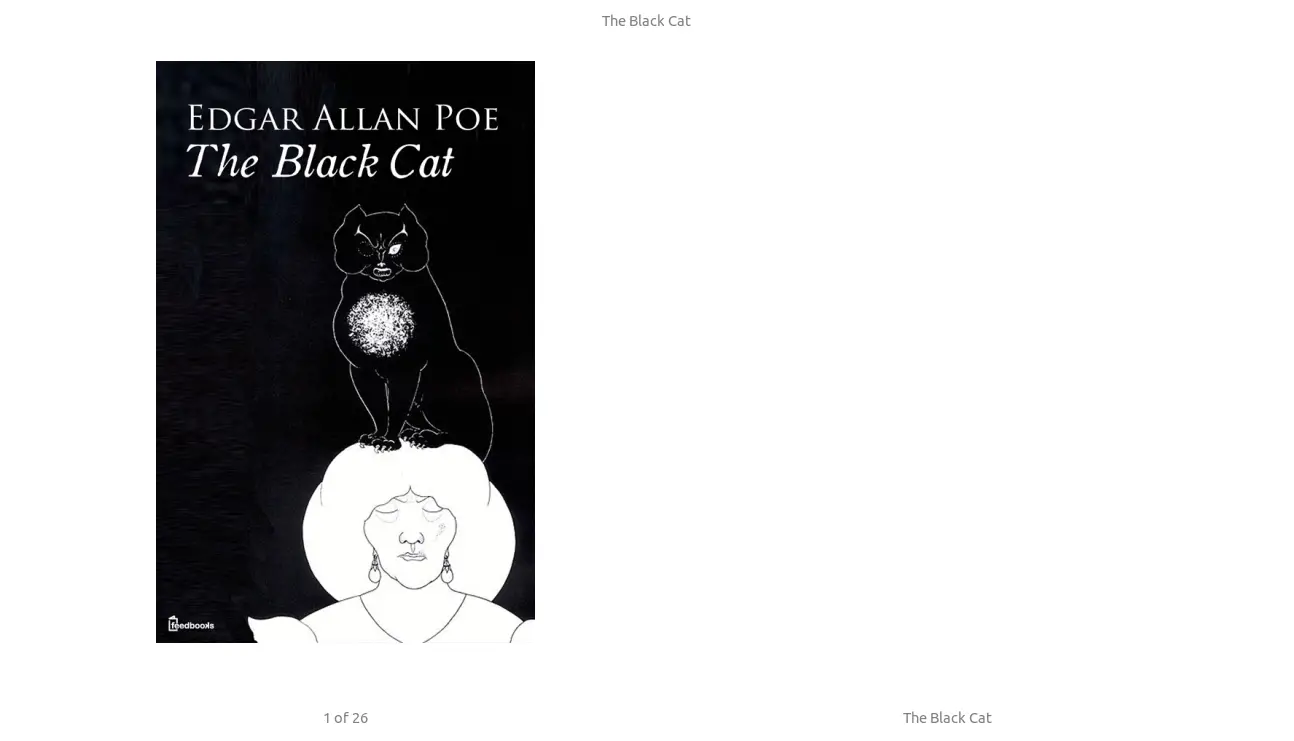 As you can see everything very simple and without distractions to read comfortably. You can navigate and "turn the page" with the arrow keys.
Also, you can take a look at the main menu of the application that comes loaded with options such as changing the font, size, and theme.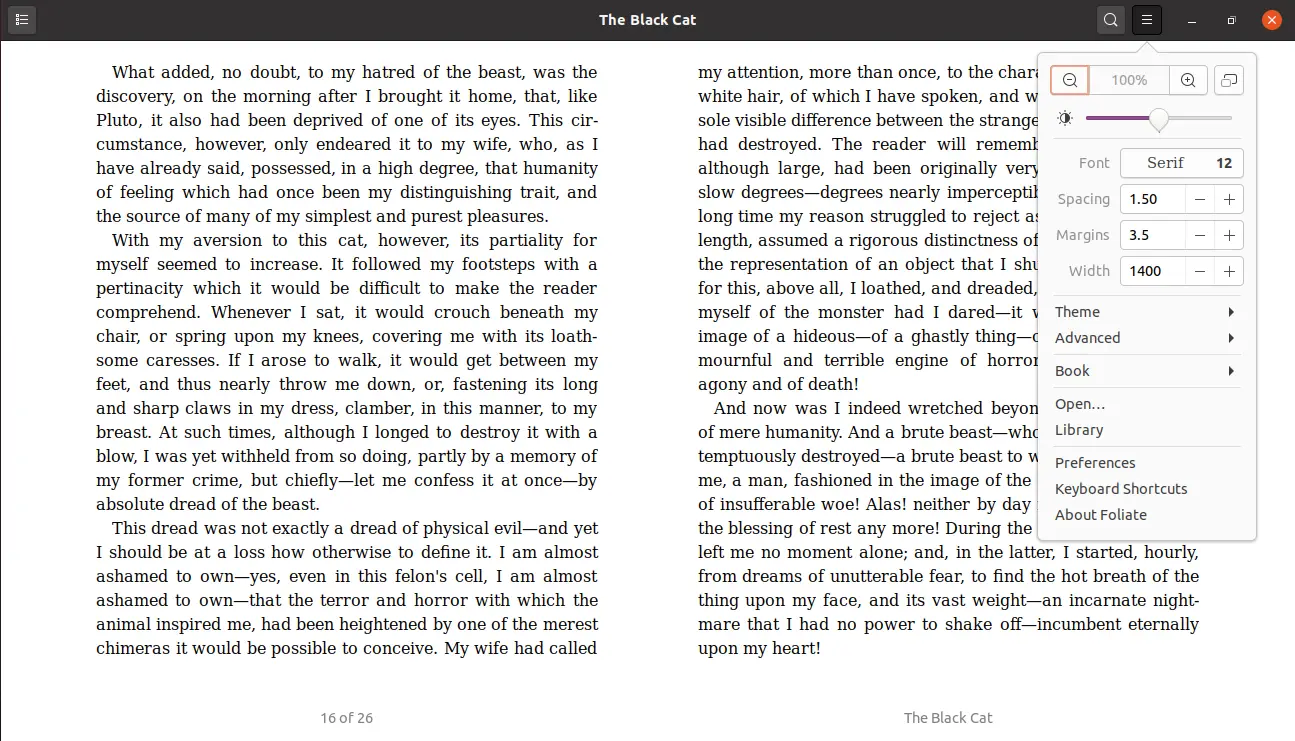 Finally, Foliate has the option to download free ePub from providers that you can even add.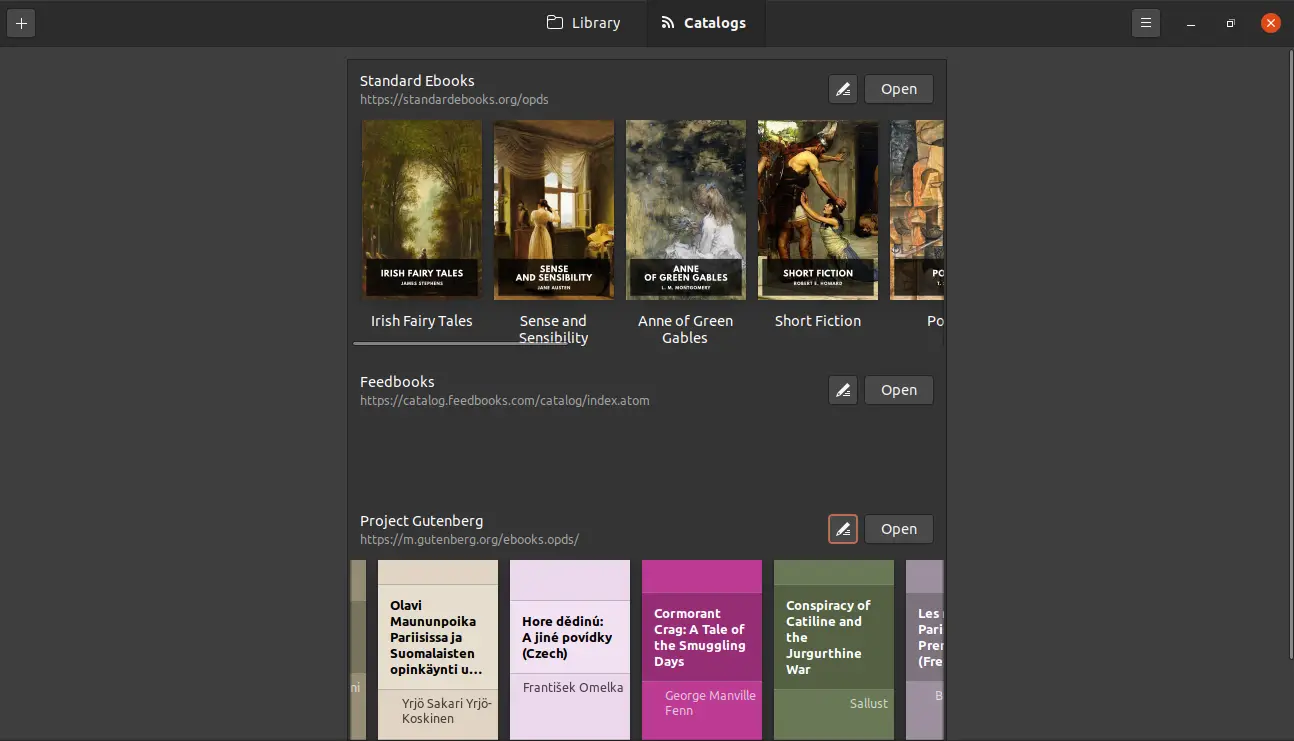 Removing Foliate ePub Reader on Ubuntu 20.04
The process of uninstalling Foliate depends on how it was installed. However, in any case, we are talking about something very simple to do.
In the case of the first method, we will also use APT to uninstall it. All you have to do is run
sudo apt remove foliate
After that, you can remove the PPA to make sure there are no problems.
sudo add-apt-repository --remove ppa:apandada1/foliate
Now yes, there will be no trace of Foliate.
If you have chosen method 2, reopen the Ubuntu Software Center and search for Foliate; then click on the top result to bring up the package information window, but this time you will see a red Remove button that you need to click.
Finally, in the case of Method 3 just use the following command:
sudo snap remove foliate
Note: this command will also work if you have used method 2.
Conclusion
Foliate is an application that we have loved for its capabilities and the simplicity with which it performs its operations. That's why it has become an indispensable tool for reading eBooks quickly and comfortably on the Linux desktop.
So, did you know about this application? did you like it? what do you think? leave us a comment and share the post.
Thanks for reading.