If you still think that in Linux there are no powerful applications to edit images, you are wrong. In this post, you will learn how to install GIMP on Ubuntu 20.04
What is GIMP?
In today's world, a lot of importance is given to images in marketing and information. That's why social networks like Instagram or Pinterest, base their functionality on image editing.
Speaking of image editors, in Linux we have GIMP.
GIMP (GNU Image Manipulation Program) is a program for editing digital images in bitmap form, both drawings, and photographs. It is a free program so if you are starting to work with it, it can help you with the costs.
On the other hand is the graphics manipulation program available in more operating systems because it has versions for Windows, macOS, Linux, FreeBSD, Solaris, and others.
What can I do with GIMP?
GIMP is a powerful image editor, comparable to Adobe Photoshop, that gives you many possibilities, among which are
Select all kinds of shapes thanks to the powerful selection tools
It has all kinds of painting tools (brushes)
Curing brush to rectify errors.
A large catalog of effects and plugins to extend the functionality.
Capable of importing pdf files or svg vector images.
And many professional cutting tools that make it a solid alternative to Photoshop
Install GIMP on Ubuntu 20.04
As with other programs, GIMP has several ways in which it can be installed on Ubuntu 20.04 so this is not a problem for us.
Below we will show you different ways to install GIMP on Ubuntu 20.04 but remember that you only have to choose one of these.
Method 1: Install GIMP on Ubuntu 20.04 using APT
As GIMP is a very popular program and part of GNU, it is included in the official Ubuntu 20.04 repositories
Therefore, what you have to do is open a terminal session and run it:
sudo apt install gimp
Entering the user's password will start the process without any problem. And in the end, you can run GIMP from the main menu.
Method 2: Using the Ubuntu Software Center
The Ubuntu Software Center is an application where we can install applications through a comfortable graphic interface. Very useful if you are new to Ubuntu or if you don't like the terminal.
So, open it from the main menu and search for GIMP.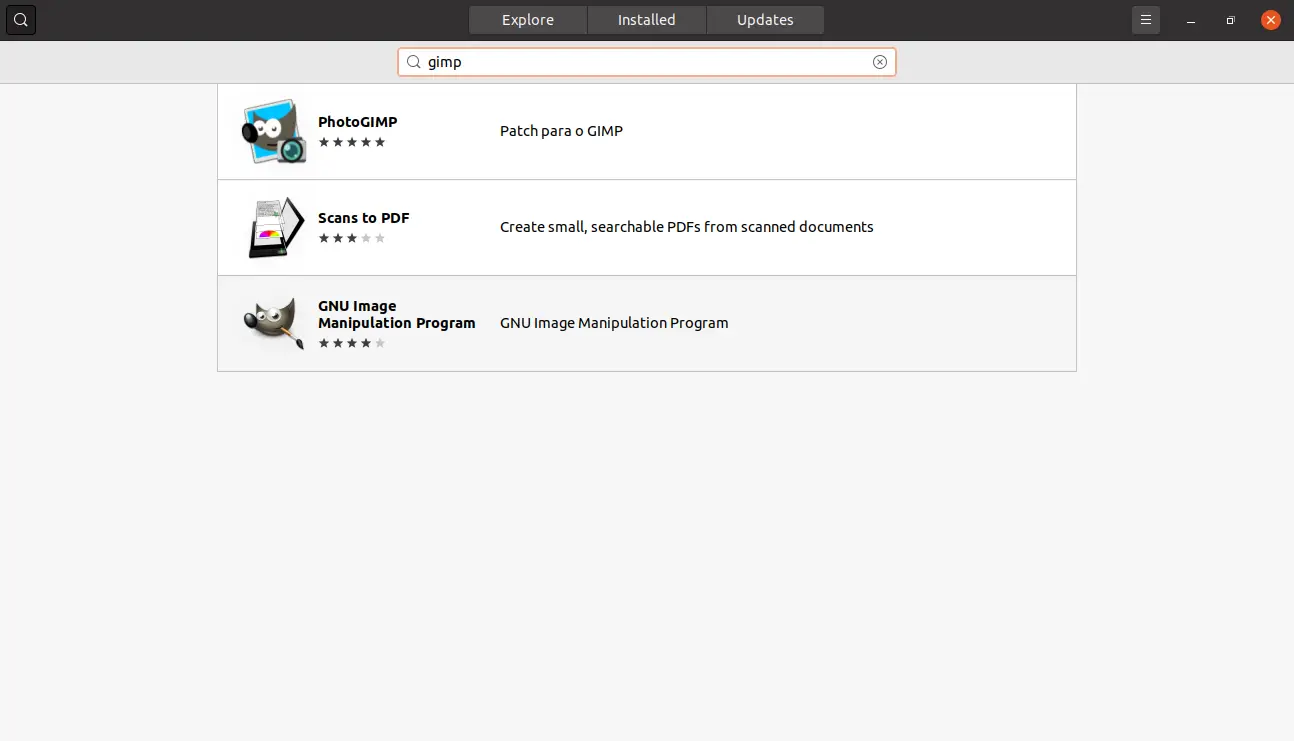 When you find it (third result), click on the Install button and you will be able to start the process without any problem.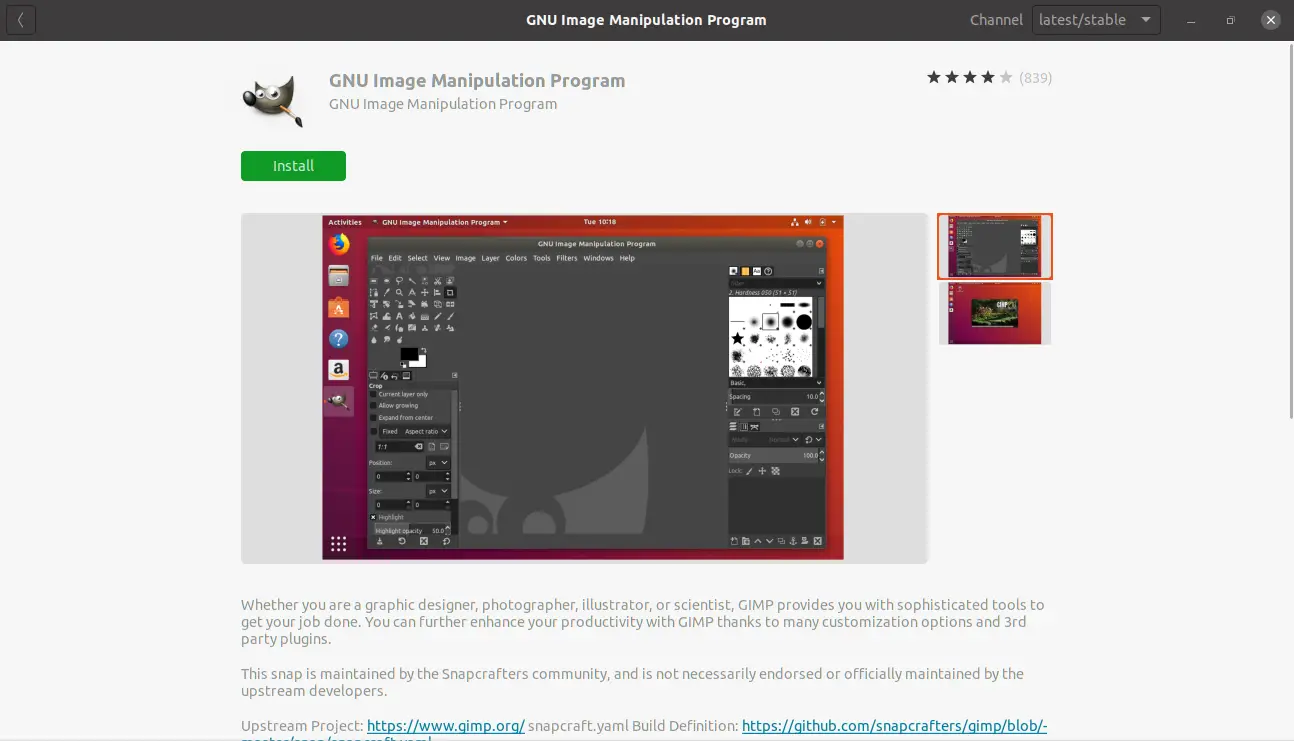 You can also run GIMP from the main menu.
Method 3: The snap command is another way to install GIMP
A third method is to use the terminal to invoke the snap command. With Snap we will have a package isolated from the system and the process is somewhat faster than using the Ubuntu Software Center.
So, open a terminal and run it:
sudo snap install gimp
As in method 1, enter the password and wait for it to download and install.
And you can run it from the main menu.
GIMP Interface
When you run GIMP you will see this image.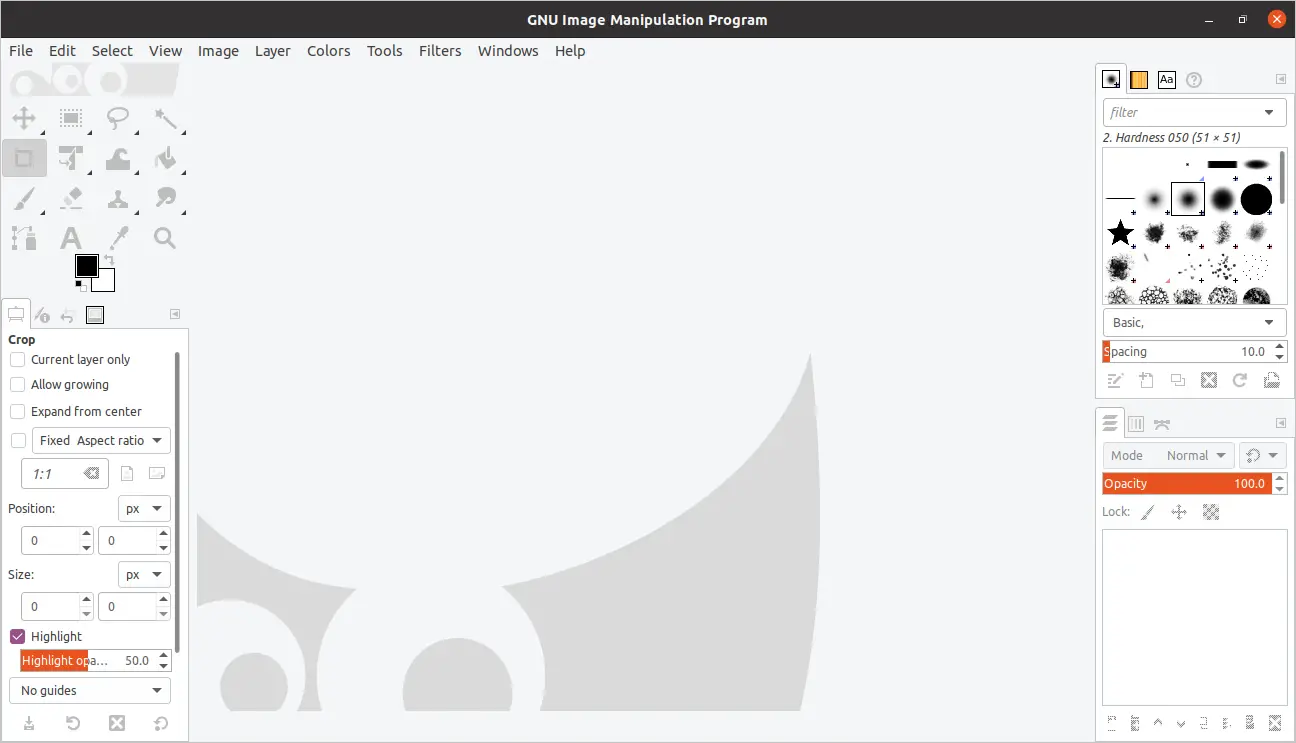 This means that GIMP is not working with an image file. You can create one from scratch from the File > New.
On the left side, you will see GIMP's working tools. On the right side, you can see the filter layer view.
As always, at the top, the menu bar where most of the working options are located.
For example, in the Edit menu, there is the Preferences option where you can modify many things about the application such as language or theme. But also work as Grids and windows.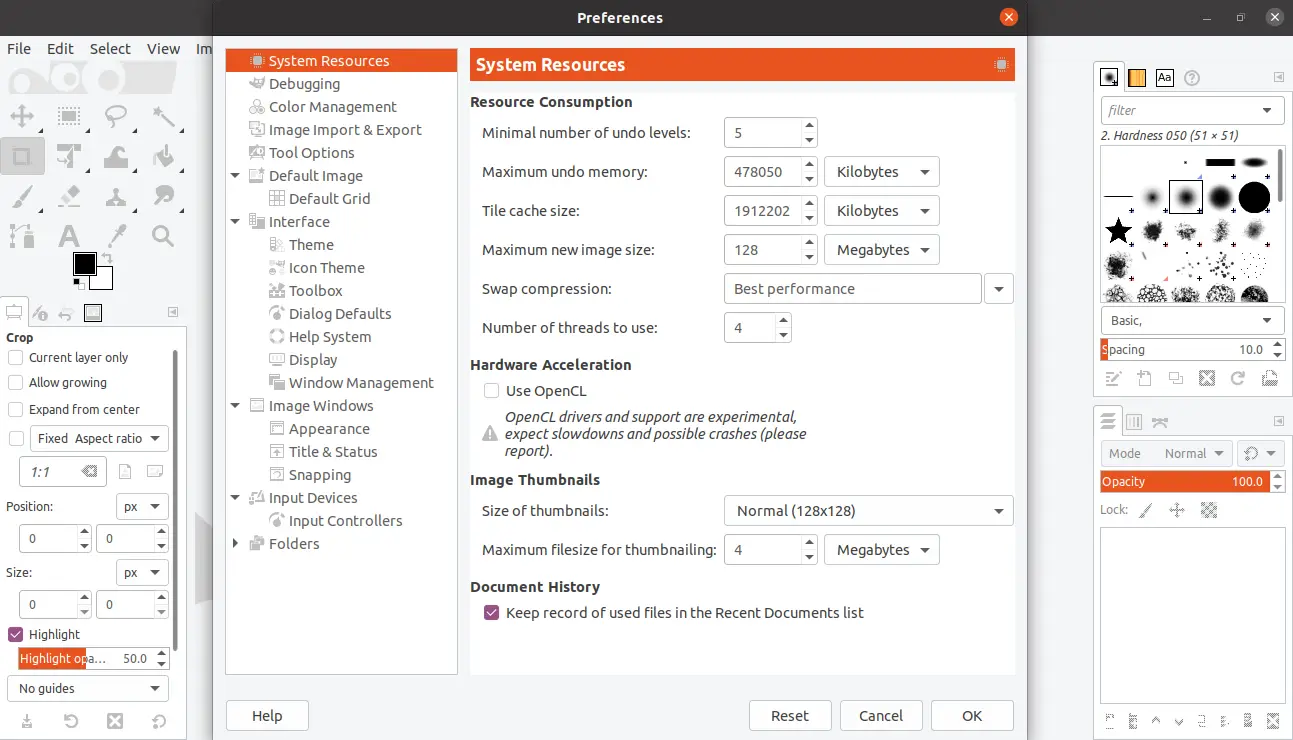 Conclusion
GIMP is a popular application among designers around the world and especially for what they use in Linux. It has all the features that make it the real alternative to Photoshop.
Besides this, the installation of GIMP is quite simple, and in Ubuntu more where we have 3 different methods to install it quickly.
So, leave us a comment, do you use GIMP? do you like it? do you work with images?