Editing a PDF file is quite an important task that we often face when using Linux on the desktop. There are some basic ways to do it, but what is essential is to have the tools. Today, you will learn some ways to edit PDF files on Linux.
PDF files are one of the most common files for sharing documents over networks. One of the main features is that it can be read by many programs on many operating systems.
Thus, you can make a PDF file on Linux and be sure that it will be read on almost any system, as long as you have the right programs.
However, sometimes you need to edit these files to change their content to suit your needs. Some methods are easier than others, but all are accessible.
As you can deduce, editing PDF files on Linux requires some tools that will take a PDF file and edit it.
Some of these tools can be found on the Internet as web applications or desktop programs that are often readily available on Linux.
1. Use LibreOffice Draw to edit PDF files on Linux
The first method I present to you is to use LibreOffice Draw. Draw is a member of the LibreOffice suite.
So, LibreOffice Draw is a vector graphics editor and diagramming tool. It has great similarities with Dia, but is a bit broader in the spectrum of use.
LibreOffice Draw is present in the official repositories of most of the existing Linux distributions. Thus, installation is reduced to running the system's package manager and placing it.
#For Debian, Ubuntu and derivates
sudo apt install libreoffice-draw

#For RHEL 9 and family
sudo dnf install libreoffice-draw
Then, you have to open it and from there, start editing it as you want.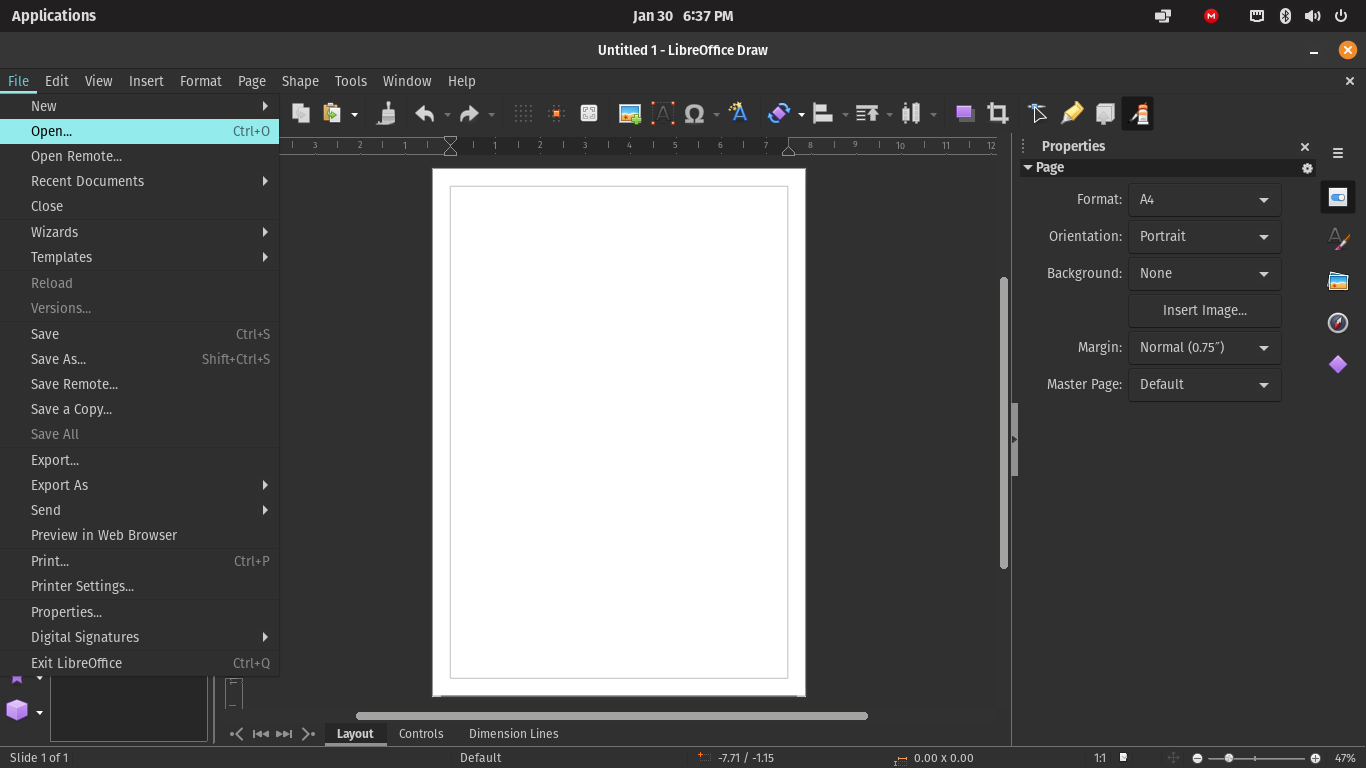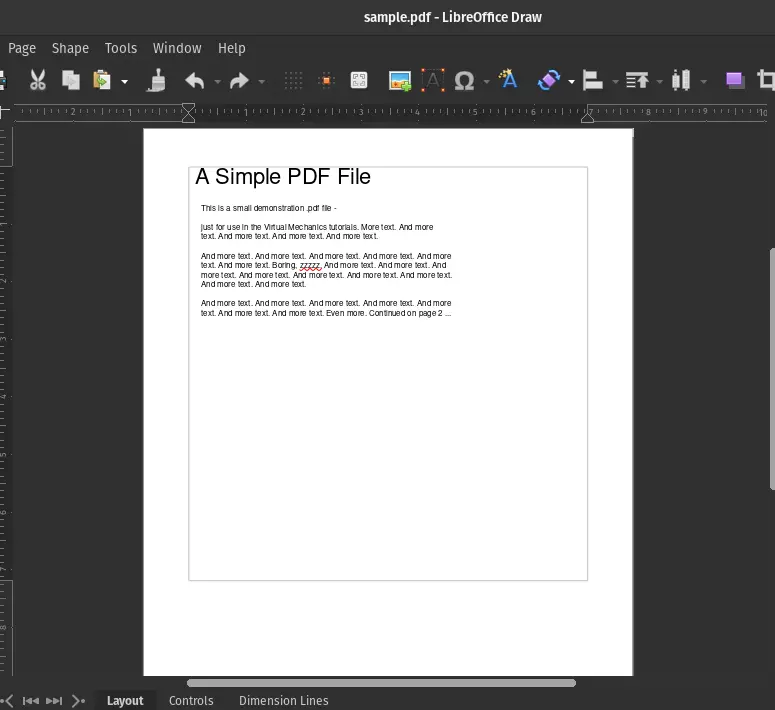 This method is quite functional, especially for small or text-only files. However, it may not be sufficient for more complex PDFs or forms.
2. GIMP is a viable alternative in some occasions
GIMP is a powerful image editor that even rivals other giants like PhotoShop. However, a lesser known feature of it is that you can use it to edit a PDF file.
As with LibreOffice Draw, GIMP is present in most Linux distributions, so installing it on Linux is easy.
#For Debian, Ubuntu and derivatives
sudo apt install gimp

#For RHEL based and Fedora
sudo dnf install gimp

#For OpenSUSE
sudo zypper in gimp

#For Arch Linux - Based
sudo pacman -S gimp
Occasionally, you just want to convert the PDF into an image and then manipulate the image. Let's say it's not really the best way to edit a PDF, but it still works.
Once you open GIMP from the main menu, you have to go to File > Open and open your PDF file.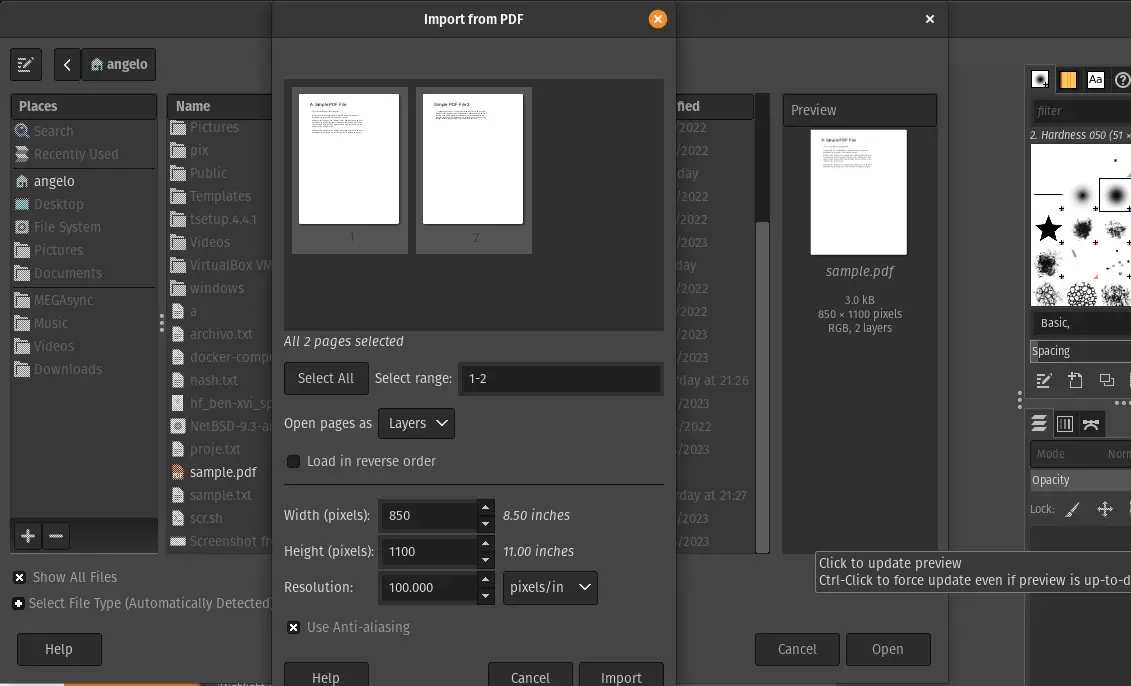 You need to pay attention to the resolution option. Choose a higher number for a larger file size and a more detailed image.
Then, you can edit it commonly as an image that you can export to PDF.
3. PDFescape: Powerful web application for PDF editing
PDFescape is a free, online PDF reader, editor, form filler, & form designer. You can use all its features for free, as long as the file does not contain more than 100 pages or exceed 10Mb in size.
Some main features of this website are:
Add text, shapes, whiteout & more to PDF files
Crop, deskew, move, delete, & insert PDF pages
Create links to other PDF pages or web content
Change PDF information tags
Encrypt PDF contents using a password
Add images to PDF files
As you can see, it is quite complete and will suffice for almost any case.
The only thing you will have to do is to access the tool's website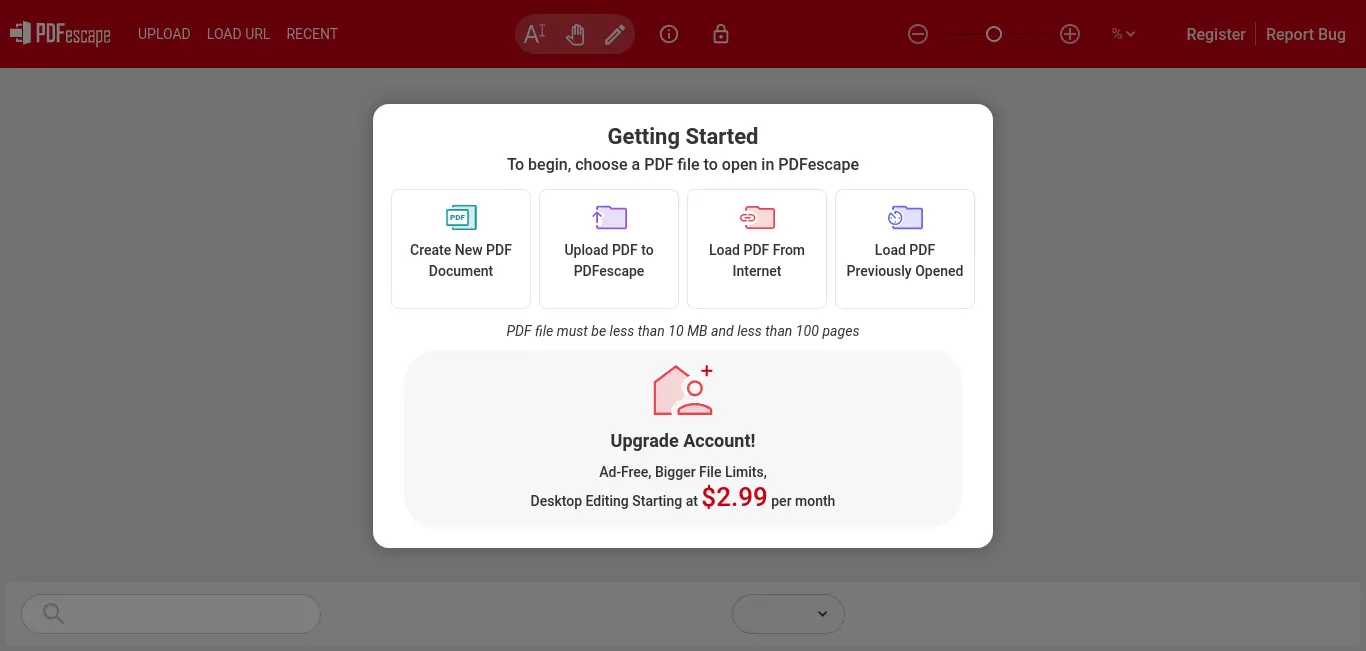 Then, upload your file and when it is ready, you can start editing it and take advantage of all the features of the website.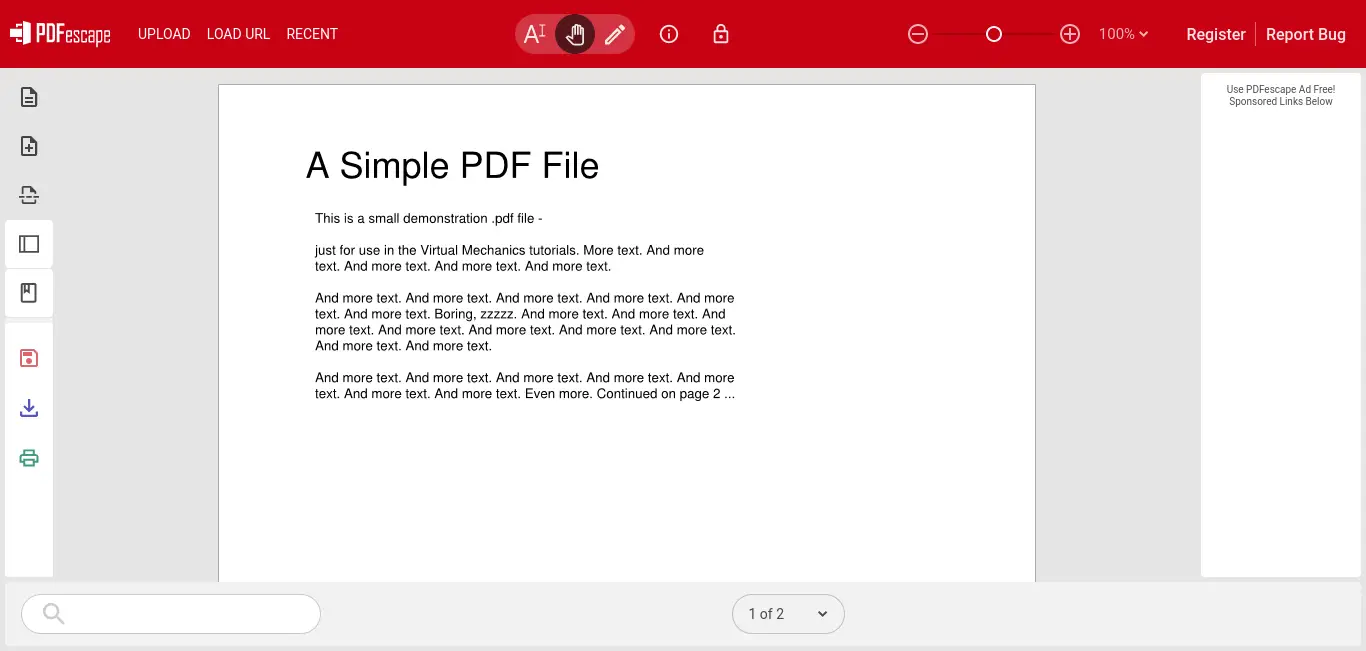 The main advantage of this method? Well, you won't have to install anything, and it is accessible from the web with almost any browser.
4. Master PDF Editor for Linux
According to the website of the tool, using Master PDF Editor is the best way to edit PDF files on Linux. This tool has a free version sufficient for most users, but a premium version with many additional features.
One of the disadvantages of this tool is that it supports few Linux distributions. Of course, the most popular ones like Ubuntu and Debian can't be missing, but it's a point to consider.
To install it, the best is the terminal. So, open one and download the DEB package
wget -c https://code-industry.net/public/master-pdf-editor-5.9.35-qt5.x86_64.deb
Then, proceed to install it as follows
sudo apt install ./master-pdf-editor-5.9.35-qt5.x86_64.deb
The next step is to open it from the main system menu and then click on Open Document from the main screen to open a PDF file.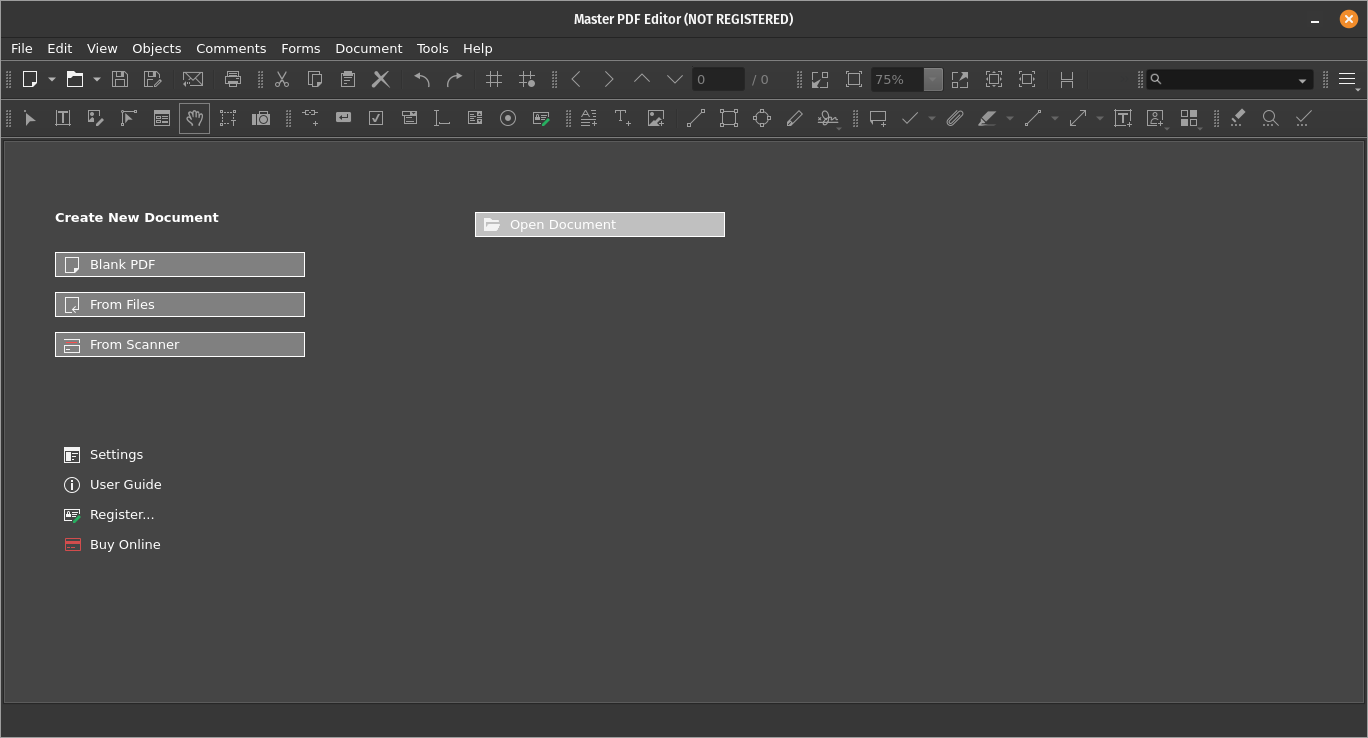 Then, you will see all the editing options available.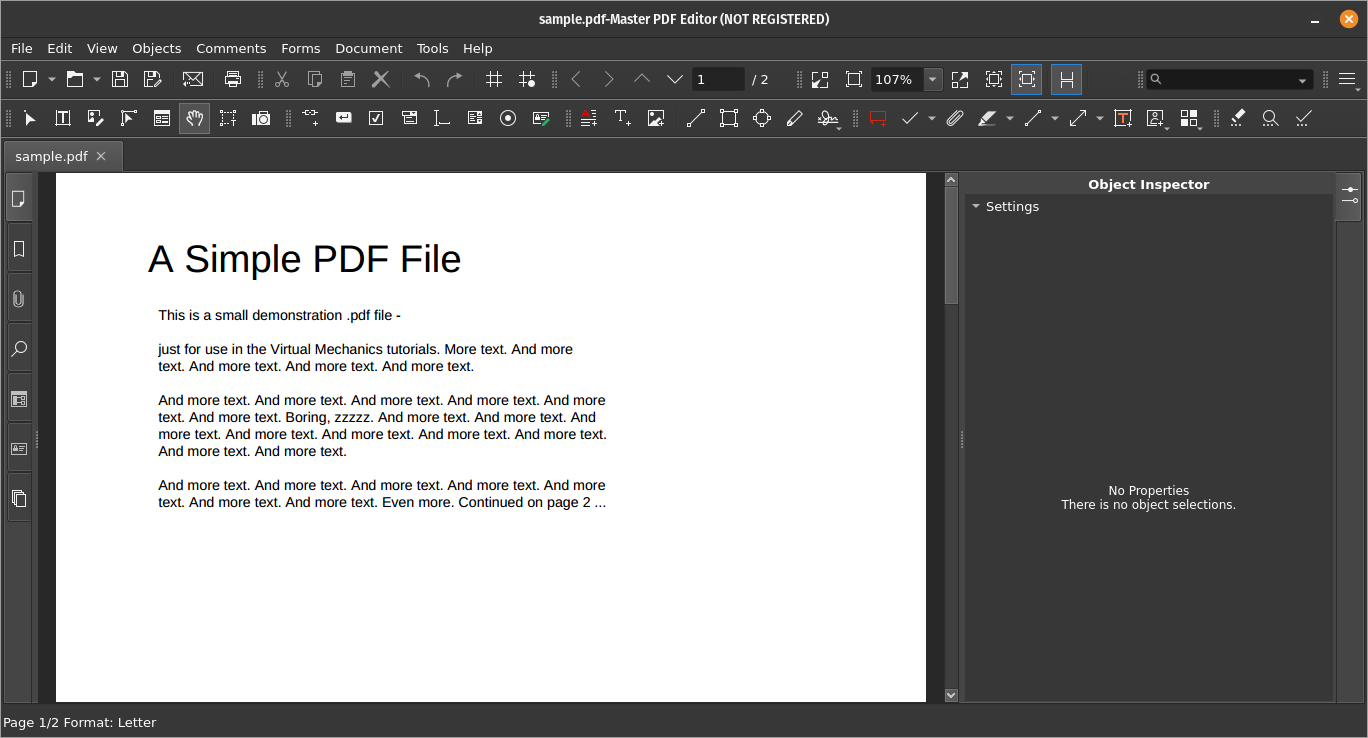 5. Sedja: PDF editor
Another professional application we have for Linux. In this case, Sedja has some pretty good features, but they are limited in the free version of it.
What can you do with Sedja? Well, add, edit or move text in the PDF. You can also change the font, size, and style. Or insert, reorder, move or delete pages. But not only that, you can also add signature, highlight text and shapes.
All of the above in terms of content, but you can also edit the structure of the PDF file. So, you can also add, remove pages and edit images.
To install the Linux version, just go to the downloads section of the tool.
You can also use the terminal
wget -c https://sejda-cdn.com/downloads/sejda-desktop_7.5.4_amd64.deb
And then install it
sudo apt install ./sejda-desktop_7.5.4_amd64.deb
Then you can run it from the main menu.
The editing process is similar to the other tools, first open the file and then start editing.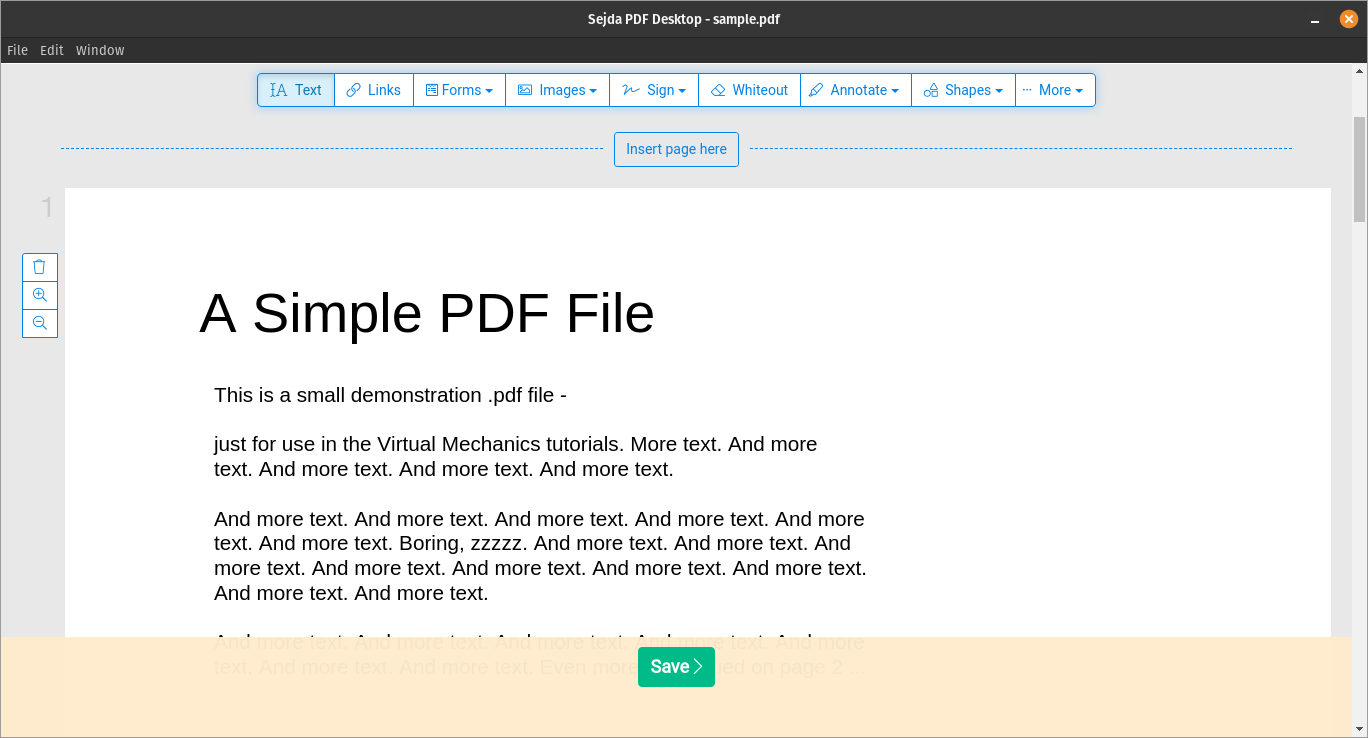 When finished, you can save the changes and overwrite the file or save it to another file.
6. Okular
Okular is a PDF viewer for KDE desktops, but you can install it on any supported desktop and distribution. Thanks to Okular, you will be able to edit your PDF files on Linux without too many complications.
Some things you can do with Okular are:
Add text boxes, shapes, and stamps.
Hide part of the text.
Add digital signatures to PDF documents. Ideal for business or multiple uses.
Copy text or images from the PDF document and paste it somewhere else.
Verify digital signatures
Well, Okular is a very neat application and within Linux few are better.
If you want to install it, just run
#For Debian, Ubuntu and derivatives
sudo apt install okular

#For RHEL 9 and family
sudo dnf install okular
Like the previous applications, you can then open your PDF file from the main menu and start editing.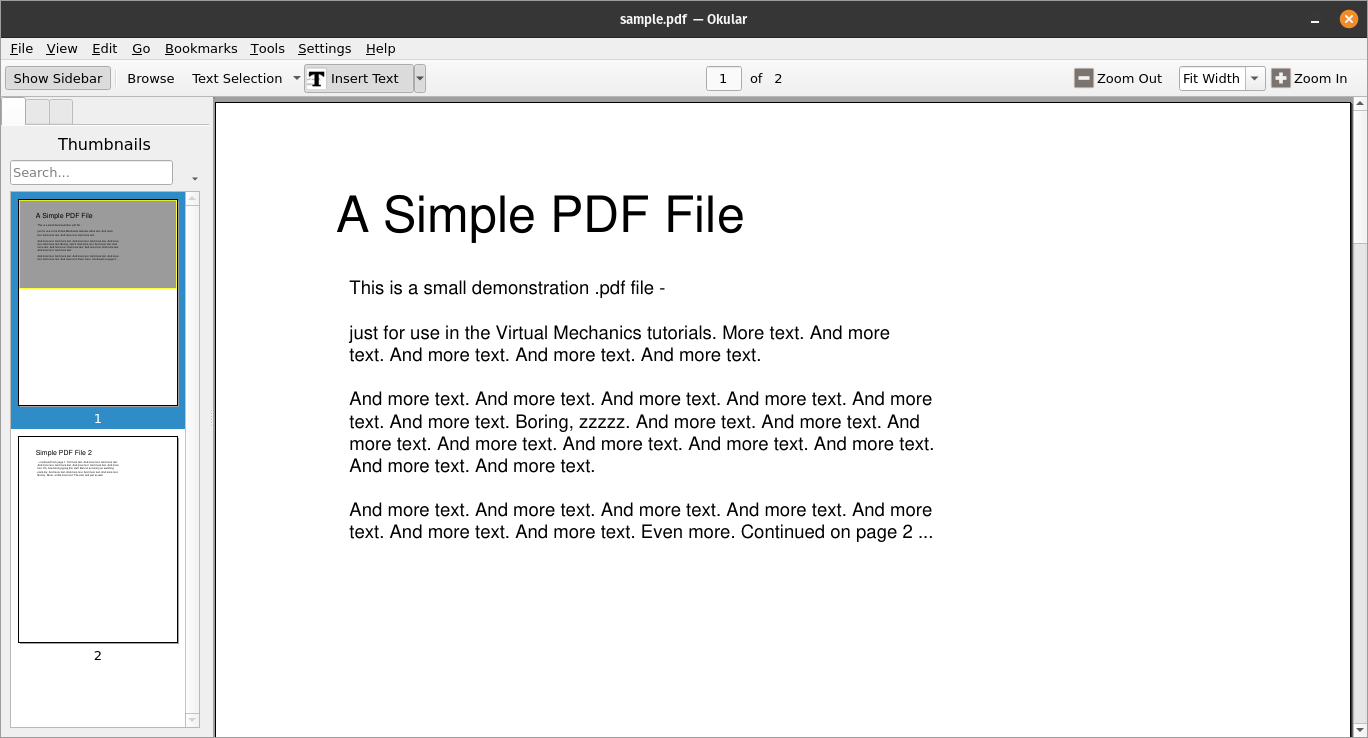 Final considerations about editing PDF files on Linux
Editing PDF files on Linux is a topic for many topics. On the one hand, there are open-source programs that although they are not specialized in editing files, they can help you in certain occasions; however, there are more powerful proprietary solutions that cost some money.
Finally, it is necessary to say that Linux is a very flexible system on the desktop and every day there are more and more applications prepared to solve the needs of the users.
I hope you liked the post, and you can help us to grow by sharing it with your friends.