FrostWire is an open source P2P client compatible with the BitTorrent network based on the LimeWire client, of which it is a fork.
Unlike other well-known applications such as Deluge or QBitTorrent, Frostwire is more complete as it includes a multimedia player and library management.
It must be said that Frostwire is open source and is created in Java, which makes it cross-platform across desktop systems. But not only that, it also includes a client for Android, so you can have it on your mobile.
So, we could say that Frostwire is similar to the extinct Ares or LimeWire itself.
Install Frostwire on Ubuntu 22.04
The hardware requirements for Frostwire are quite modest, it only asks for 256 MB of RAM, although for a better experience, they recommend 512 MB. As you can see, nothing out of this world.
You will be able to install it on almost any distribution that supports Java.
Installing Java on Ubuntu 22.04
The first thing you will need to do is install Java on your system. You probably already have it installed, but it's best to make sure.
To achieve this, you can run
sudo apt install default-jre
Finally, you can check the version of java installed:
java --version
Sample output:
openjdk 11.0.18 2023-01-17
OpenJDK Runtime Environment (build 11.0.18+10-post-Ubuntu-0ubuntu122.04)
OpenJDK 64-Bit Server VM (build 11.0.18+10-post-Ubuntu-0ubuntu122.04, mixed mode, sharing)
This will suffice.
Installing Frostwire on Ubuntu
As mentioned, Frostwire support is good, as you will be able to download and use compiled and prepared packages that are compatible with many distributions.
So, go to the download section of the Frostwire website.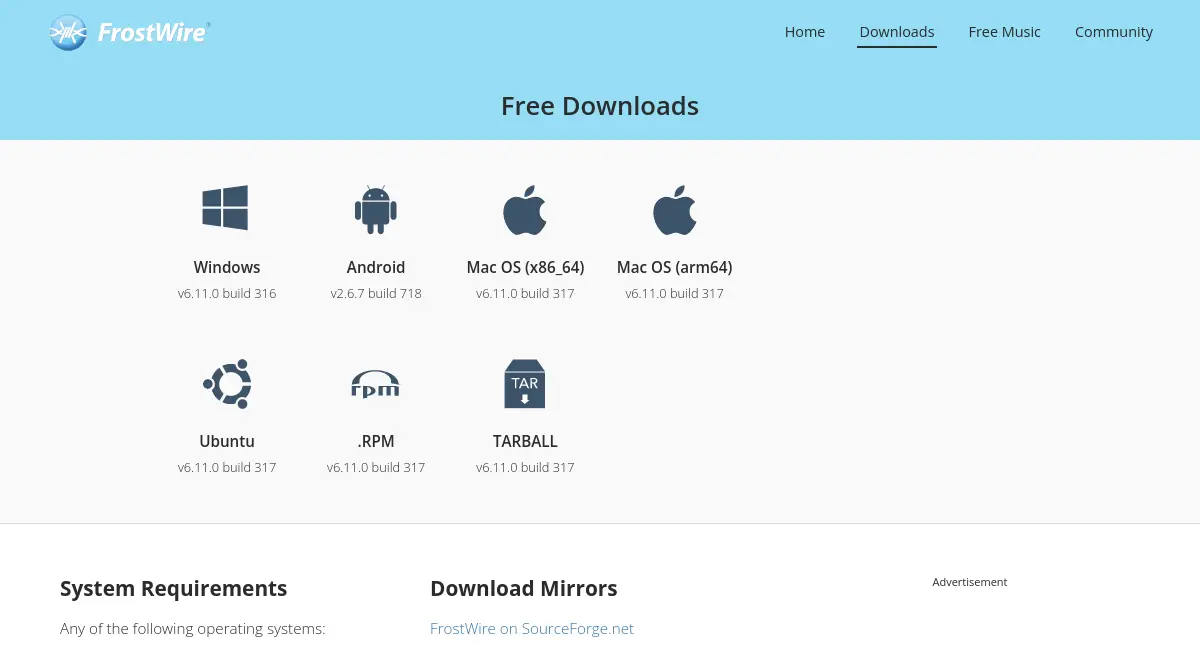 Now click on the Ubuntu icon to download the Ubuntu DEB version.
Once downloaded, you have two installation options. The first is to open the Ubuntu file browser, go to the folder where the file is located (usually Downloads) and then double-click on it.
There, the Ubuntu Software Center will open, and you will have to click on Install to start the installation.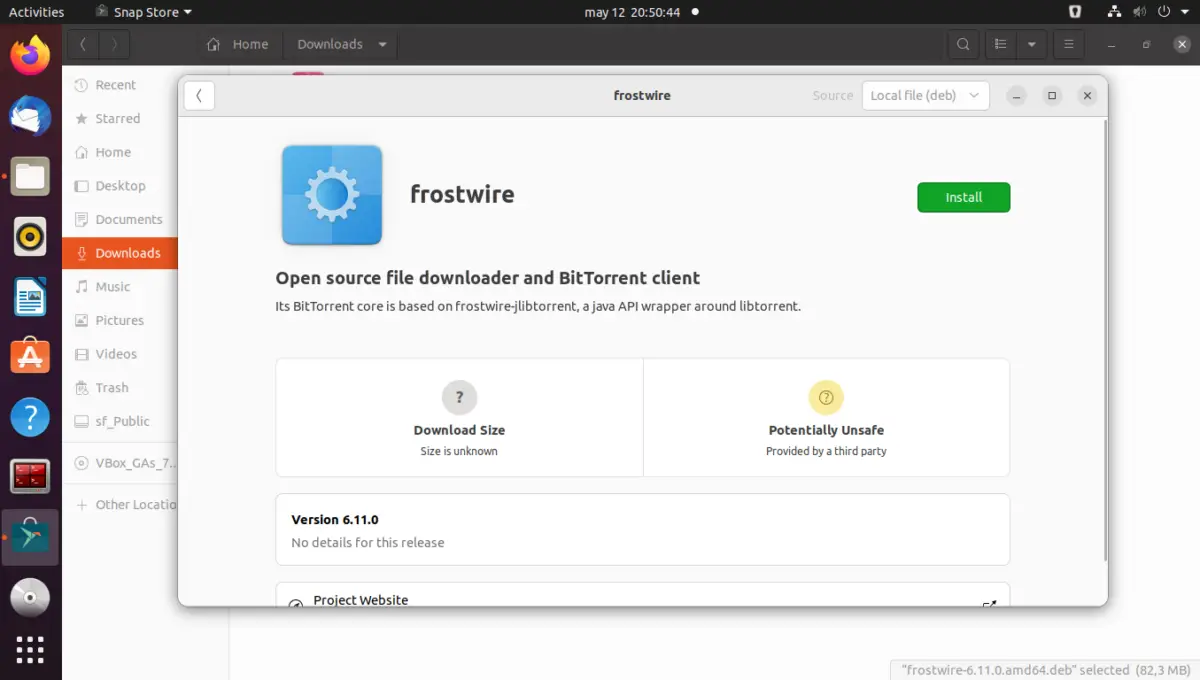 The second method is with the terminal. Open it from the main menu or by pressing the CTRL + ALT + T keys.
Then, go to the downloads' folder (or wherever the file is located)
cd ~/Downloads
And install using APT.
sudo apt install ./frostwire*.deb
You will also have to enter your password and then the process will start.
Taking a look at Frostwire
When you run Frostwire for the first time, you will see a welcome screen with a brief description of the application. On that screen, you will be able to change the language of the tool.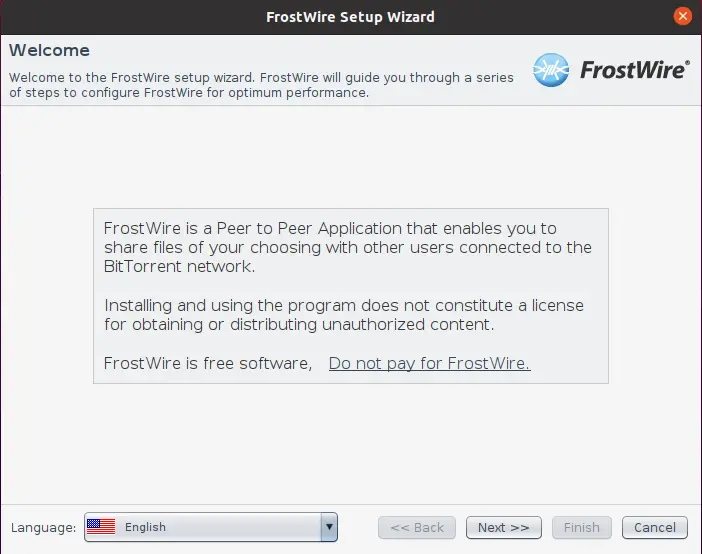 Then, you will be able to configure the folder where to store the Frostwire data. Here you will also be able to define a behavior when the downloads are finished.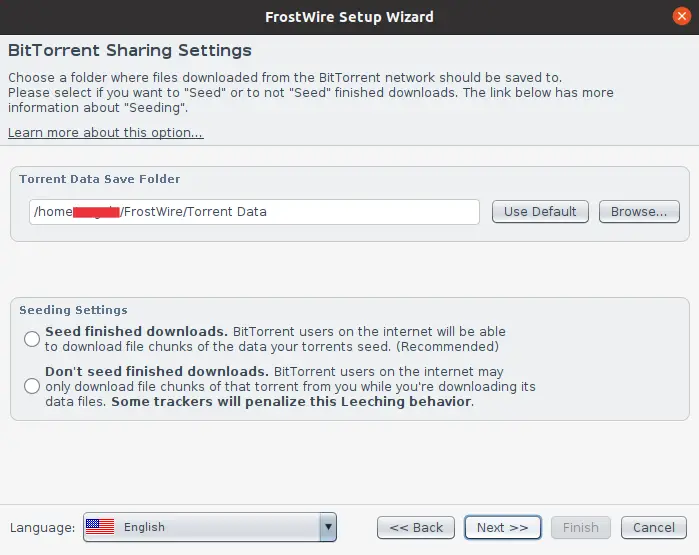 In the next screen, you are committed not to use Frostwire illegally. It is your responsibility to know what you share.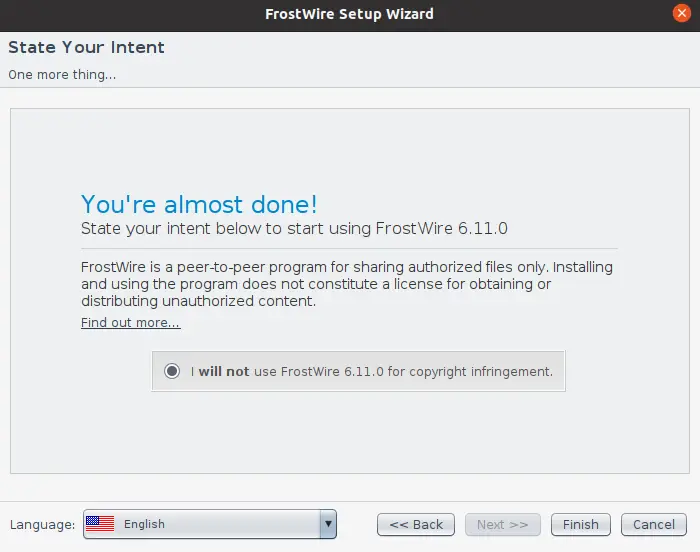 When finished, you will see a screen like this.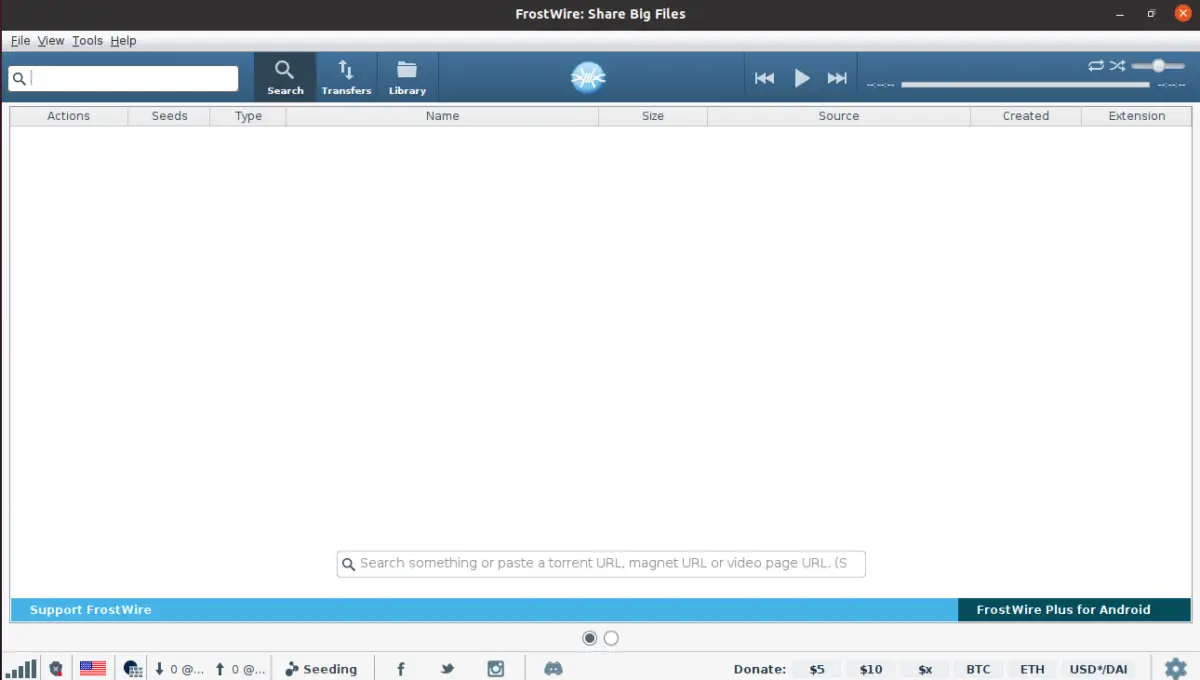 You can now do your searches or add torrents. You will even be able to use the library.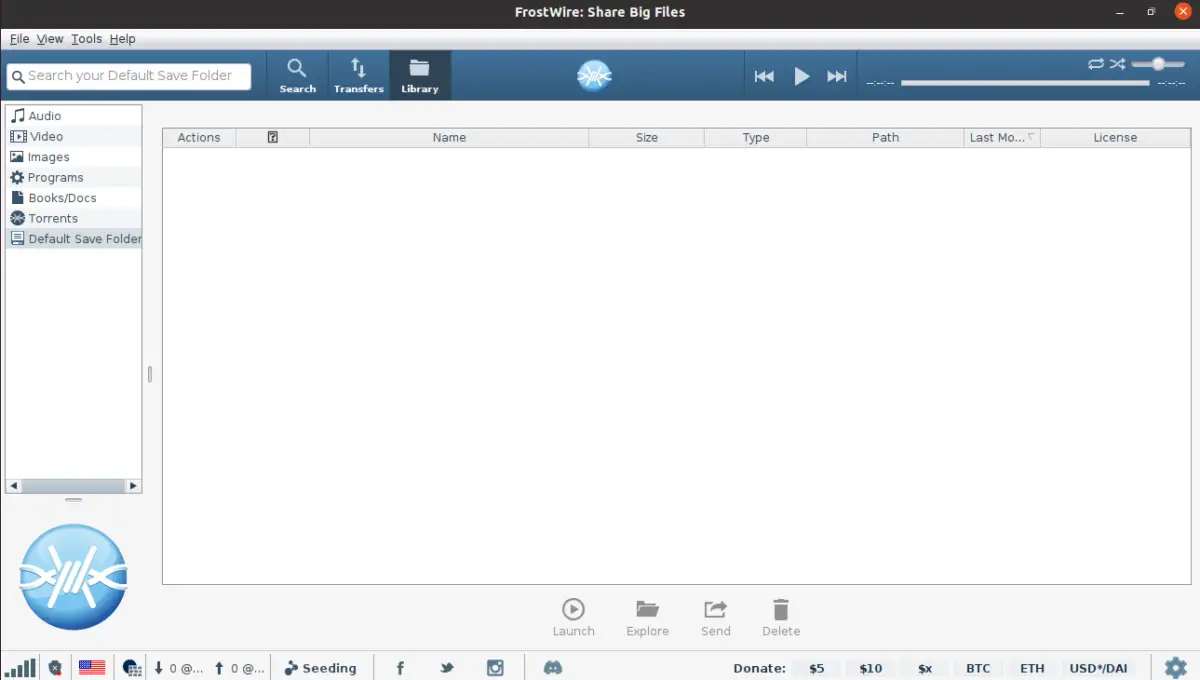 As you can see, Frostwire is simple to use but with very nice features. One last thing…you can check the app preferences using the menu.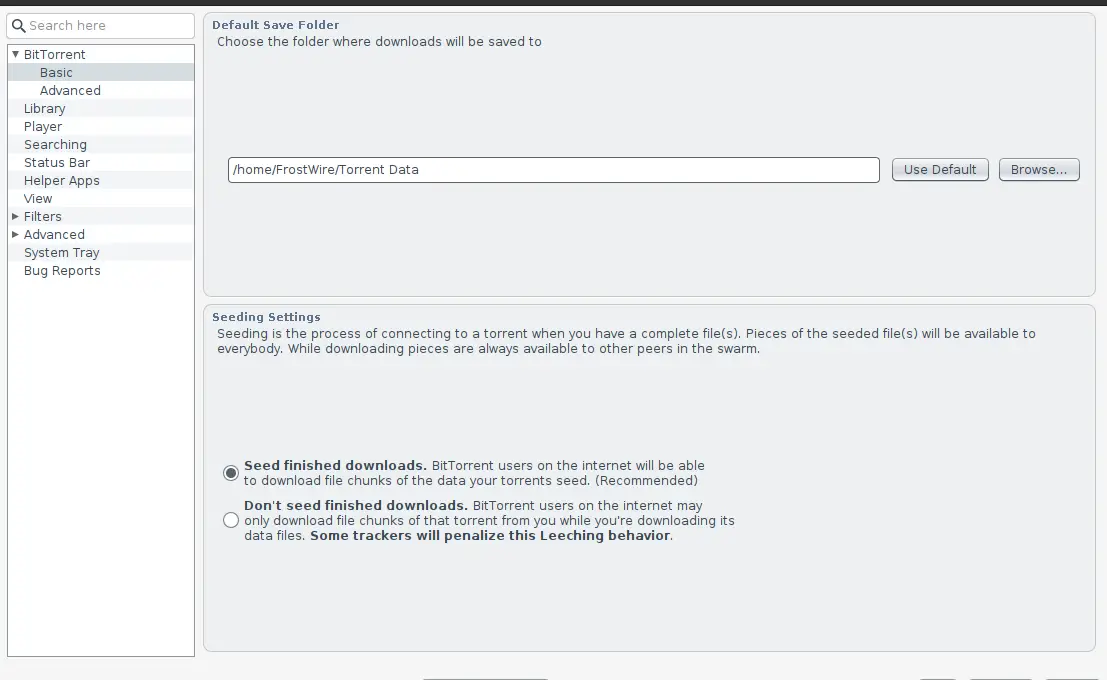 Uninstall Frostwire on Ubuntu 22.04
If you would rather not use Frostwire anymore, you should uninstall it to save disk space.
To achieve this, the quickest way is to open a terminal and run
sudo apt remove frostwire
Then you can remove it from the system. If you would rather not use Java either, you can uninstall it, although I don't recommend it.
sudo apt remove default-jre
Then you will no longer have Frostwire on your system.
Final thoughts…
Although P2P is no longer at its best, it is still a protocol to consider for file sharing over the Internet. Frostwire is a solid client that makes everything easier with its amazing features.
Now you know how to install Frostwire, I hope you use it and keep sharing this post with your friends.