Ubuntu 18.04 has served us well. This iteration of one of the most popular Linux distributions, known for its stability, accessibility, and extensive community support, has been a mainstay in the Linux community for five years. However, it's now time to look towards the future as support for Ubuntu 18.04 LTS (Long Term Support) is drawing to a close.
Ubuntu's parent company, Canonical, has long maintained a policy of offering five years of support for LTS versions of Ubuntu, a policy that has seen Ubuntu find favor in businesses, educational institutions, and personal desktops alike. The term "support" here covers a broad spectrum of assistance, from security updates to bug fixes and general system maintenance.
As per this blog post, Canonical's commitment to Ubuntu 18.04 LTS has come to an end, and users of this version are strongly encouraged to upgrade to a newer, supported version. If you're still running Ubuntu 18.04, this article is for you. We're going to explore why it's critical to upgrade and how to do it smoothly.
Why Upgrade?
Running an unsupported version of an operating system poses a number of risks and challenges:
Security: This is the biggest concern. Without continued security updates, your system becomes vulnerable to new threats. Cybersecurity is a constantly evolving field, with new vulnerabilities discovered every day. It's a simple rule: if your OS isn't getting updates, it's getting less secure.
Software Compatibility: As new software is released, it will increasingly be incompatible with older systems. Developers focus on creating software for the currently supported versions of an OS, and as time goes by, you'll find more and more applications that simply won't run on Ubuntu 18.04.
Access to Latest Features: Newer versions of Ubuntu come with updates to the user interface, improved performance, new features, and updated versions of key software packages. By sticking with 18.04, you're missing out on these improvements.
Ubuntu 18.04 at a glance
Ubuntu 18.04 Bionic Beaver saw the light of day in April 2018 as an LTS release, meaning one that would enjoy 5 years of free support for its releases.
This version of Ubuntu was highly acclaimed at the time because it was the first LTS version after the return of Ubuntu with GNOME. This was already an event, but it also welcomed Livepatch for server users.
At the application level, Ubuntu 18.04 offered a polished experience thanks to applications such as To-Do List or the insertion of Emoticons. In addition, of course, updated versions of Firefox, Thunderbird, LibreOffice and most of the GNOME components such as Files or terminal.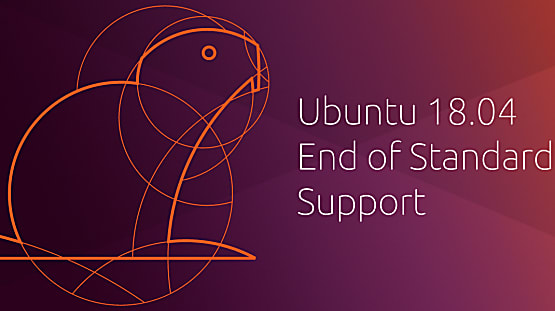 It was undoubtedly one of the best versions of Ubuntu that we have been able to enjoy for its cleanliness, security, and stability. But everything has an end, and the support of this one, too.
Being an LTS, this version assured us 5 years of support. Ideal for users who love stability, but also for companies that do not often have to make massive deployments.
This LTS brings us to a question, what are the release cycles of Ubuntu? What is LTS?
Ubuntu release cycles – What is an LTS?
Ubuntu releases a new version of the operating system twice a year, in April and October. However, every two years by April, in the even numbered year, an LTS release is out.
The LTS (Long-Term Support) versions of Ubuntu stand out for two things in particular: their stability and lack of innovation; and for the support time, which is 5 years.
These versions are the jewel in Ubuntu's crown because it is the version that most users use for its robustness and support time. Not only the most demanding server users benefit, but also the desktop because it places Ubuntu as an alternative for Workstations.
On the other hand, the other versions are supported for only 9 months. So, what is the point of releasing them? Well, these versions are oriented to enthusiasts, Ubuntu contributors and system testers.
The non LTS versions stand out because they include many new features and serve as a testing ground for future LTS releases. In addition, builds are released periodically so that enthusiasts can follow their development.
At the time of writing this post, the latest stable version of Ubuntu is 23.04 released in April 2023. It is not an LTS version, so in January 2024 it should end support. On the other hand, the latest LTS version is Ubuntu 22.04 which was released in April 2022. If there is no change, in April 2024 the next LTS should arrive.
As you can see, Ubuntu's release cycles are easy to understand: on the one hand, there are the LTS versions with 5 years of support and on the other hand, the intermediate versions that serve as testing and with less support.
So, what to do when the support time of an LTS is over?
Time to upgrade from Ubuntu 18.04
Yes, your Ubuntu 18.04 LTS computer will not receive any security updates after 31 May 2023. This means that no security or software patches will reach the system, opening a major security breach.
For this, you have two fundamental options, either you subscribe to Ubuntu PRO, which guarantees you 5 more years of support (until April 2028). Also you can get personalized technical assistance. Another option is upgrade the system to a new LTS version.
If you are a desktop or server user, you should upgrade your system to a new LTS like Ubuntu 20.04 or even better to the latest 22.04. The main advantage of this is to save some money that you can invest in other things. This process, although a bit tedious, will ensure the security and stability of the system at no cost.
You can do this process via a graphical interface or by executing certain commands in the terminal. Both will achieve the goal without too much trouble. Another option, although you have to study it well, is to install from scratch with the Ubuntu 22.04 version. In some cases it is feasible and in others not, so you have to make the best decision possible.
Final thoughts
With Ubuntu 18.04 out of support, it is time to upgrade to a new LTS version. Also you can join to the Canonical support program that extends the life of the system but investing money for it.
In either case, the decision time has come, and it is up to you to make the best decision.