The latest announcement from the openSUSE community brings us the much-anticipated openSUSE 15.5 update. This edition marks a significant update to many essential components of SUSE's community distribution.
Built upon the rock-solid foundation of SUSE Linux Enterprise 15 SP5, openSUSE Leap 15.5 promises to deliver security and maintenance updates through to the end of 2024. The extended support period will undoubtedly cater to the needs of many users, ensuring a reliable and secure experience.
While the update might be seen as a conservative one on the surface, it is, in reality, a testament to the robust and stable nature of the SUSE base. This update, therefore, serves as an enhancement to the already dependable openSUSE platform.
openSUSE 15.5 is not all about the under-the-hood improvements. Users will notice some feature updates as well, albeit more focused on the staples of a distribution like desktop environments and web browsers. Yet, the update does not shy away from introducing technical enhancements that cater to the power users and professionals among us.
Join us as we delve into what makes openSUSE 15.5 an important milestone in the world of open-source Linux distributions."
openSUSE 15.5 What's New
openSUSE continues its commitment to support all prominent desktop environments, a trend that continues with the release of openSUSE 15.5. Users can expect to find KDE Plasma 5.27, GNOME 41.8, and Xfce 4.18, all selectable through the versatile YAST installer.
From a technical perspective, openSUSE 15.5 includes Linux Kernal 5.14.21, Mesa 22.3.5, and systemd 249.16. Although these may not be the latest versions, they have been proven to be highly stable and well-refined.
In addition, Mozilla Firefox ESR desktop comes in version 102.9, satisfying web surfing needs, while Thunderbird 102.8 caters to the needs of dedicated email users. Not to be overshadowed, LibreOffice 7.2.5 stands as a noteworthy inclusion.
Being a Linux distribution that champions the use of Flatpak, openSUSE 15.5 now incorporates Flatpak 1.14, allowing users to install packages and programs with ease.
This update also simplifies the process for users keen on transitioning to SUSE. The streamlined migration process from Leap to SUSE Linux Enterprise Server is virtually instantaneous. For a deeper understanding of this process, it's certainly worth exploring further
More new features in openSUSE 15.5
While the aforementioned new features largely cater to desktop users, openSUSE 15.5 also introduces several technical enhancements specifically designed for developers and Linux professionals.
A significant shift in this release is openSUSE's decision to favor Podman over Docker. This change shouldn't disrupt user experience as Podman and Docker maintain excellent compatibility. Podman 4.4.4 marks its debut in this update.
Staying within the realm of containers, CRI-O and Containerd versions align with those in SLE, promising a well-tuned experience.
If your work involves Artificial Intelligence, you'll appreciate the inclusion of PyTorch and ONNX directly in the distribution.
openSUSE 15.5 also introduces updates to Grafana and Prometheus, both crucial tools for server monitoring and management.
For developers, Python 3.11 is now accessible from the official repositories, and there are noteworthy updates for PHP, Ruby, Rust, and Perl.
openSUSE continues to offer solid support for Nginx, Apache HTTPD, MariaDB, and PostgreSQL. Consequently, users can anticipate regular updates ensuring continued and reliable service.
How to get openSUSE 15.5?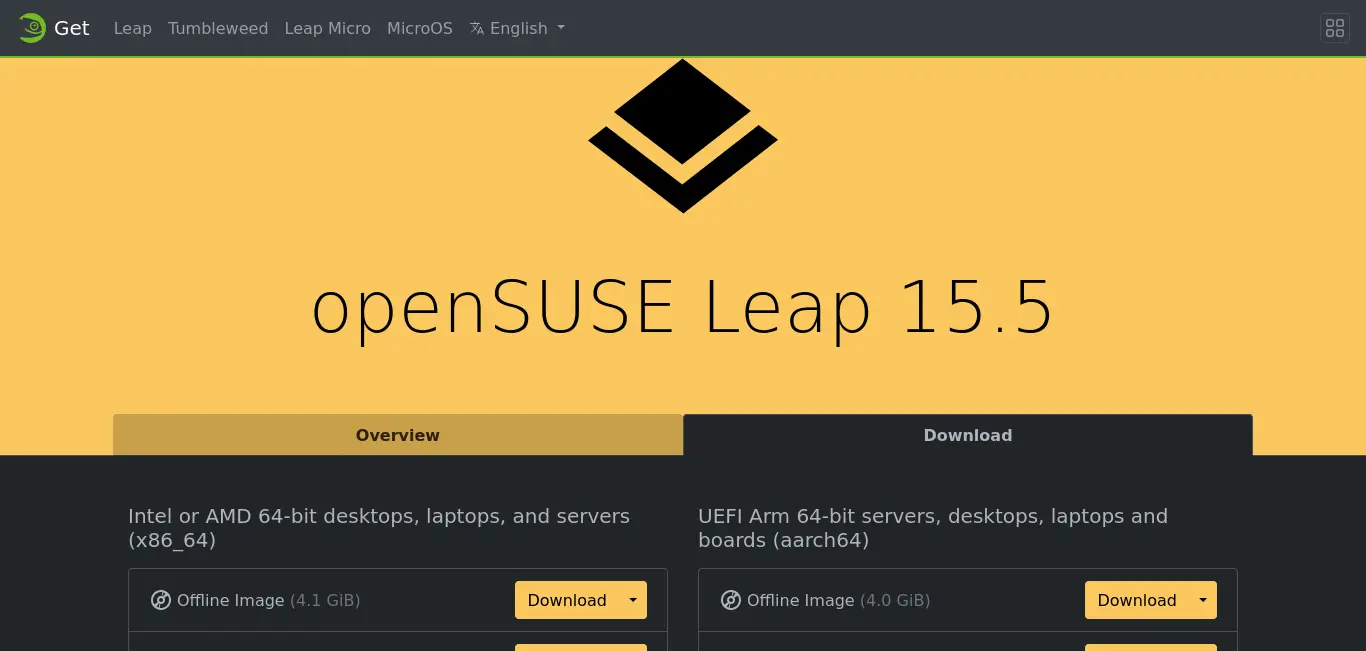 openSUSE is freely distributed as ISO images, which can be obtained from this link. Two primary options await you: the full ISO download (4Gb) for a complete package or a Network version, recommended for those with robust connection speeds.
The images are compatible with most modern processor architectures and desktops, and they are available for download via direct link or torrent.
If you're currently using openSUSE 15.4, an upgrade to 15.5 is straightforward. Simply download the bootable ISO and select the upgrade option.
Alternatively, for those comfortable with a slightly more complex process, an online upgrade can be conducted via the command line. The openSUSE portal offers a comprehensive guide for this approach.
As highlighted, there are multiple ways to acquire and upgrade to openSUSE 15.5, catering to a range of user preferences and capabilities.
Final thoughts
In conclusion, openSUSE 15.5 represents a significant evolution in SUSE's community distribution, embodying a blend of usability enhancements for desktop users and deeper, technical upgrades for developers and Linux professionals. From embracing Podman over Docker to hosting Python 3.11 in the official repositories, this update covers a broad spectrum of needs.
Furthermore, with its ease of acquisition and upgrade, along with the continued support for key applications, openSUSE 15.5 stands out as a compelling option for those seeking a stable, feature-rich, and reliable Linux distribution.