The Internet is the place where news is most abundant. Newspapers and magazines seem far away in physical format and there are now millions of specialized sites with lots of content, information, and news. But they are many and a person probably has his list of favorites, but it can still be a problem to read them all, and for this, there is the RSS. However, there is a lack of an application that processes RSS on the Ubuntu desktop. So, it's time for you to learn how to install Liferea on Ubuntu 20.04
Liferea for Ubuntu
Taking the Liferea website as a reference, we get the following definition:
Liferea is a web feed reader/news aggregator that brings together all of the content from your favorite subscriptions into a simple interface that makes it easy to organize and browse feeds. Its GUI is similar to a desktop mail/news client, with an embedded web browser.
In addition to this, we can have an advantage offered by the application such as
Read articles when offline.
Force fetch full article text using HTML5 extraction
Subscribe to HTML5 websites that do not even have a feed
Synchronizes with Reedah, TheOldReader, TinyTinyRSS
Permanently save headlines in news bins.
Match items using search folders.
So, in short, this reader allows us to read the articles of websites through the RSS protocol. Also internally the application uses an integrated web browser, although it also allows us to be able to use an external browser like Firefox.
Now to install it.
Install Liferea on Ubuntu 20.04
An application like Liferea has to be if or if in the Ubuntu repositories. And that's the way it is. Therefore, the installation is quite simple.
First, open a terminal. This can be done from the main menu or by pressing the keys CTRL + ALT + T
Once it is open, execute this pair of commands to perform the installation:
sudo apt update
sudo apt install liferea
Sample Output:
Reading package lists... Done
Building dependency tree 
Reading state information... Done
The following additional packages will be installed:
liferea-data python3-notify2
Suggested packages:
kget
The following NEW packages will be installed:
liferea liferea-data python3-notify2
0 upgraded, 3 newly installed, 0 to remove and 504 not upgraded.
Need to get 789 kB of archives.
After this operation, 3502 kB of additional disk space will be used.
Do you want to continue? [Y/n]
After entering the password, the download and installation of the program will begin.
Getting the latest version of Liferea
The official Ubuntu repositories are very complete, but they do not have very up-to-date packages and we miss the news that these programs can offer us.
That's why, if you are interested in having the latest version of Liferea it's convenient to add an external PPA.
So, in the terminal, run:
sudo add-apt-repository ppa:ubuntuhandbook1/apps
Then, refresh APT:
sudo apt update
And finally, install Liferea by running:
sudo apt install liferea
If you have installed Liferea, just update the distribution completely:
sudo apt upgrade
This is how you get the latest available version of Liferea on Ubuntu 20.04
How to use Liferea
Once Liferea is installed on the system, you can run it from the main menu. And you will see the following screen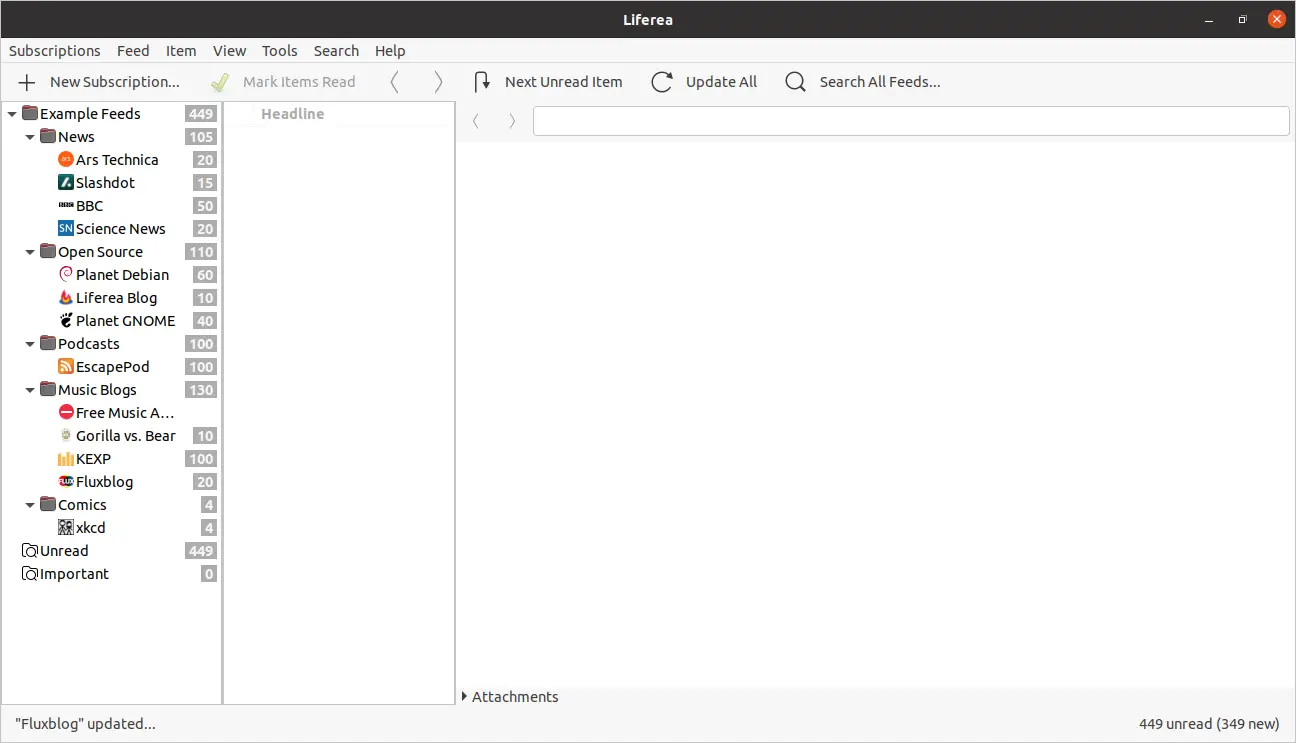 By default, Liferea already has some popular website subscriptions loaded, organized by folder.
If you wish to add a new subscription, just click on the New Subscription button and a window will be displayed.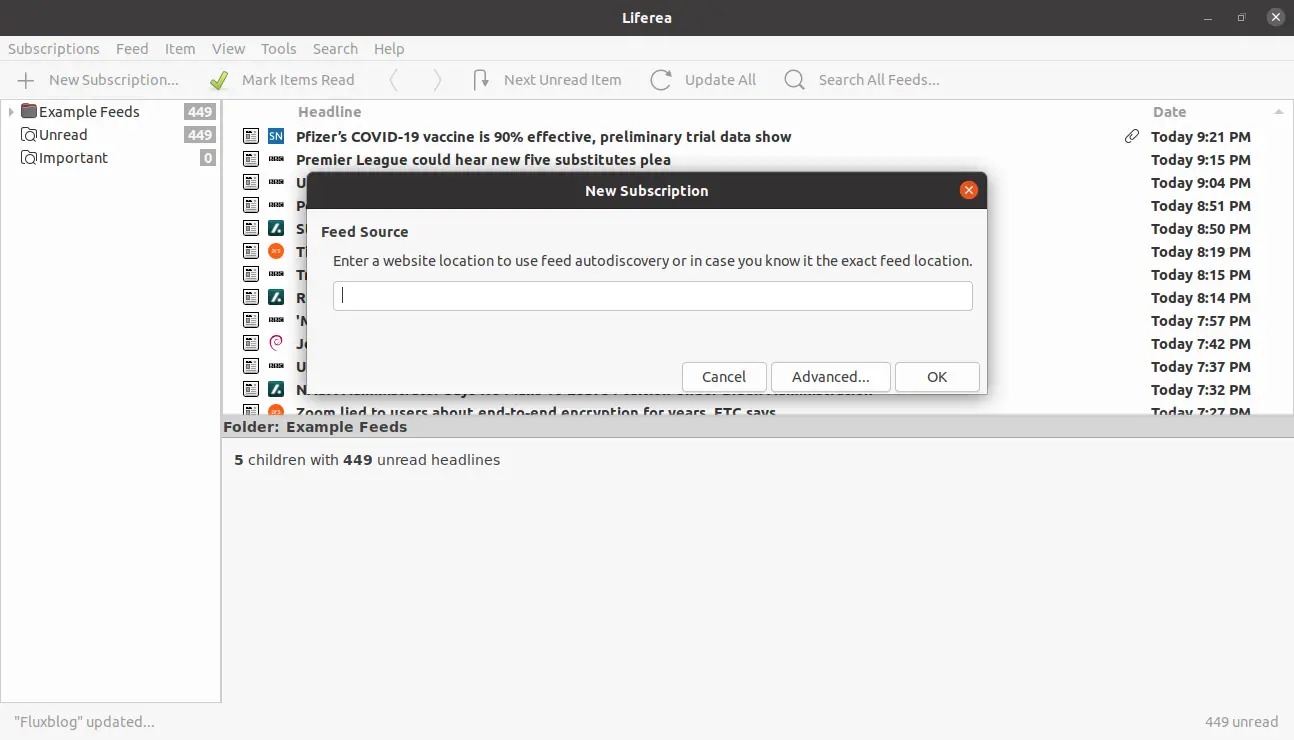 There you have to enter the URL of any RSS service of any website you want.
And it will automatically start the download of the whole Feed.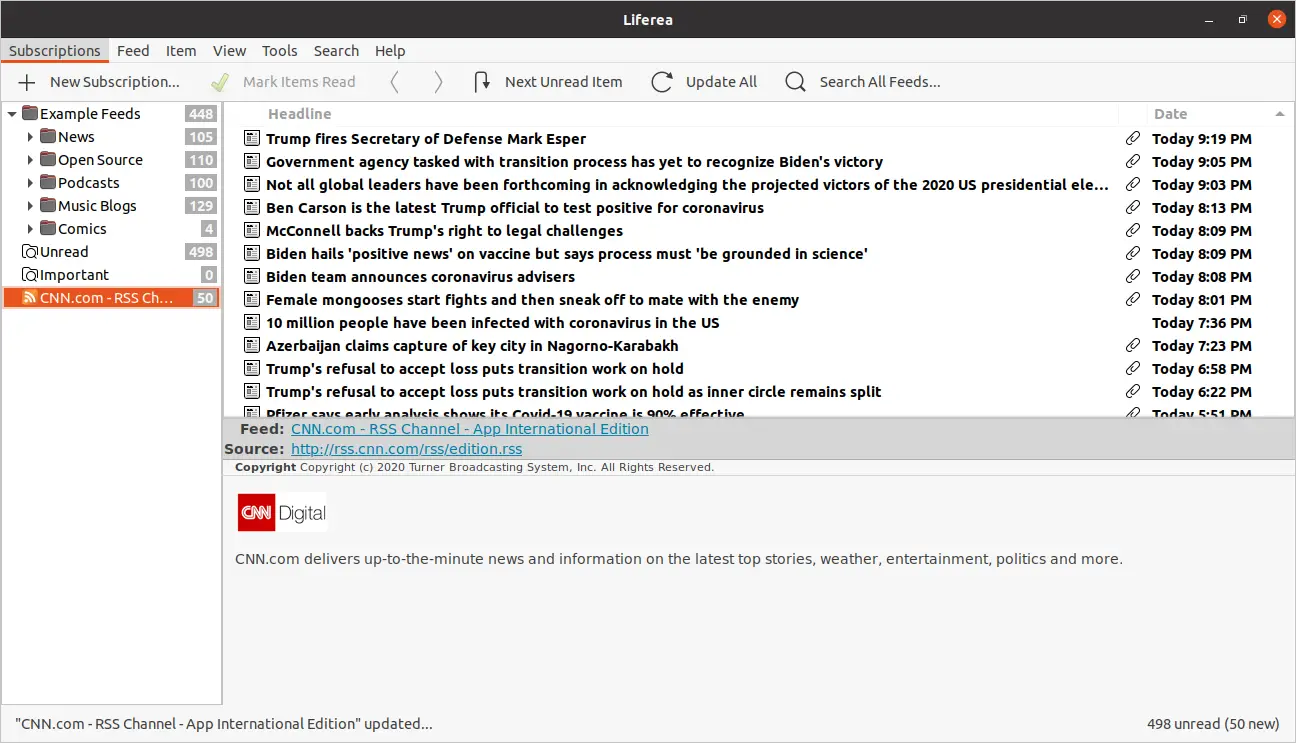 It's that simple. You can always check the preferences of the program. So, Go to Tools > Preferences.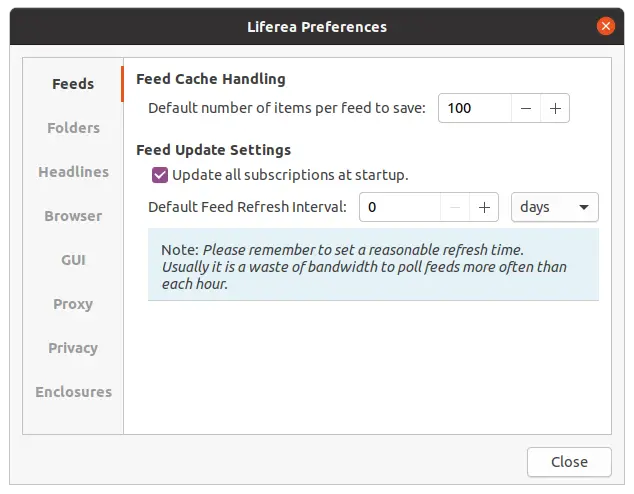 From there you can modify some settings to your liking.
How to remove Liferea on Ubuntu 20.04
If you don't want to use Liferea anymore and need to uninstall it, you can do it quickly using the terminal.
So, open it and run it:
sudo apt autoremove liferea
In case you have added the PPA, you may also want to remove it.
sudo add-apt-repository --remove ppa:ubuntuhandbook1/apps
And so there will be no trace of Liferea on Ubuntu 20.04
Conclusion
Having an application like Liferea helps us order our RSS and even Podcast subscriptions. All this from the comfort of your desk and with the ease of knowing that the installation is quite simple and within the reach of all
So, have you used Liferea? Do you like it? Do you use RSS? Leave us a comment and share this post.