If we talk about open source software that has become so good and successful, then we must talk about Blender. And that's why in this post we'll show you how to install Blender on Ubuntu 20.04 and we'll also talk about this very successful software.
Blender
According to the Blender website
Blender is the free and open-source 3D creation suite. It supports the entirety of the 3D pipeline-modeling, rigging, animation, simulation, rendering, compositing and motion tracking, even video editing and game creation.
Also, it is a public project, made by hundreds of people from around the world; by studios and individual artists, professionals and hobbyists, scientists, students, VFX experts, animators, game artists, modders, and the list goes on.
This makes Blender a software dedicated to a limited number of people. However, many audiovisual productions have been created with Blender and are already considered the open-source alternative to very advanced proprietary software.
Otherwise, with Blender, you can expect everything that a professional software has to do. Besides this, it has an API where using Python many creators can automate tasks through scripts.
Install Blender on Ubuntu 20.04
Blender is very popular not only within Linux but also in other systems such as Windows or macOS. Therefore, the installation of Blender as many applications is not difficult at all.
There are even several methods to reach the same goal. Choose only one of them.
Method 1: Blender on the official repositories
Blender is present in UBuntu's repositories, so the installation is quite simple. All you have to do is open a terminal and run APT
sudo apt install blender
After entering your password, it will start the entire download and installation process.
This method, although it is quite safe and reliable, has a problem, and that is that we will not have the latest stable version of Blender. Therefore, we will miss many new features that Blender brings with each version.
To avoid this we present to you other alternatives.
Method 2: Blender on the Ubuntu Software Center
Blender is also available at Ubuntu's application store. This is a tremendous advantage for everyone because you can have the latest stable version without problems and without using the terminal.
To do so, open the Ubuntu Software Center and search for Blender.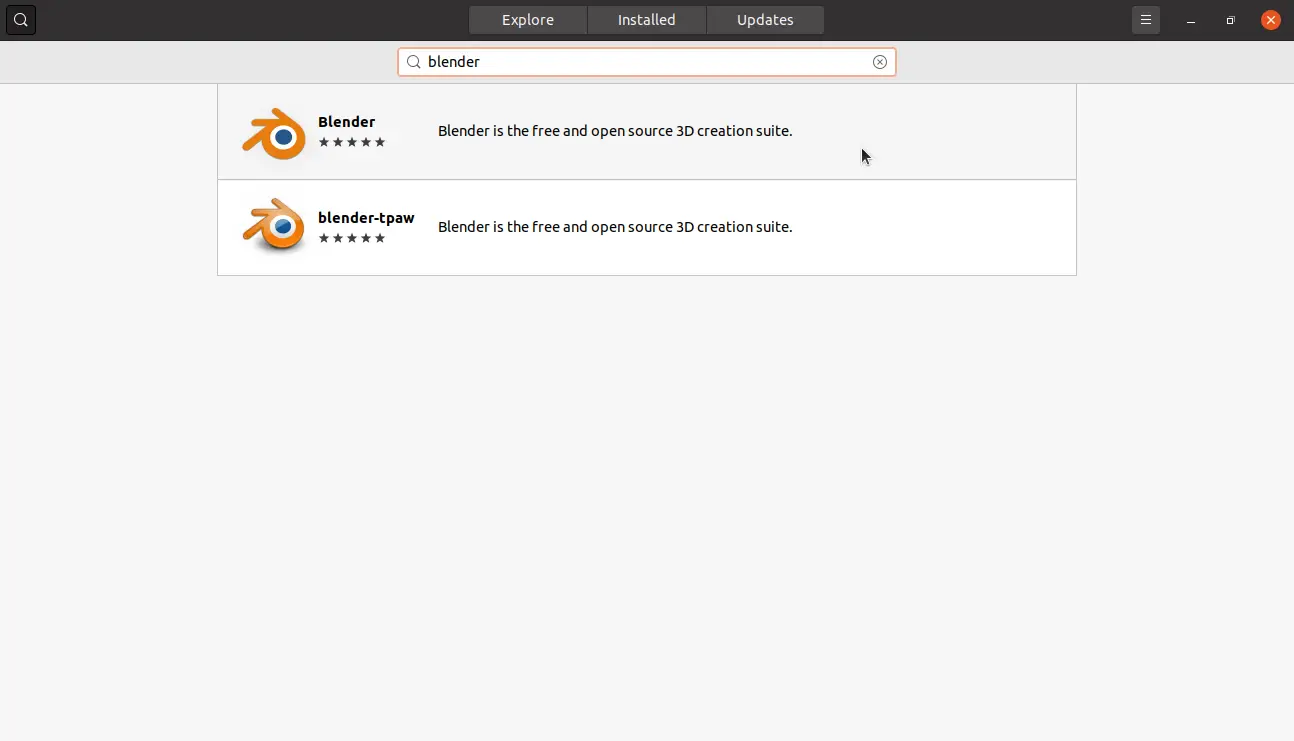 Choose the best result, in this case, it's the first one and click on it.
Then, you will see information about the Blender package and you can start the installation by clicking on the Install button.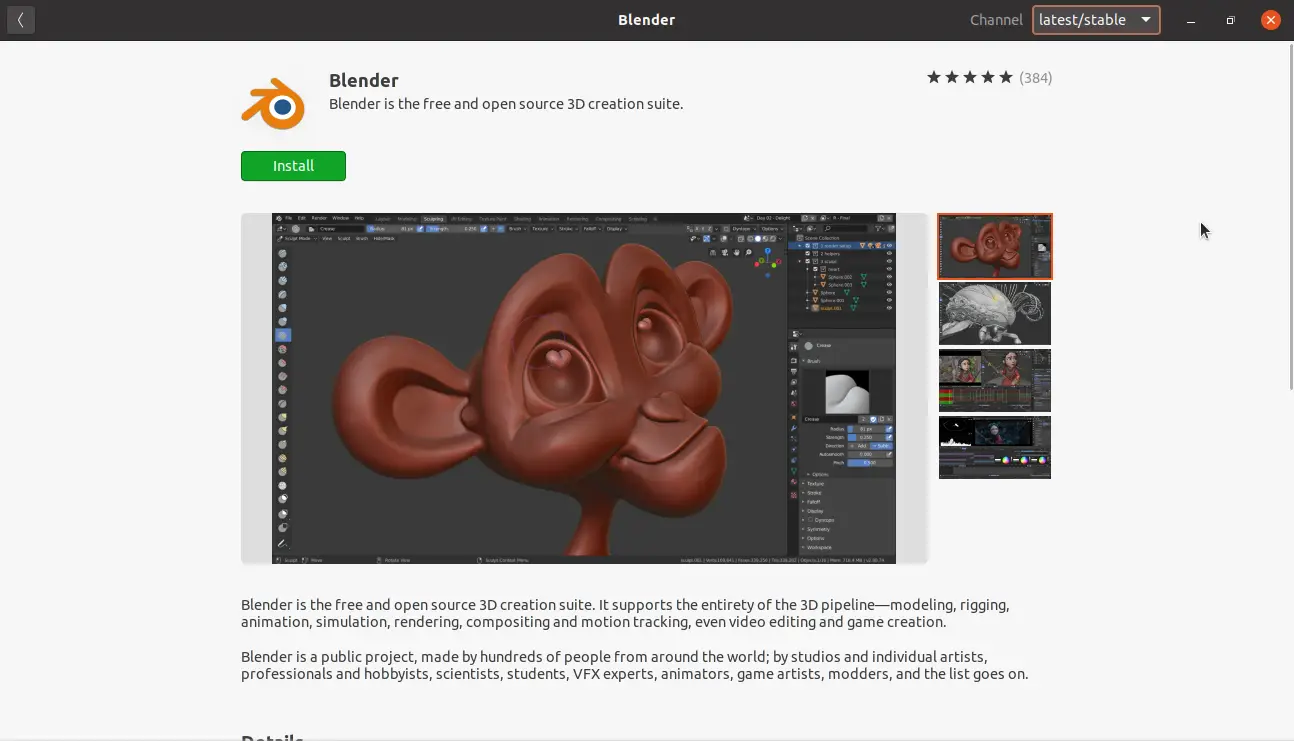 Then, you can launch it from the main menu.
Method 3: Install Blender on Ubuntu 20.04
The last method we propose is to use the snap command to install Blender on Ubuntu 20.04. This method is quite flexible because it allows you to choose which branch of stability we want.
On the one hand, we can choose the latest stable version always. Something that can be quite useful.
Also, we can choose the stable-lts branch that provides us with a long supported version ideal for the daily work and without shocks. Let's say it is the balance between stability and novelty.
So, to always install the latest version of Blender in a terminal, you have to run it:
sudo snap install blender --classic
But if you opt for the LTS channel, you can run:
sudo snap install blender --channel=2.83lts/stable --classic
In any case, you can then run Blender from the main menu.
Conclusion
Blender is an important application for many small and large studios worldwide. This is a clear example that open-source are valid alternatives to many proprietary applications.
Thanks to this post, now you know how to install Blender in Ubuntu 20.04 using several possible methods. You only have to choose the one that best suits your needs.
Now it's your turn to talk, do you like Blender? have you used it? leave us a comment and share this post.
Thanks for reading