On Linux, we have applications of all kinds. Some of them are focused on productivity and others on leisure. In any case, there are more and more every day. Today we will talk about one that interacts with the clipboard and is very useful when we use it frequently. Today, you will learn how to install Qlipper on Debian 11.
What is Qlipper?
According to the GitHub profile
Qlipper A lightweight, cross-platform clipboard history applet.
Qlipper's main function is to interact with the system clipboard to collect all copied text and images.
This way, we can interact with the clipboard and check the clipboard history. This tool is cross-platform and is part of the QT Desktop project, so we can install it on almost any Linux distribution.
Another favorable aspect of the tool is that it is quite lightweight. So, we can install it knowing that we will not sacrifice the performance of our computer.
Finally, Qlipper is effortless to use, as it doesn't pretend to be anything more than viewing and using the clipboard history.
Let's go for it.
Installing Qlipper on Debian 11
As mentioned above, Qlipper can be installed on many Linux distributions without major problems. Regarding Debian 11, which has one of the largest package bases on Linux, we won't have any issues either.
To achieve this, open your terminal and update Debian 11.
sudo apt update
sudo apt upgrade
Thereafter, you can install it by running this command
sudo apt install qlipper
Thereafter, you can run it from the main menu.
Using Qlipper in Debian 11
Before using it, you have to run it from the main menu. This will get the applet running on your system.
The usage is effortless, just click on the tray icon and see what you have copied to the clipboard.

You can also check the options of the application to customize it to your liking.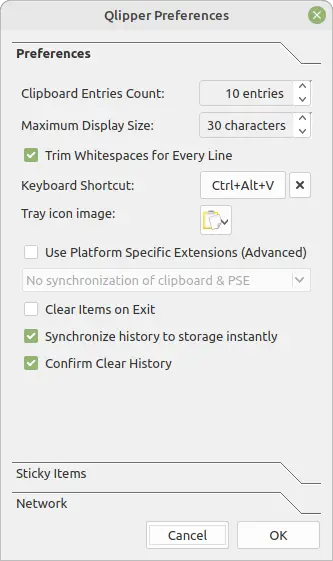 Uninstalling Qlipper in Debian 11
If one day you want to remove Qlipper from your system, you have to run
sudo apt remove qlipper
This way you won't have it on your system anymore. This will save you some space.
Conclusion
In this post, you learned about Qlipper and its installation in Debian 11. Besides this, we showed you how to remove it from the system when you don't want to use it anymore.
I hope you liked the post and help us to share it.