Arch Linux is one of the most popular distributions out there and is the Rolling Release better than all others in this world. However, the installation and configuration process makes many users stay away from using it, despite all its advantages. Fortunately, distributions based on Arch Linux have been created to provide an alternative without losing the spirit of the original distribution. Today, you will know the Top 3 Arch Linux-based distributions.
Introduction – Arch Linux General Features
According to the Arch Linux Wiki itself
Arch Linux is an independently developed, x86-64 general-purpose GNU/Linux distribution that strives to provide the latest stable versions of most software by following a rolling-release model.
From this definition, it is necessary to mention the concept of Rolling-Release and that is that Arch Linux is constantly updated and there is no central version as happens with Ubuntu, for example, that every so often releases a new version.
This model guarantees continuous updates and that the user does not have to reinstall to obtain the new versions. Of course, to avoid accumulating too many of these, the development team frequently releases new ISOs for new installations.
Although there are other distributions with this model, such as openSUSE Tumbleweed, it is not unreasonable to say that the Rolling-Release distribution better than all others is Arch Linux. For this, they come with what for many is the best package manager there is: Pacman.
The default installation is a minimal base system, configured by the user to only add what is purposely required. This is an advantage because it gives the user more control over the installation, but for many novice users it is a challenge that they sometimes shy away from.
Because of this, Arch Linux is considered very flexible as the user can customize it from the interface to the base components. This has led enthusiasts to create distributions based on Debian to offer other alternatives without giving up the origins.
Top 3 Arch Linux-based distributions
Before we start, we want to clarify that they are not ordered under any criteria and that there may be more quality distributions with this parameter.
Manjaro: A different kind of Arch Linux
If we discuss popularity, Manjaro has to be the king. Because Manjaro is the most popular Arch-based Linux distribution, and I think by far.
What makes it so popular? Well, it provides all the benefits of an Arch operating system, but with a special emphasis on stability, ease of use and accessibility for newcomers and experienced users alike.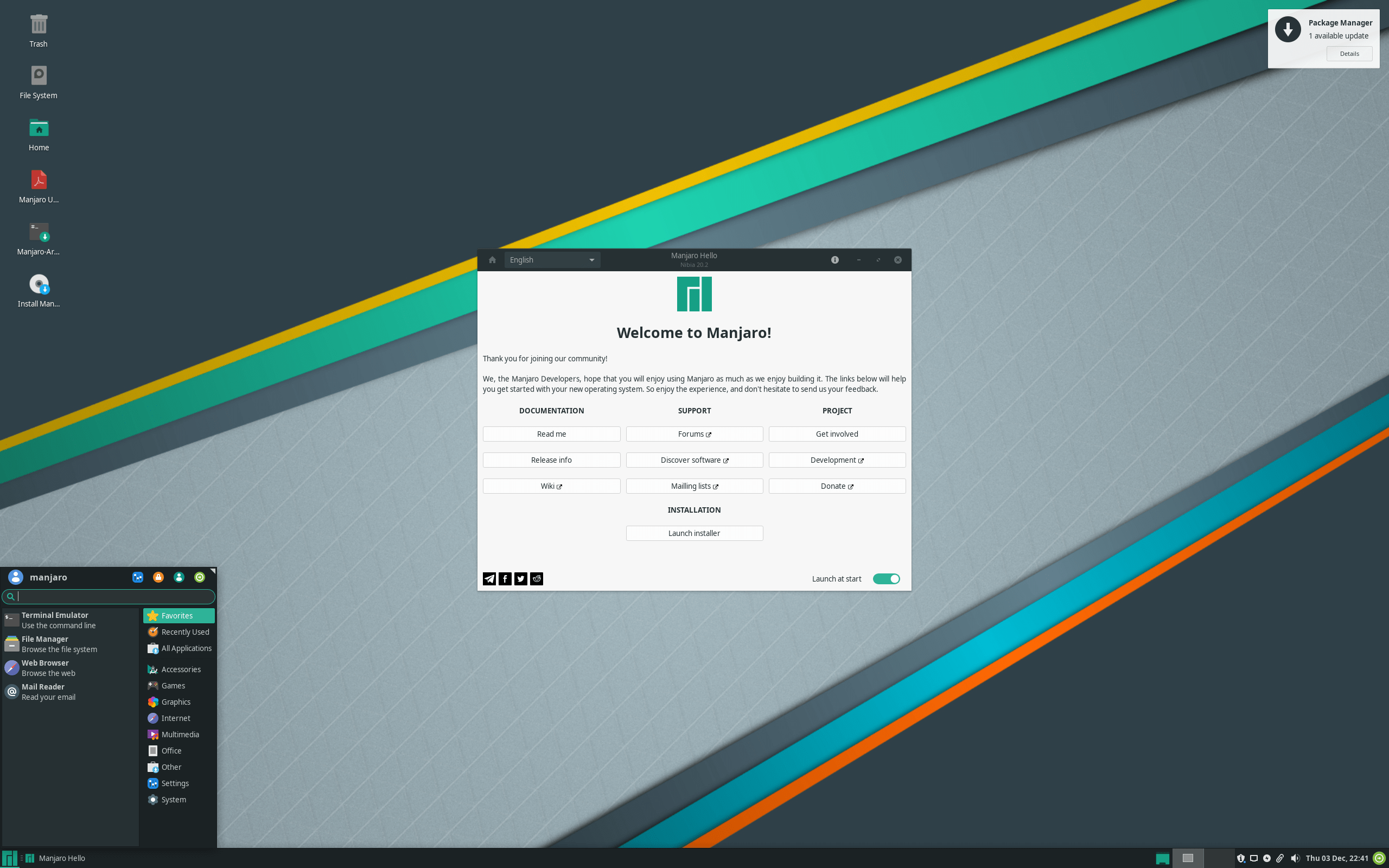 Now, it is said to be a different Arch Linux because it is always a bit behind Arch Linux in its official repositories. This allows developers to test the software a bit more for the end user. In short, it has more outdated packages than Arch Linux, but with the promise that they will arrive soon in the repositories.
Furthermore, the release cycle is very similar but with the added bonus that Manjaro does it periodically and resembles the Windows service packs of yesteryear.
The main advantage of Manjaro is that the installation is easy, you can choose any desktop environment, it supports a lot of hardware by default, and you won't have problems with translations. In addition to this, in Manjaro it is easy to change and update Kernels to increase support.
Another plus point is that Manjaro has its repositories to further expand the catalog of applications you can use.
Pros
Easy to install and use
Ready to use desktop
Stable
Many environments available
There are many images available which you can access from this link
EndeavourOS: An easier to use alternative
EndeavourOS is an Arch Linux-based distribution with a clear premise that it is easy to use. It also includes some new and useful features that enhance the user experience.
The best thing about EndeavourOS is that its installer works like a charm and has a fairly low learning curve. From there, you can decide to install between 8 desktop environments.
So, customization is openly present with this Arch Linux derivative.
Why is Arch Linux said to be easier to use? Because unlike Manjaro, EndeavourOS shares repositories with Arch Linux, so you will have a very similar user experience. In addition, all the software will be perfectly compliant.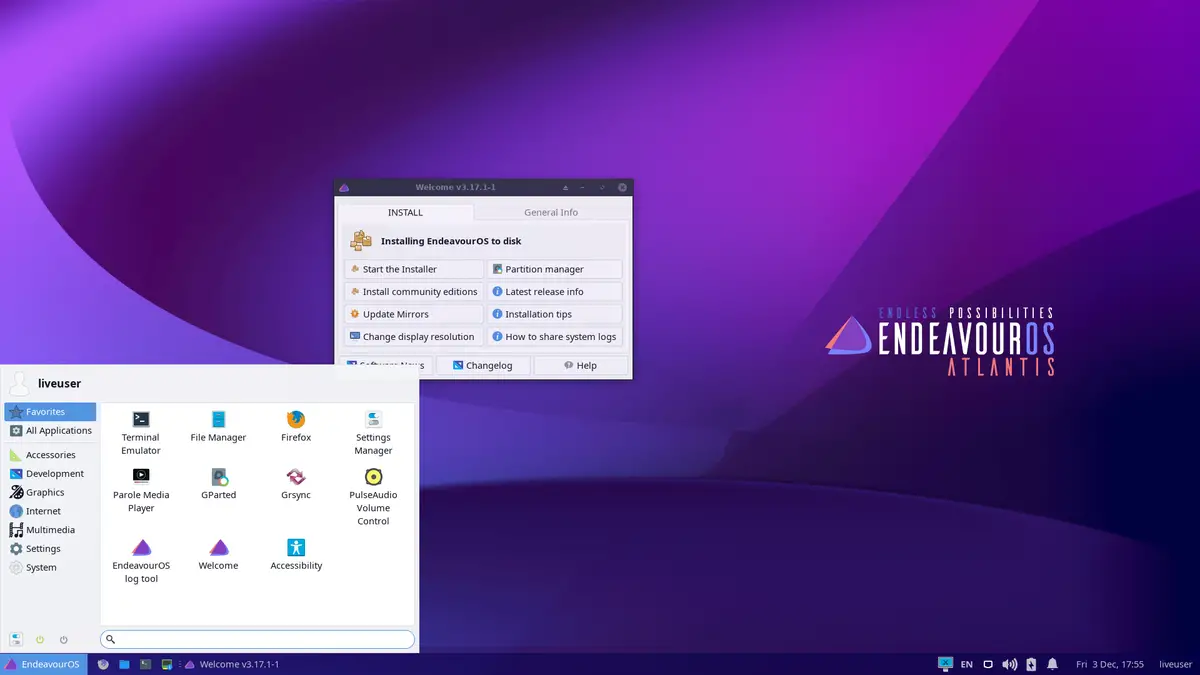 Another interesting aspect to consider is that it does not overload the installation of your system. That is to say, it includes the essential packages to work, but since there are not too many, it gives you the possibility to install the necessary ones for your work.
Finally, the distribution has a strong sense of community, proof of that is Discovery which is the EndeavourOS knowledge base, the place where you can find our ever-growing wiki articles. So, you won't feel alone when using this distribution.
Pros:
User-friendly installer
Possibility to choose from many desktop environments
Efficient community support
Fully compatible with Arch Linux
Download links can be obtained by accessing the distribution's website. You can do it through a mirror or via torrent.
Garuda: A flawless Arch Linux derivative
Garuda is one of the newest Arch Linux derivatives you can find and although its installer is Calamares (the same as Manjaro and EndeavourOS) it stands out from the rest because of two things.
The first one is that, by default, it uses BTRFS as file system, which allows it to be fast and have access to hard disk snapshots. That is, frequent backups over the system without major problems.
The second thing that sets Garuda apart from the rest is its impressive graphical interface. Because it is no exaggeration to say that the graphical aspect of Garuda is one of the best you can find in all of Linux.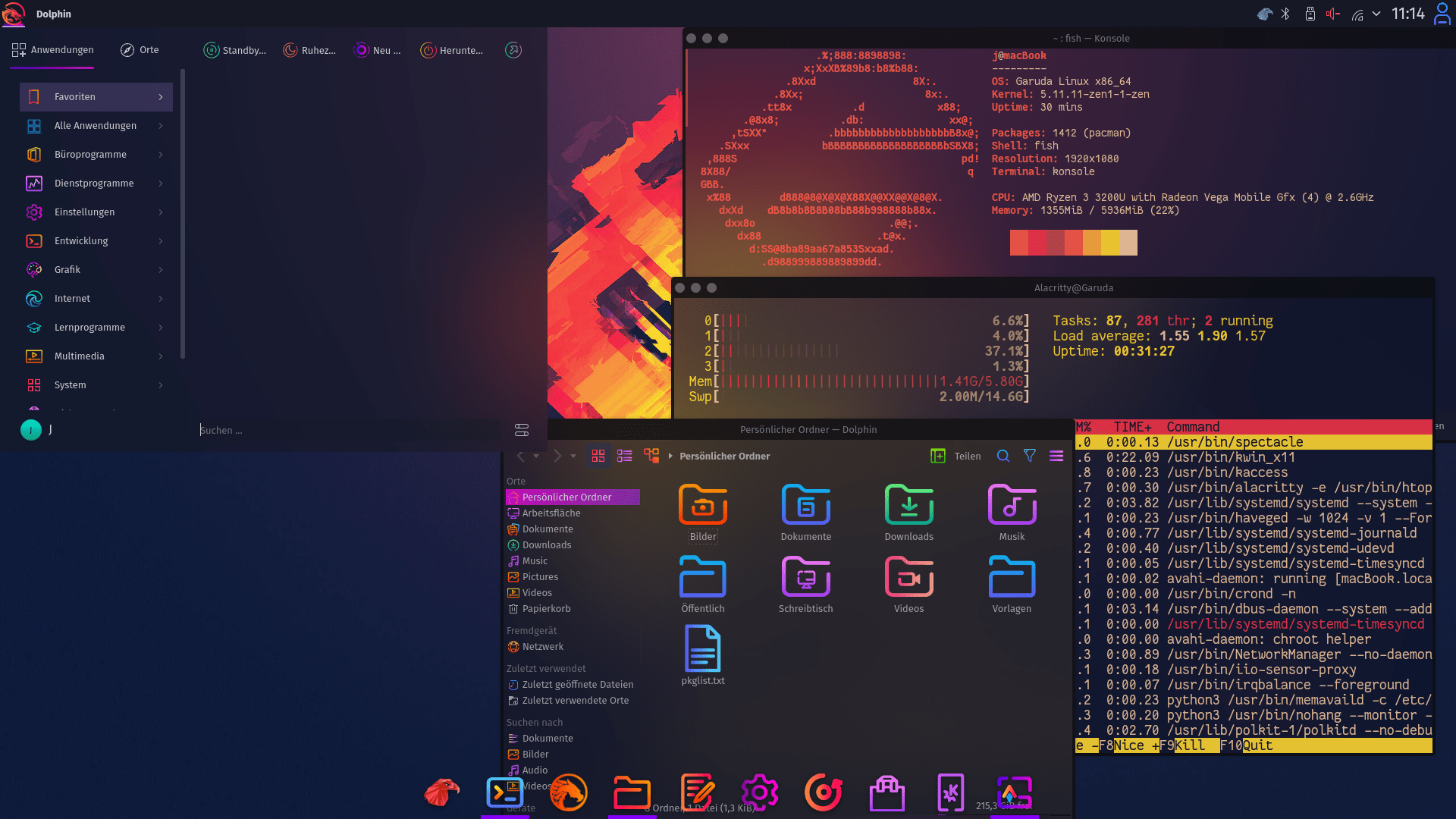 Thanks to Garuda, you can choose from several desktop environments to make you feel even more at home. All accompanied by a ZEN kernel to optimize the performance of your computer.
Why all these improvements? Because Garuda started as a distro focused on gaming and therefore has many optimizations, but has gradually found its place as a generalist distro.
Pros:
Highly optimized for high workloads
Flawless graphical interface
Easy system snapshots with BTRFS
User friendly installer
Fully compatible with Arch Linux
Like other Arch Linux derivatives, there are several ISOs that you can download from this link
Conclusion
Arch Linux is a very flexible Linux distribution that has given rise to other very interesting ones. From a more conservative one like Manjaro to more innovative ones like Garuda. In any case, these 3 distributions are not the only ones that exist, but they are perhaps the best known.
Do you know others? Then do not hesitate to let us know in the comments.