Celluloid (formerly known as GNOME MPV) is a frontend created with GTK and with a simple mpv interface. So, it has all the power of mpv but with a simple and easy-to-use interface.
The application supports mpv configuration files to import your configurations. In addition to this, it also supports keyboard shortcuts to make it faster to use.
The main thing about Celluloid is that being mpv based it plays many formats, handles subtitles, controls and so on. Honestly, the best thing is its simple interface ideal for those who play videos without more and its efficiency in resources.
As expected, the development of Celluloid is quite active and full of new features and bug fixes. So, it is recommended to have a recent version of it.
2 methods to install latest Celluloid in Ubuntu 22.04
Fortunately, there are two methods to achieve this goal. The reality is that it's up to you which one you prefer. With both, you will have the latest stable version of Celluloid.
Let's get started.
Method 1: Using the PPA for Ubuntu
This method is recommended for users who have the system without too many modifications. So, open a terminal from the main menu or by using CTRL + ALT + T.
Then, update the whole distribution
sudo apt update
sudo apt upgrade
Then, add the Celluloid repository
sudo add-apt-repository ppa:xuzhen666/gnome-mpv
Next, refresh APT to load the new repository
sudo apt update
And finally, install Celluloid
sudo apt install celluloid
When the process is finished, you can run it from the main menu
.
The advantage of this method is that you will always have the latest stable version, and you can update it with the system.
Method 2: Flatpak as an option
Flatpak packages support multiple distributions and are sandboxed. But with it, you will have the latest stable version as well.
If you don't have flatpak, then install it using these commands:
sudo apt install flatpak
Next, add the Flathub repository, which is where the program is hosted
flatpak remote-add --if-not-exists flathub https://flathub.org/repo/flathub.flatpakrepo
Finally, you can install Celluloid using Flatpak
flatpak install flathub io.github.celluloid_player.Celluloid
Again, when finished, you can run it from the main menu.
The Celluloid interface
As you can see, the Celluloid interface is simple.
On the left side with the + button you can open a file, or all files in a folder.
On the other side is the menu where you can access the preferences.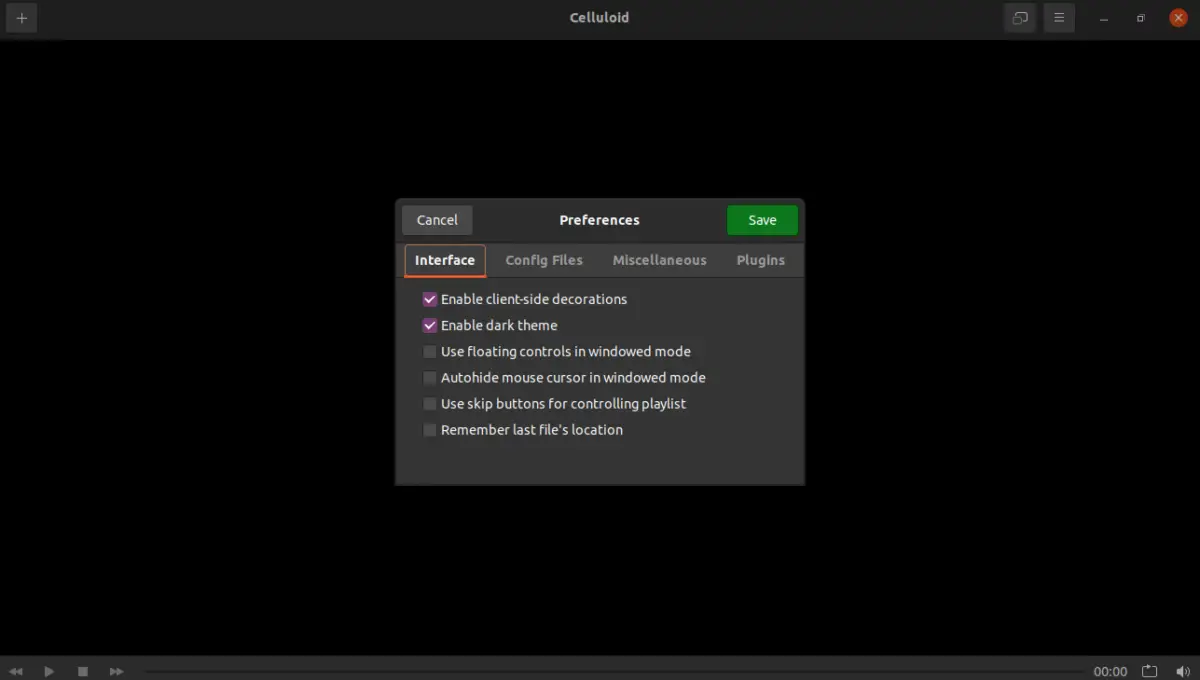 There you can configure Celluloid as you want. Remember that it is simple, and its goal is focused on ease of use.
Uninstall Celluloid
To uninstall Celluloid from the system, you will have to run a few commands according to the chosen installation method.
If you used the first method, uninstall Celluloid first
sudo apt remove celluloid
Then, remove the repository from the system to prevent problems.
sudo add-apt-repository --remove ppa:xuzhen666/gnome-mpv
Finally, refresh APT.
sudo apt update
In the case of Flatpak, you have to remove the Celluloid package
flatpak uninstall io.github.celluloid_player.Celluloid
And if you want to remove Flatpak
sudo apt remove flatpak
It's that easy.
Conclusion
Celluloid is a player who takes advantage of mpv's versatility, but with a simple interface that will make novice users feel at ease. Today, you learned how to install it and I hope it works for you.
Please share our post with all your friends.