Handbrake is a free and open-source video converter. It is available for Windows, Mac, and Linux operating systems. It supports the most modern codec. You can use it to process the most common multimedia files, DVD or Blu Ray sources that are not copyrighted.
Below are some of the prominent features.
Features,
Free and Open Source
Support modern code
Cross-Platform ( Available for Windows, Mac and Linux)
Built-in Device Presets
Outputs Codec supported

File Containers: .MP4(.M4V) and .MKV
Video Encoders: H.265 (x265 and QuickSync), H.264(x264 and QuickSync), H.265 MPEG-4 and MPEG-VP8, VP9 and Theora
Audio Encoders: AAC / HE-AAC, MP3, Flac, AC3, or Vorbis
Audio Pass-thru: AC-3, E-AC3, DTS, DTS-HD, TrueHD, AAC and MP3 track

Batch Scan and Queueing of encodes
Subtitles (VobSub, Closed Captions CEA-608, SSA, SRT)
Constant Quality or Average Bitrate Video Encoding
Support for VFR and CFR
Video Filters: Deinterlacing, Decomb, Denoise, Detelecine, Deblock, Grayscale, Cropping and scaling
Live Static and Video Preview
Refer official handbrake feature page for further details.
Download HandBrake
As mentioned above it is available for Windows, Mac, and Linux operating systems. You can download the handbrake from the official page.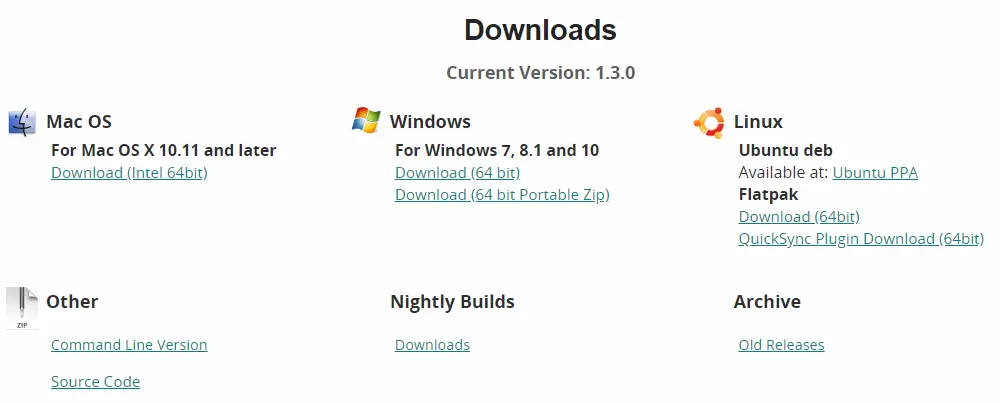 Supported OS
Mac OS X 10.11 and later
Windows 7, 8.1 and 10 64 bit only. Available as a portable app as well.
Linux – Ubuntu, and Debian-based Linux Distros. Supports flatpack for other Linux distros.
The source code is also available for download. Developers can even contribute to its development on the Handbrake Github page.
Install Handbrake on Ubuntu 20.04 Linux Distro
Login to Ubuntu System and open terminal(CTRL + ALT + T) and follow the below steps to install handbrake using the classic apt-get command.
1.  Add official PPA to your system.
sudo add-apt-repository ppa:stebbins/handbrake-releases
2. Update the repository.
sudo apt-get update
3. Install gtk gui with the command
sudo apt-get install handbrake-gtk
4. Install the CLI with the command
sudo apt-get install handbrake-cli
That's it. This completes the installation.
Navigate to Application and search for Handbrake. Click to open it. Below is the default interface.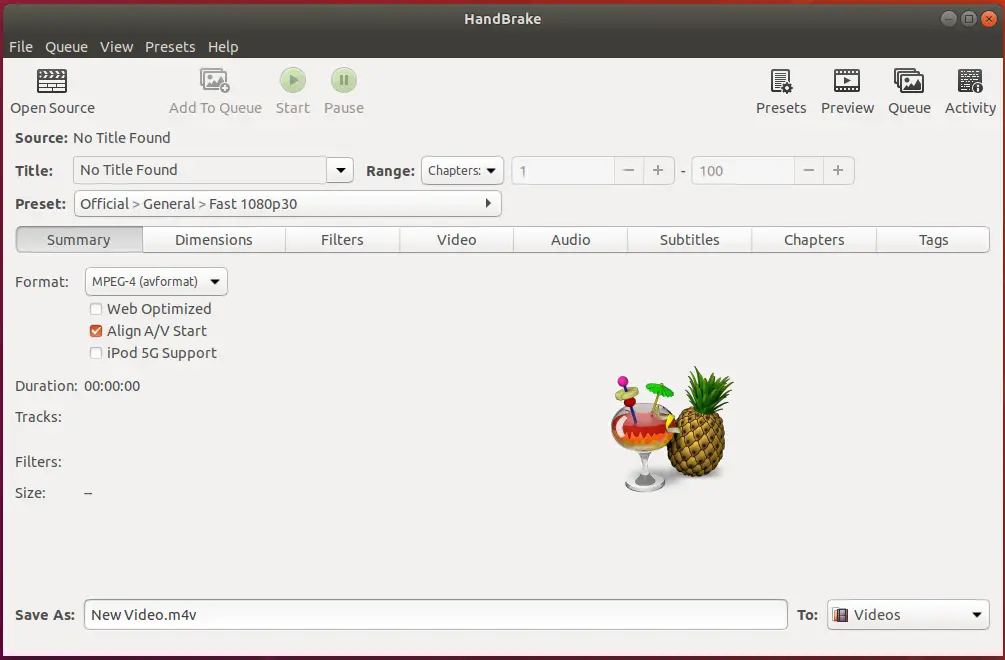 Summary
Go ahead and install Handbrake and convert videos from one format to another. Useful for Youtube videos.
I hope you liked this article. Please share and subscribe.