Although Firefox is the preferred option for many Ubuntu users there are free alternatives. That's why it's a good idea to know how to install Chromium on Ubuntu 20.04 because that way you'll have an alternative browser to Firefox. What if Chromium is good? Well, Google Chrome is based on it.
What is Chromium and how is it different from Google Chrome?
Chromium is an open-source browser project that aims to build a safer, faster, and more stable way for all users to experience the web. Also, Chromium is such a solid project that many browsers take it as a base. One such browser is Google Chrome.
Therefore, Google Chrome is the sum of Chromium and a set of proprietary plugins. That's why the development of Chromium is so important for the latter.
So, the biggest difference between both is in the video and audio support, where Google has support for AAC, H.264, and MP3 formats by default.
So if you prefer the speed of Chrome but its many additives, Chromium may be the choice for you.
Install Chromium on Ubuntu 20.04
Installing Chromium on Ubuntu 20.04 is a fairly simple process since it's available from the application store.
So, open Ubuntu Software from the main menu.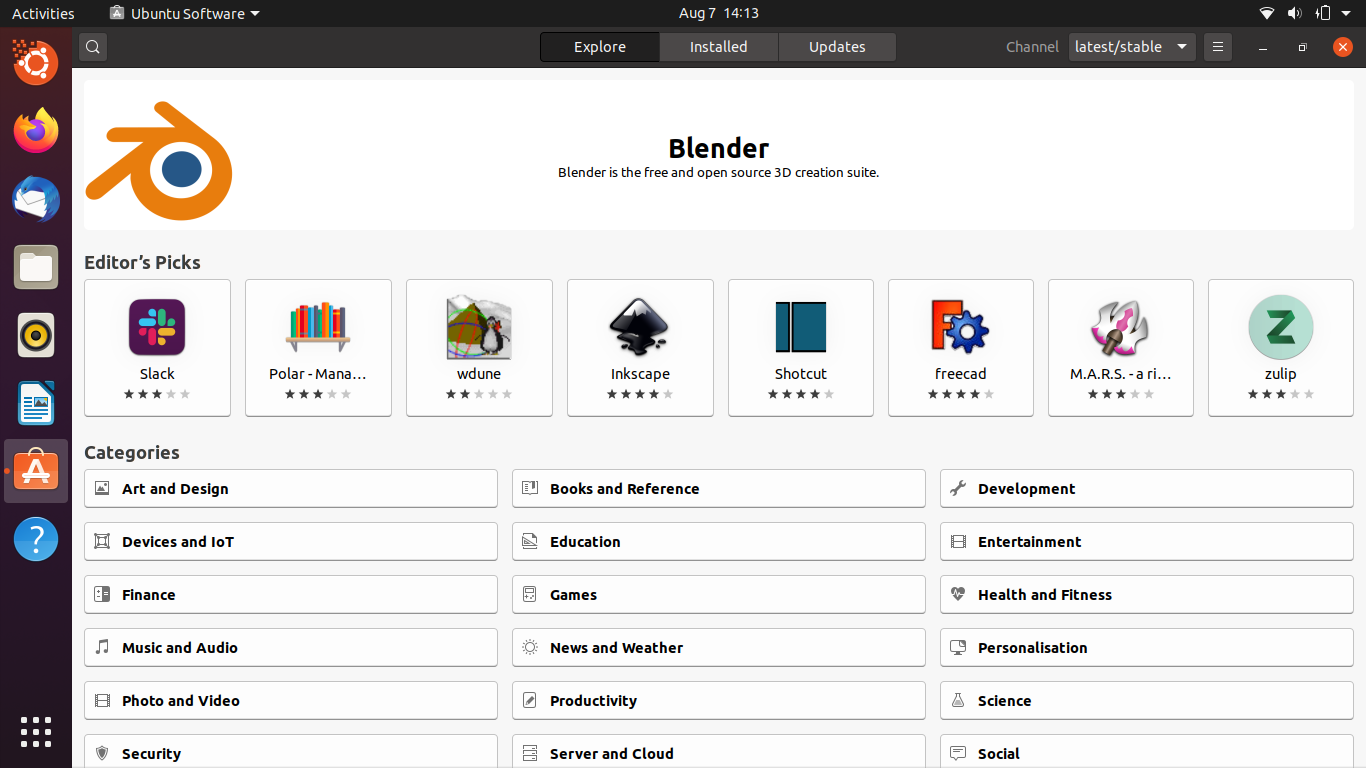 Once it's displayed click on the search button on the left. And type chromium.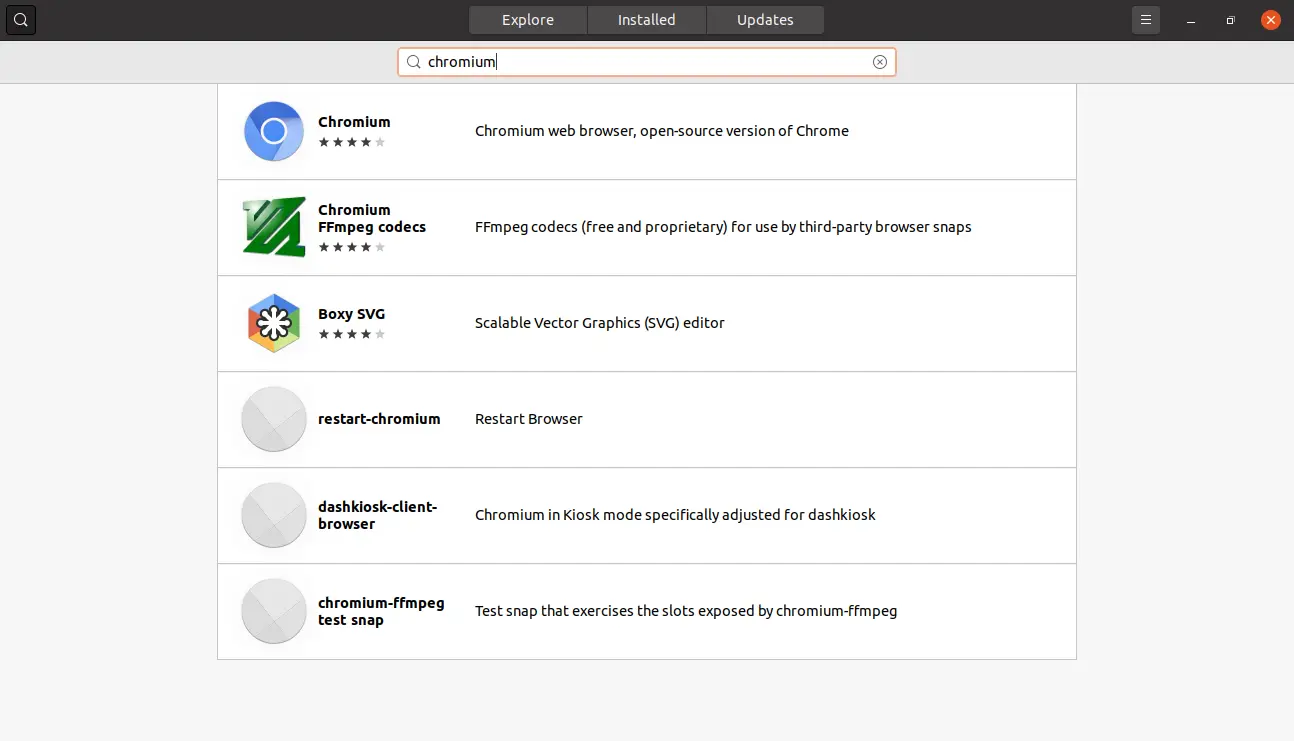 Then, choose the first result that has a logo very similar to Google Chrome. Then you will have information about the program and to install it just click on the Install button.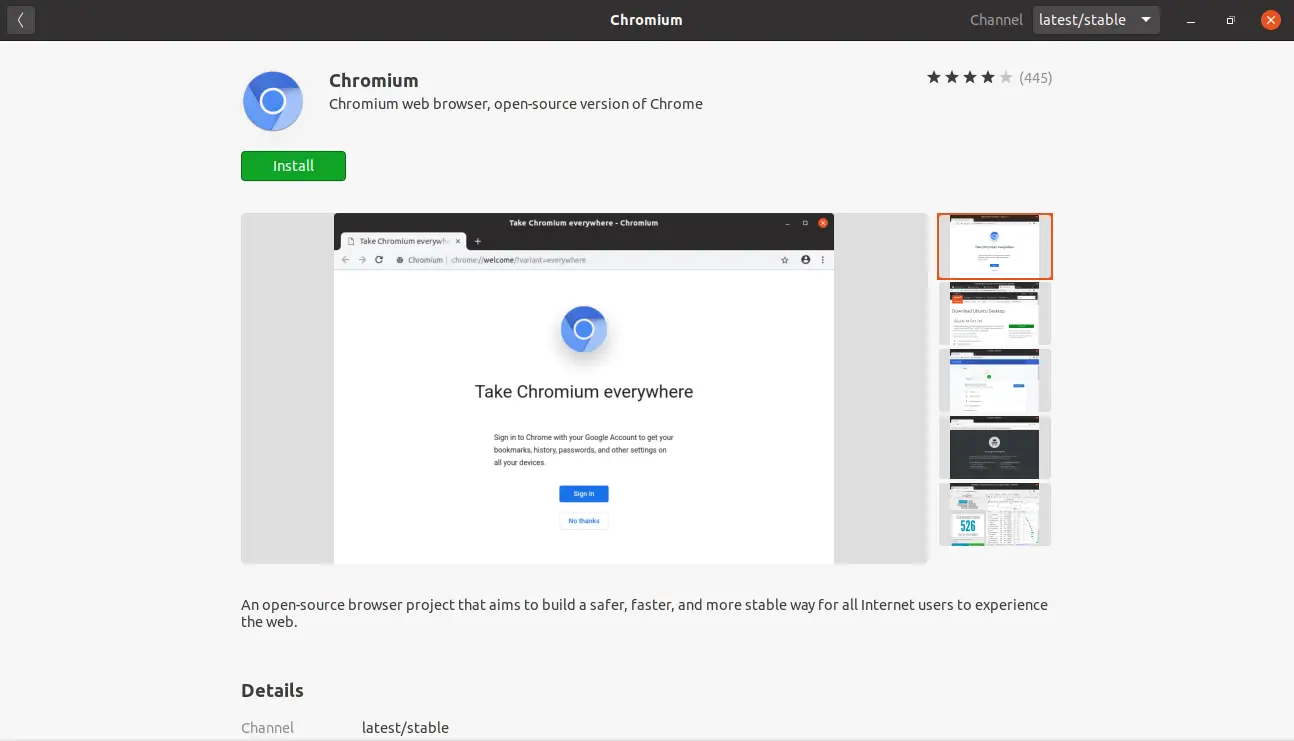 At the end of the process, you will see the two Remove and Permissions buttons that indicate that you can use Chromium.
So, open the main menu and search for it.
And you'll be able to enjoy Chromium on Ubuntu 20.04
Install Chromium using the terminal
If you are one of the users who prefer to use the terminal, you can also do so but not using APT.
As of version 20.04, Canonical has stopped packaging Chromium. And even for Chromium, there was a little Ubuntu vs Linux Mint but the truth is that it probably doesn't stop that much.
So, the only way to install it without problems is by using the snap package. For now, use the snap command to find the Chromium package:
sudo snap find chromium

As shown in the image, the Chromium snap pack has been created by Canonical. And of course, it's available.
So, you can then install Chromium using the following command:
sudo snap install chromium

Once the package is downloaded and installed, Chromium will be available from the main menu.
Remember that you don't have to use both methods, one of them is enough to get Chromium on Ubuntu 20.04
Conclusion
Although Google Chrome and especially Firefox are deeply rooted in Linux, there is also room for Chromium. After all, it's the project on which Google Chrome is based and it's always good to keep it in mind.