Video editing is very easy. Don't believe me. Then you should try Shotcut Video Editor. 
According to the Shotcut website
Shotcut is a free, open-source, cross-platform video editor.
Just like that. But they also tell us:
Major features include support for a wide range of formats; no import required meaning native timeline editing; Blackmagic Design support for input and preview monitoring; and resolution support to 4k.
In other words, Shotcut makes support for many audio and video formats one of its main strengths. Created with some of the most important open-source technologies such as QT or FFmpeg with Shotcut we will have a professional editor within reach of many people.
Some of the features of Shotcut are
Support for the latest audio and video formats thanks to FFmpeg
Supports popular image formats such as BMP, GIF, JPEG, PNG, SVG, TGA, TIFF, WebP as well as image sequences.
No import required – native timeline editing.
Frame-accurate seeking for many formats.
Multi-format timeline: mix and match resolutions and frame-rates within a project.
Webcam capture.
Audio scopes: loudness, peak meter, waveform, spectrum analyzer.
Volume control.
Support Audio filters.
Cross-platform support: available on Windows, Linux, and macOS).
Codec independent so does not rely on system codecs.
Can run as a portable app from an external drive.
And much more worth checking out in the features section of the project website.
Install Shotcut on Ubuntu 20.04
Shotcut is a software that provides very good support for Linux. And Ubuntu which is the most popular distribution can't be left behind
Therefore, there are several ways to perform the installation.
Method 1: Install Shotcut using the Ubuntu Software Center
We have already commented in other posts, that Ubuntu's application shop is one of the most complete that there is. In it, we can find many different applications to take full advantage of our system.
So, you can open it from the main menu of Ubuntu.
Then in the search field, type Shotcut and choose the best result which in this case is the first one.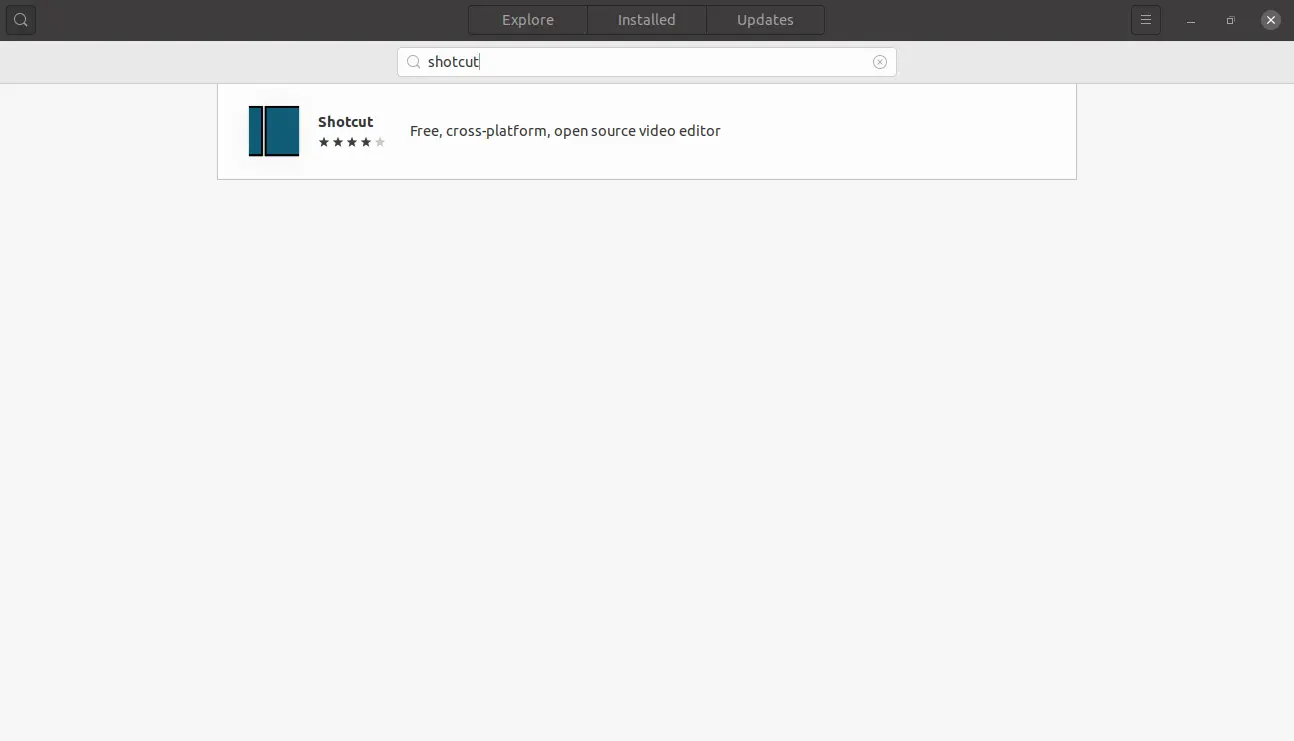 When you click on the result, you will see detailed information about the package. Start the installation by clicking on the Install button.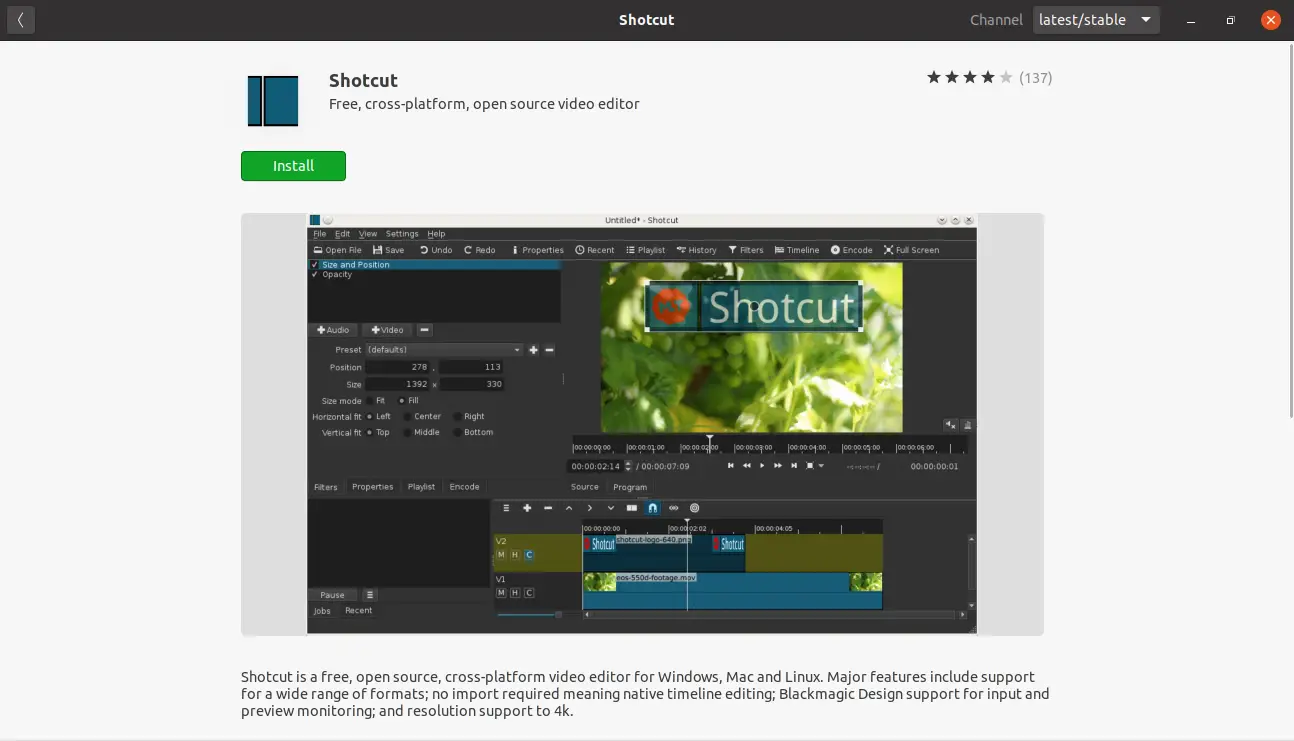 Then you can run the program from the main menu.
Method 2: The snap command is also an option
Well, if you prefer to use the terminal, you can use the snap command to perform the installation.
So, open a terminal from the main menu or press CTRL + ALT + T keys and execute:
sudo snap install shotcut --classic
And after entering the appropriate password, the download and installation process will begin.
As in the previous method, you can run it from the main menu.
Method 3: Using AppImage format
An alternative is to use AppImage, which is not really an installation, but it is also useful to have it on Ubuntu 20.04
You can download it from this link or using wget in the terminal:
wget https://www.fosshub.com/Shotcut.html?dwl=shotcut-linux-x86_64-201031.AppImage
Then open your file browser and run it by double-clicking.
It's that simple and it works similarly to a portable.
How to use it?
As soon as you run them, you will see a screen with many different options but they denote the power of the application: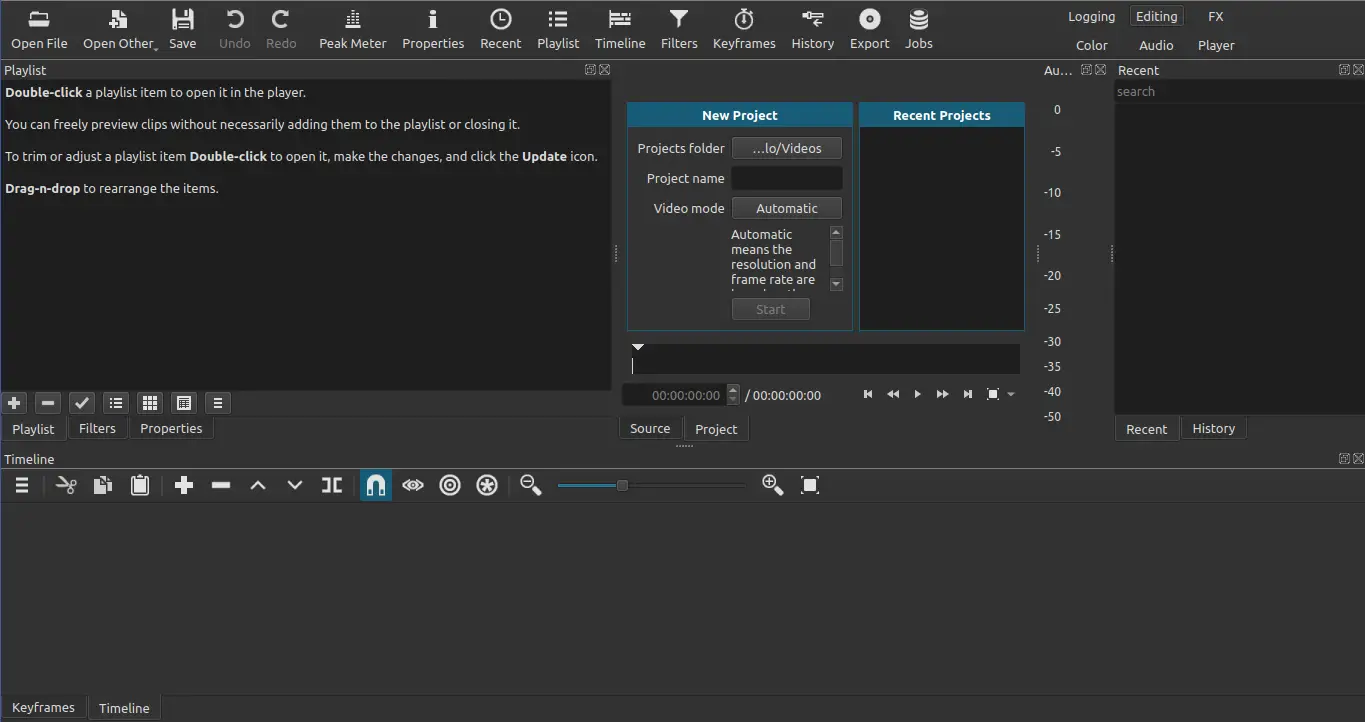 On the bottom, you can see the Timeline where you can watch the video in each phase.
At the top, we have the menu bar together with the most basic tools for video editing.
And so the first thing you need to do is to import a video from the Open File button and start working.
How to remove Shotcut on Ubuntu 20.04
If you have chosen the first or the second method, you can delete it from the Ubuntu Center Software.
All you have to do is look for it again, select it and click on the Remove button.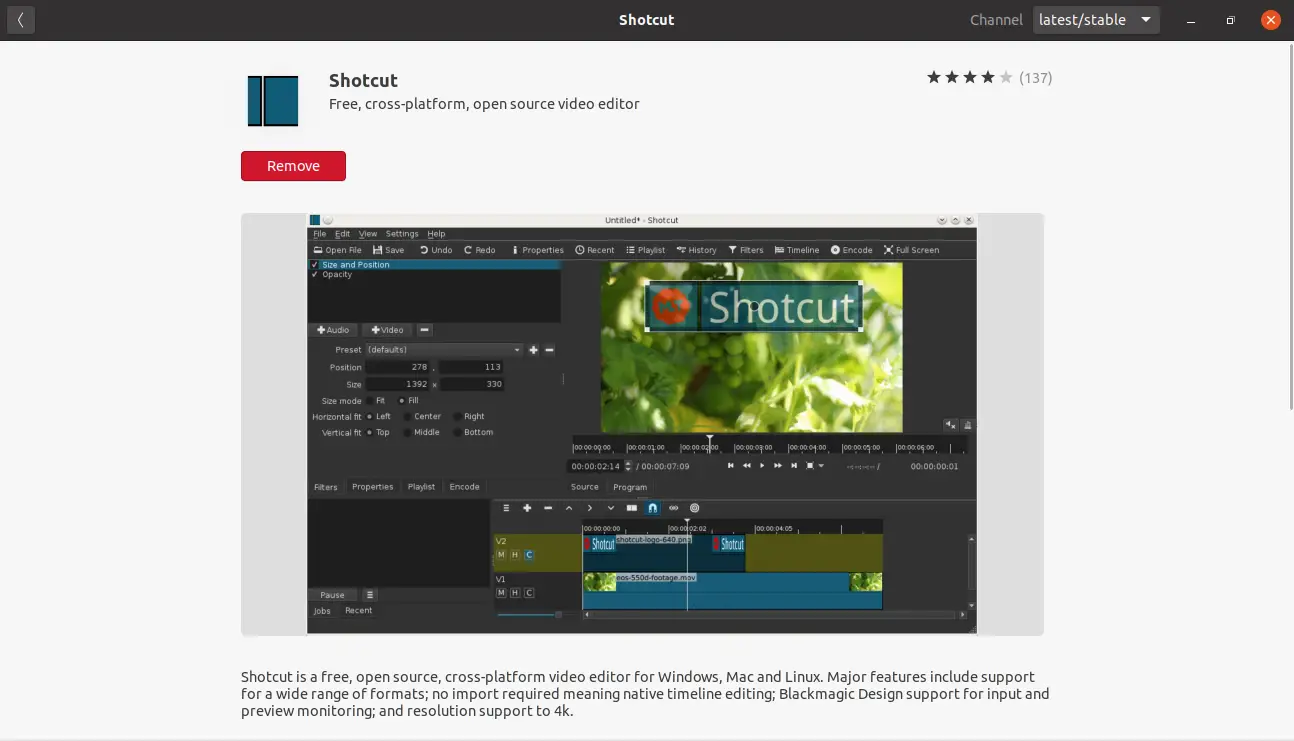 But you can also use the terminal for this. So, just open the terminal and run:
sudo snap remove shotcut
If you have used AppImage as it is a kind of portable, just delete the AppImage file and that's it.
Conclusion
The Shotcut software is a high-performance video editor with support for many formats. This makes it ideal for many video professionals and enthusiasts to try it out and find many alternatives to proprietary tools in open-source software.
We want to know about you…have you used Shotcut? Do you like it? or are you familiar with it? Leave us a comment and share our post.