Krita is a professional FREE and open source painting program. It is made by artists that want to see affordable art tools for everyone.
In this way, Krita is aimed at anyone interested in digital painting, but at the same time pretends to be a professional tool. Many people around the world recommend it, including professionals in the field.
Krita is available for Windows, Linux, and macOS which makes it cross-platform to reach as many users as possible.
With Krita, we have an intuitive user interface that stays out of your way. For example, the dockers and panels can be moved and customized for your specific workflow.
In addition, Krita includes 100 professionally made brushes, Built-in vector tools that help you create comic panels, and 2D Animation. So, you've got it all.
Install Krita on Ubuntu 20.04
As it happens, there are many different ways to install Krita on Ubuntu 20.04. Each of them, differing in usability and required circumstances. So just pick one.
Method 1: Install Krita using APT
Krita is present in the official repositories of Ubuntu 20.04 and many other Linux distributions. So it is possible to install it in the following way
Open a terminal and proceed to update your distribution.
sudo apt update
sudo apt upgrade
Then, you can install it by running
sudo apt install krita
After typing the current user's password and the process is finished, you can run it from the main menu.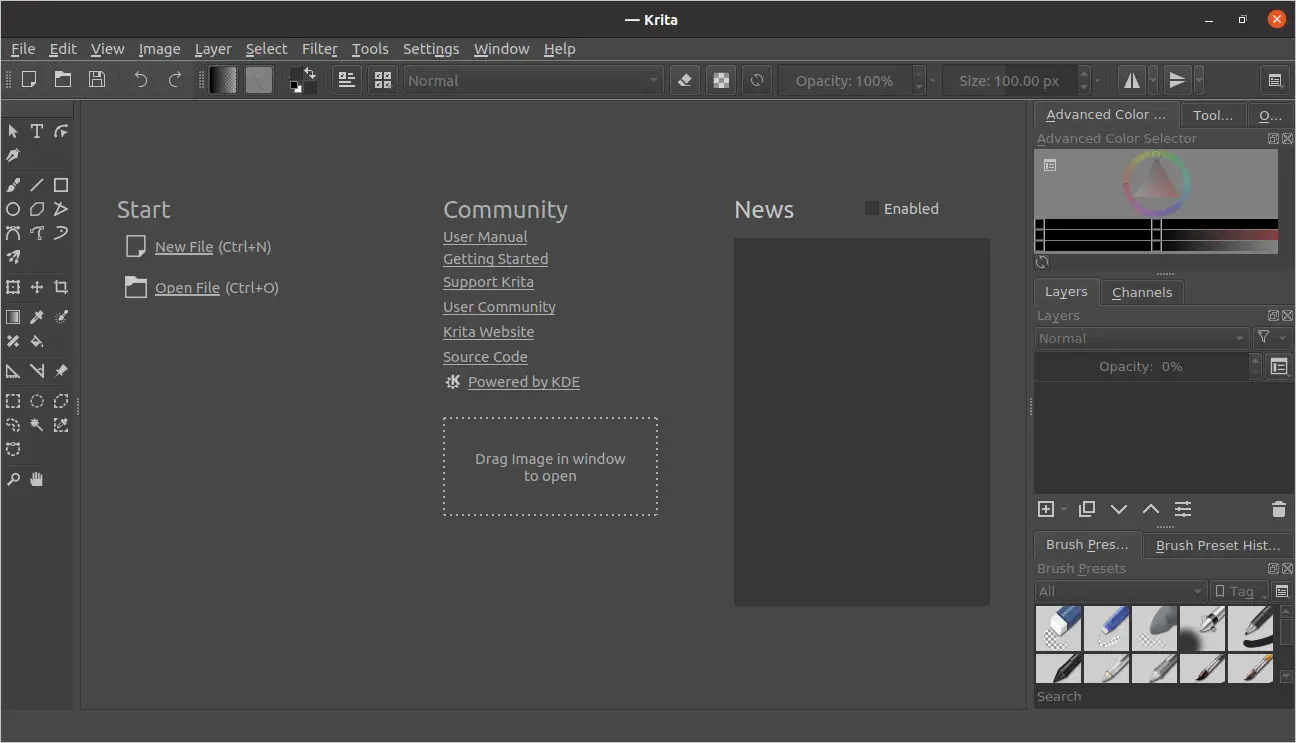 Note This method although simple does not provide the latest stable version of Krita.
Method 2: Krita on the Ubuntu Software Center
Yes, Krita is also available in the Ubuntu-specific shop. So open it from the main menu and search for Krita in the search engine.
You will be shown several results but you have to choose the second one which is the most accurate.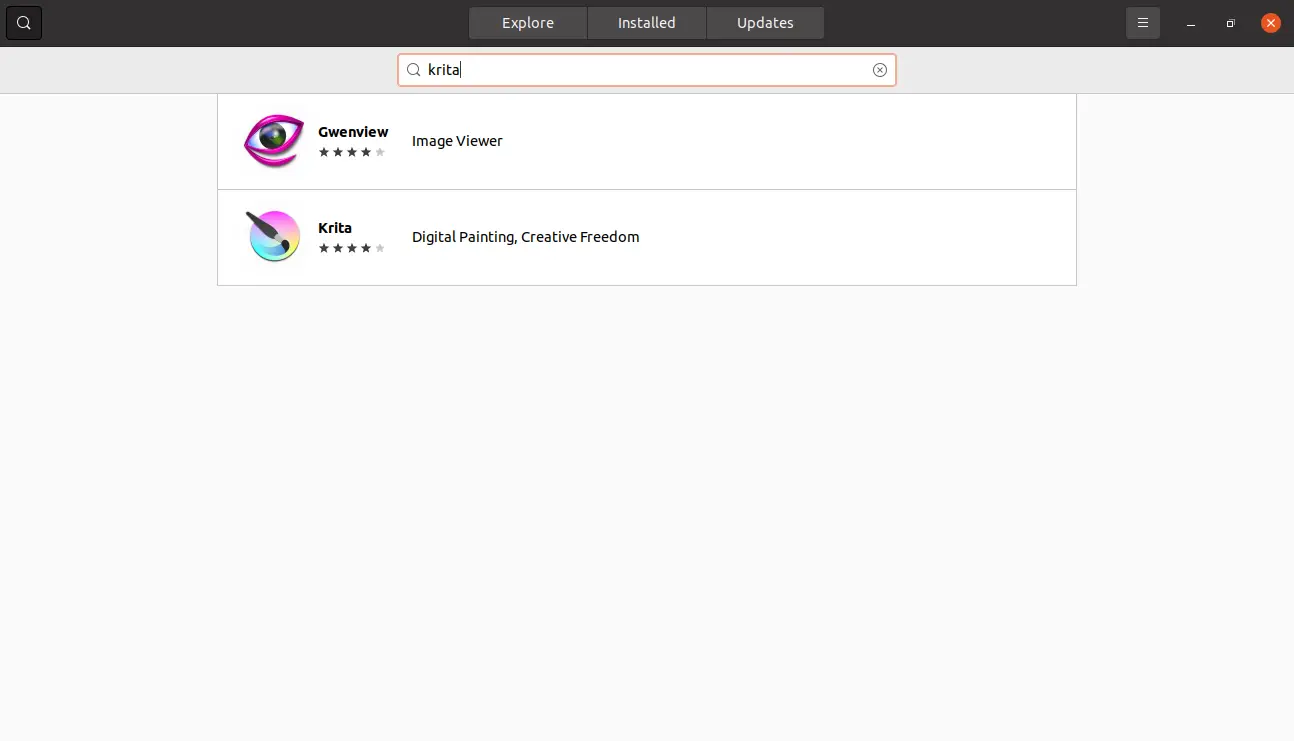 When you click on it, you will get detailed information about this program like weight, license, and some screenshots.
To start the installation, click on the Install button and the installation process will start.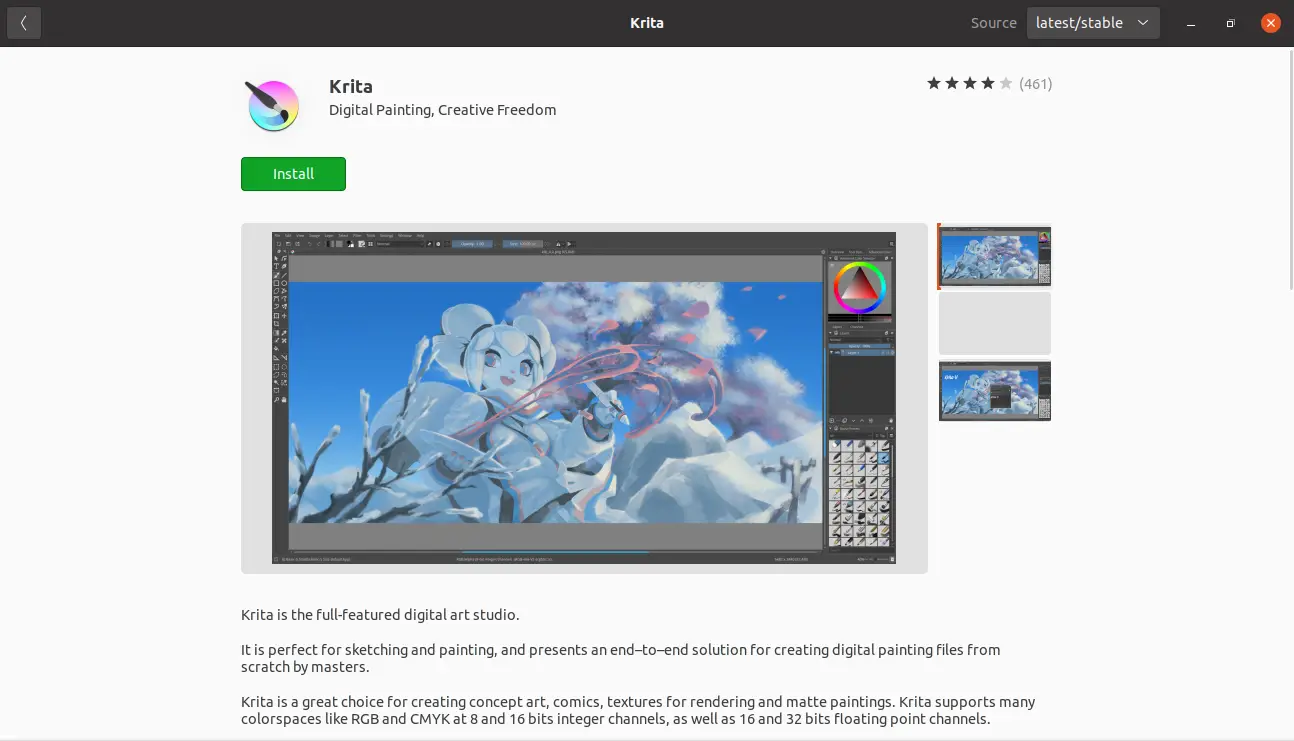 When the application has been installed, you will be able to run it from the main menu like any other application.
Unlike the previous method, in this one, you will be able to install the latest stable version available.
Method 3: Using the snap command
Snap is a technology created by Canonical which is the company behind Ubuntu to create self-contained packages that can be executed without problems in any system. So within the snap package index, Krita is available.
So if you prefer to use the terminal, you can open it and using the snap command install Krita.
sudo snap install Krita
Likewise, after entering the password, it will start the installation process and you can run it from the main menu when it finishes.
Also using this method you can install the latest stable version of Krita.
Method 4: Install Krita using the APPImage package
The APPImage package allows us to have our entire application running in a single file. In it are the libraries and everything you need to make it work. In practice, it is similar to Windows portable applications.
So, download the Krita APPImage file from the project website.
Or using the terminal and the wget command.
wget https://download.kde.org/stable/krita/4.4.8/https://download.kde.org/stable/krita/4.4.8/krita-4.4.8-x86_64.appimage
Then, assign it to run permissions
chmod +x https://download.kde.org/stable/krita/4.4.8/krita-4.4.8-x86_64.appimage
Now it's ready, you can open it by double-clicking on the file from the file browser.
And then the application will start without any problems.
Removing Krita from the system
Removing Krita from the system will depend on the installation method you have chosen.
If you used method 1, then to uninstall you have to open a terminal and run
sudo apt remove krita
In the case of method 2, open the Ubuntu Software Center again and search for Krita again.
When you see the Krita package, click on it and you will see information about the program again but this time you will see a red Remove button that you have to click to uninstall it.
For Method 3, just run the snap command again but with the remove option.
sudo snap remove krita
Finally, in method 4 we just need to delete the APPImage file from the system. That's how quick and easy it is to remove Krita from the system.
Conclusion
Throughout this, you could know several ways to install Krita on Ubuntu 20.04 so with these methods now it only remains for you to try it on your computer. If you are an enthusiast or a drawing artist, you will be thankful to have Krita.
So, share this post and help us grow.