Every day it is more common to notice the integration of a mobile device with the computer operating system. In the case of Linux, we have few options to do so, however, we also have a very good one that will help to synchronize Android with Ubuntu, and to do so it is necessary to know how to install KDE Connect. This will be our goal.
KDE Connect is a utility that comes built into the Plasma desktop environment that allows us to synchronize our Android devices with the PC.
Although it is a tool specific to this desktop environment, it is also possible to install it in Ubuntu 20.04.
Some of the features it offers are:
Phone Notifications
Execute console commands directly
Share files easily
Virtual Input
Presentation control
Pause, skip, and change the volume remotely from your phone.
This means that by integrating our Android device with KDE Connect we will be able to comfortably manage it. To do this we have to install the application on our device and the system.
Install KDE Connect on Ubuntu 20.04
KDE connect has two components that we have to install. The first one is the kdeconnect package which is in the official Ubuntu 20.04 repositories.
So, open a terminal from the main menu or by pressing the CTRL + ALT + T keys.
And install the package by running
It will show a lot of dependencies but it shouldn't take long.
Now the next step is to install the indicator to be able to quickly manage the application. This component is essential to carry out this post.
With this Indicator you can:
The indicator in the panel which shows your devices, with its name, status, and battery
Menu to request for pairing and unpairing
The app includes a menu to start SFTP and open a file browser
Menu to send files
Menu to send SMS
But this component we have to install it via Flatpak.
So, install Flatpak via PPA:
And add the Flathub repository where the application is hosted:
And perform the installation:
Run it from the main menu or by the command:
flatpak run com.github.bajoja.indicator-kdeconnect
Using KDE Connect
Now you can open the application from the main menu. In particular, it opens the KDE Connect Indicator.
There you should see your device and a device name identifier.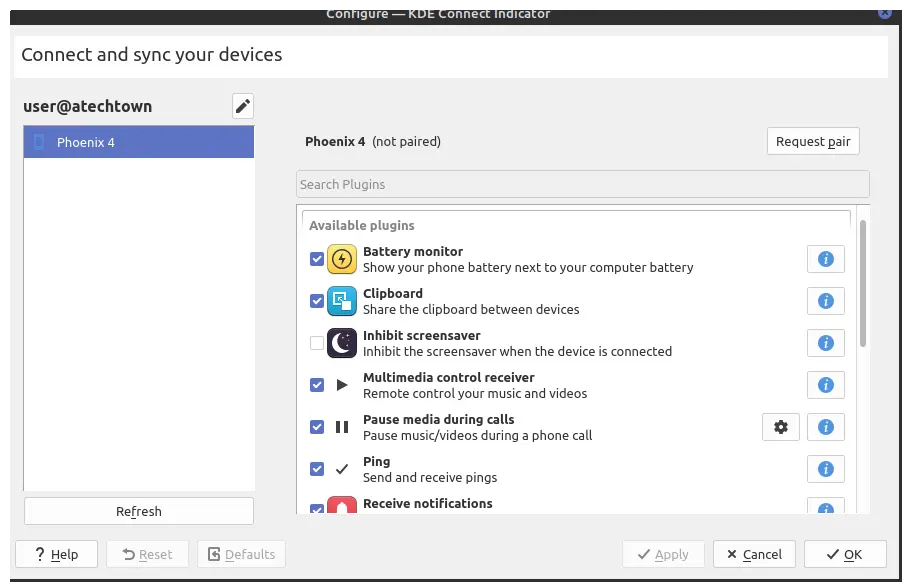 If you don't see it, you probably have a port problem. So, you need to open the ports that KDE Connect works on.
sudo ufw allow 1714:1764/tcp
sudo ufw allow 1714:1764/udp
Now all you have to do is to pair the devices from your mobile. Or click on the Request Pair button.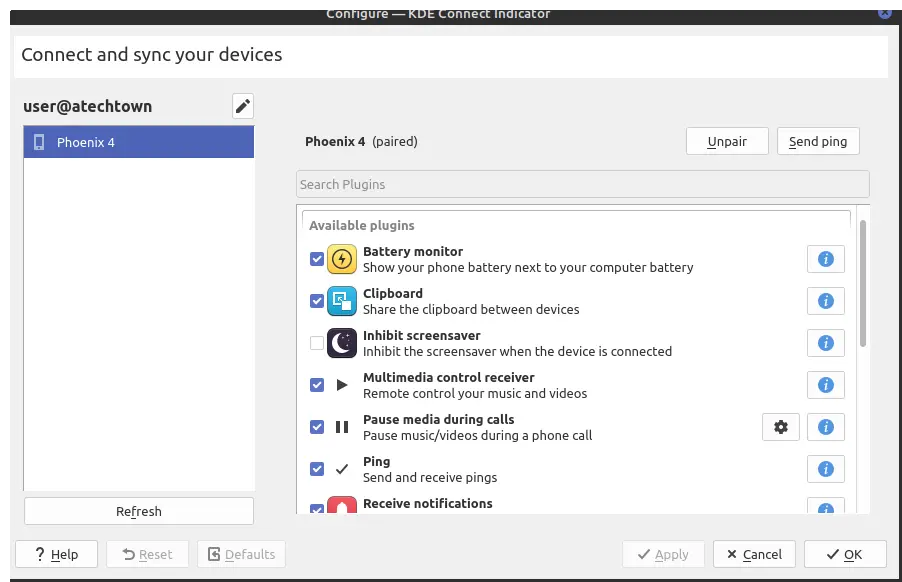 So, you can now disable and enable plugins to complete your experience and integrate better the desktop with Android.
Remove KDE Connect
The process of uninstalling the app is quite simple, first, we will start with the package itself:
Now we will use Flatpak to remove the indicator
This way there will be no trace of the application.
Conclusion
Android is the most popular mobile operating system out there and synchronizing it with our Ubuntu 20.04 is a guarantee of success and productivity. Thanks to KDE connect we can do it quickly and easily.
So, did you know KDE connect? do you like it? share our post and leave us a comment.