Everdo is "a powerful cross-platform GTD (Getting Things Done) app with focus on privacy". This definition we took from the project's website makes it clear that they focus on productivity and task accomplishment.
Now a question arises, what is the GTD method? Well, GTD (Getting Things Done) is an activity management method based on the principle that a person needs to free his or her mind from pending tasks by keeping them in a specific place. In this way, there is no need to remember what needs to be done and one can concentrate on getting the tasks done.
One way this method works is that any new task that can be completed in less than two minutes should be done immediately. It also organizes the tasks into lists of common sections or lines that allow you to locate them correctly.
Let's go ahead and install Everdo on Ubuntu Linux Distro.
So, Why Everdo?
Some of the characteristics that make Everdo special are the following:
Built specifically for GTD. That is, it uses a proven and recognized method.
Clean and beautiful design. To be productive we need a graphic interface that allows us to do so. That is why Everdo uses a very clean one.
Low-friction user experience Everdo emphasizes usability features aimed to simplify navigation and managing your tasks
Data privacy. The application does not collect user data and also provides end-to-end encryption
Cross-platform. Everdo can be installed on many operating systems.
Install Everdo on Ubuntu
Everdo supports Ubuntu 20.04 through the Snap technology. So this guarantees integration with Ubuntu and ease of the installation process that we can carry out in two different ways.
Method 1: Install Everdo from the Ubuntu Software Center
Everdo is available on the Ubuntu App Store which is one of the biggest in all of Linux.
So, open it from the main menu and the search field type Everdo. Then, that the search is done it selects the best result that in this case is the first one.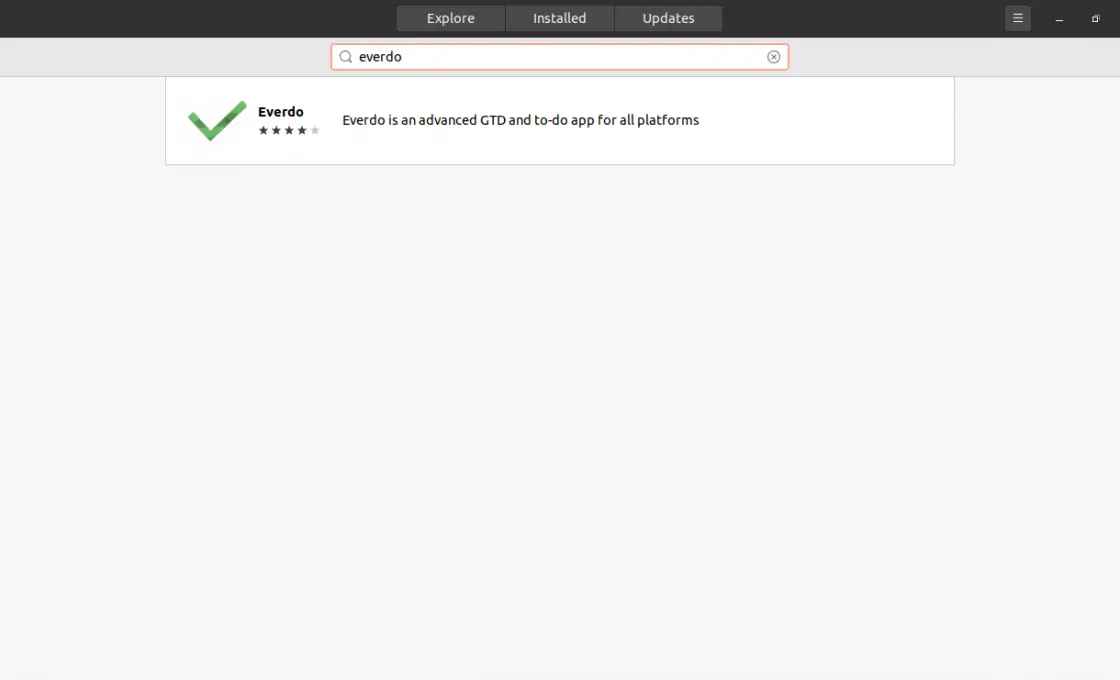 Now, you will see information about the package to install. To start the installation just click on the Install button.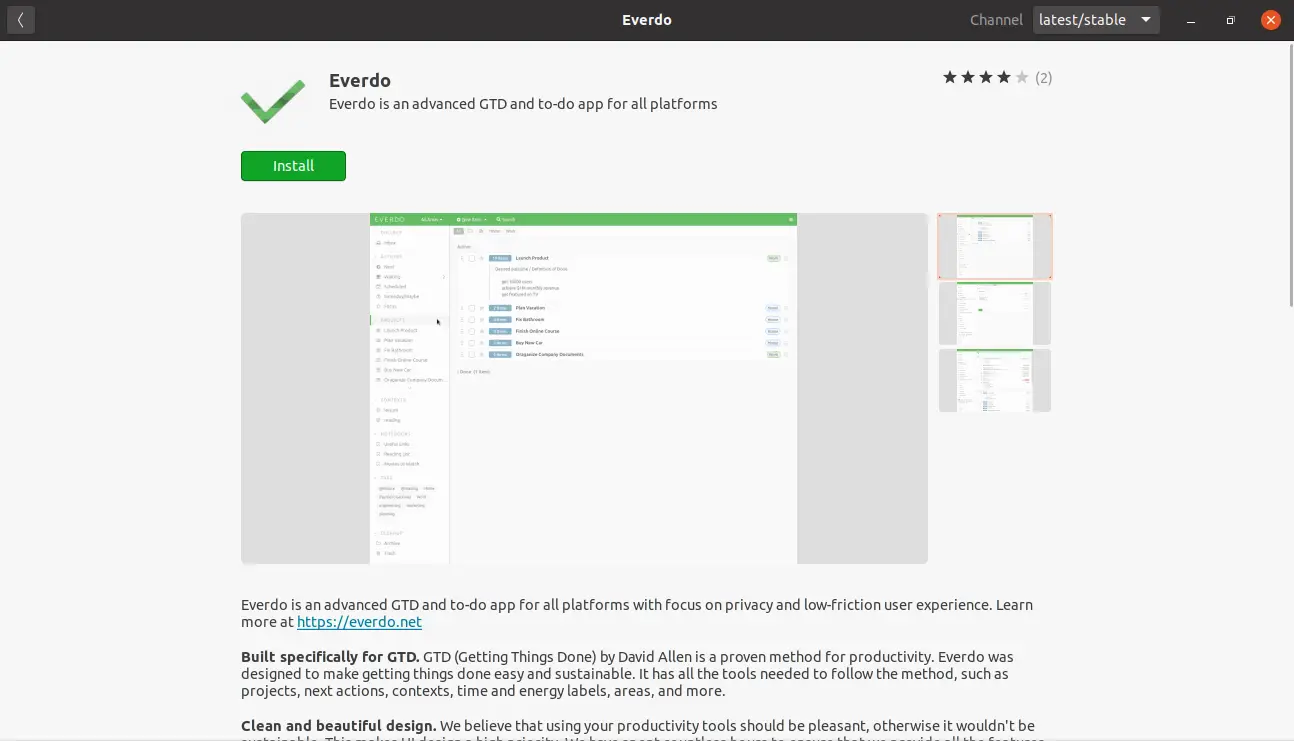 Remember that you have to enter your password to start the process.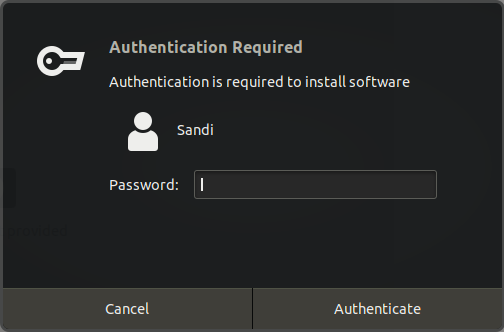 After that, you can run it from the main menu.
Method 2: Using the snap command on the terminal
If you want a faster way to perform the installation, just open the terminal by pressing the key combination CTRL + ALT + T and execute the following command to add everdo snap package.
sudo snap install everdo
After entering the password, the process will start. Then you can run it from the main menu.

Launching the Everdo application
When you have executed the application from the main menu, a window will be displayed informing you of all the key combinations available to you.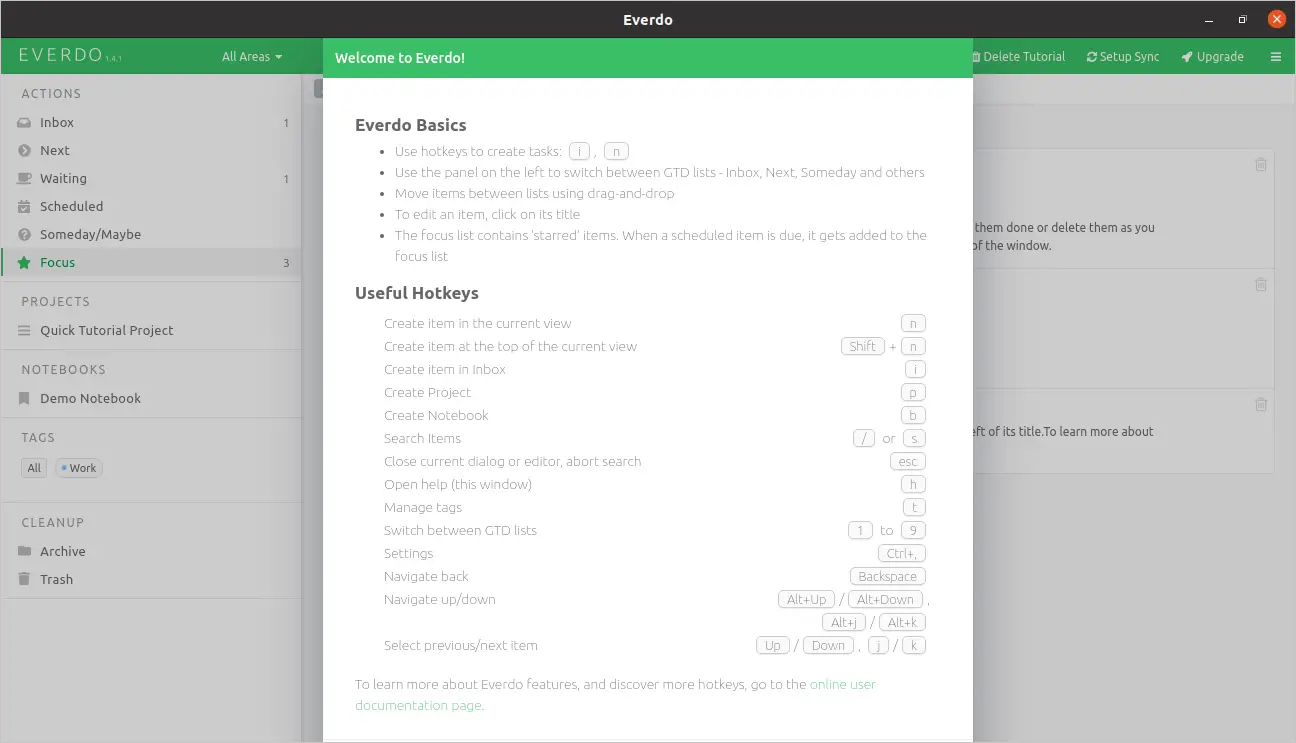 When you have read it you will be able to see Everdo in all its splendor. Take into account that it already has some data loaded that correspond to the tutorial.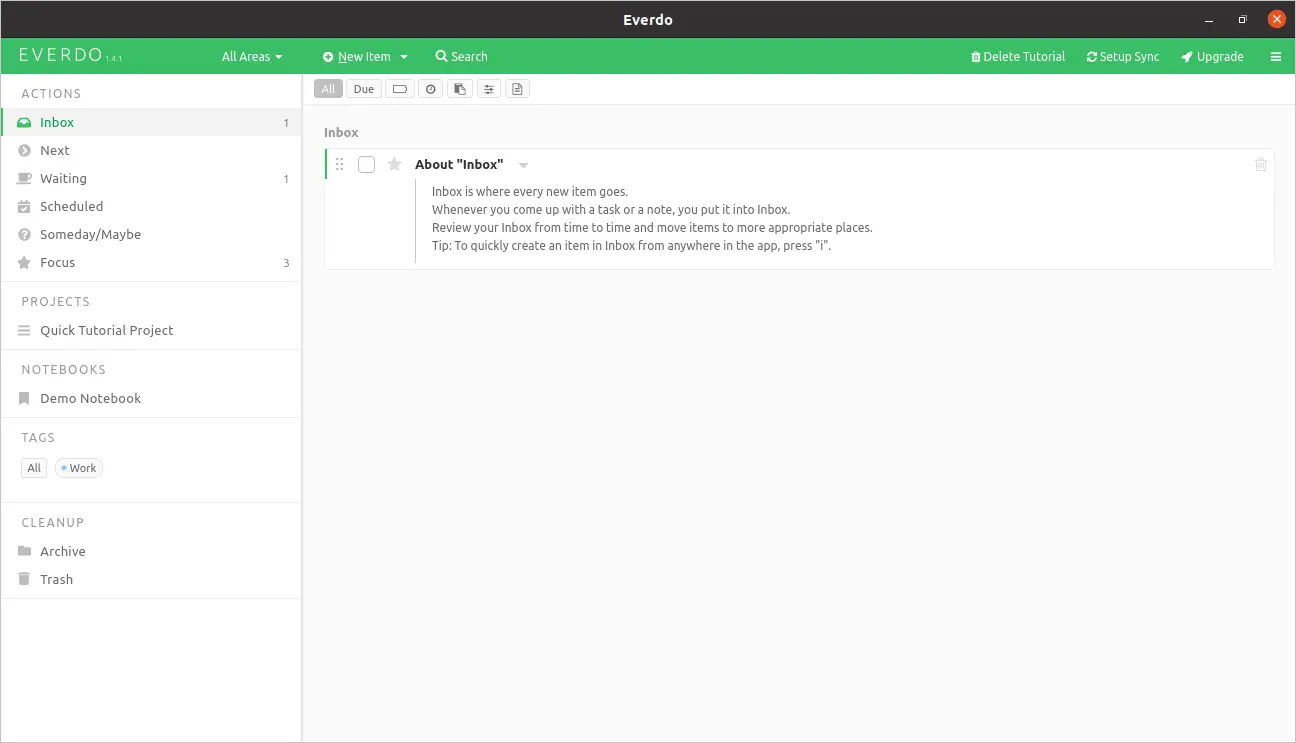 Uninstall Everdo on Ubuntu
If you want to uninstall Everdo from your system, just go to the Ubuntu Software Center and search for Everdo again.
Click on the result and you will see the application information together with a Remove button. Click on this button and it will start the uninstallation process.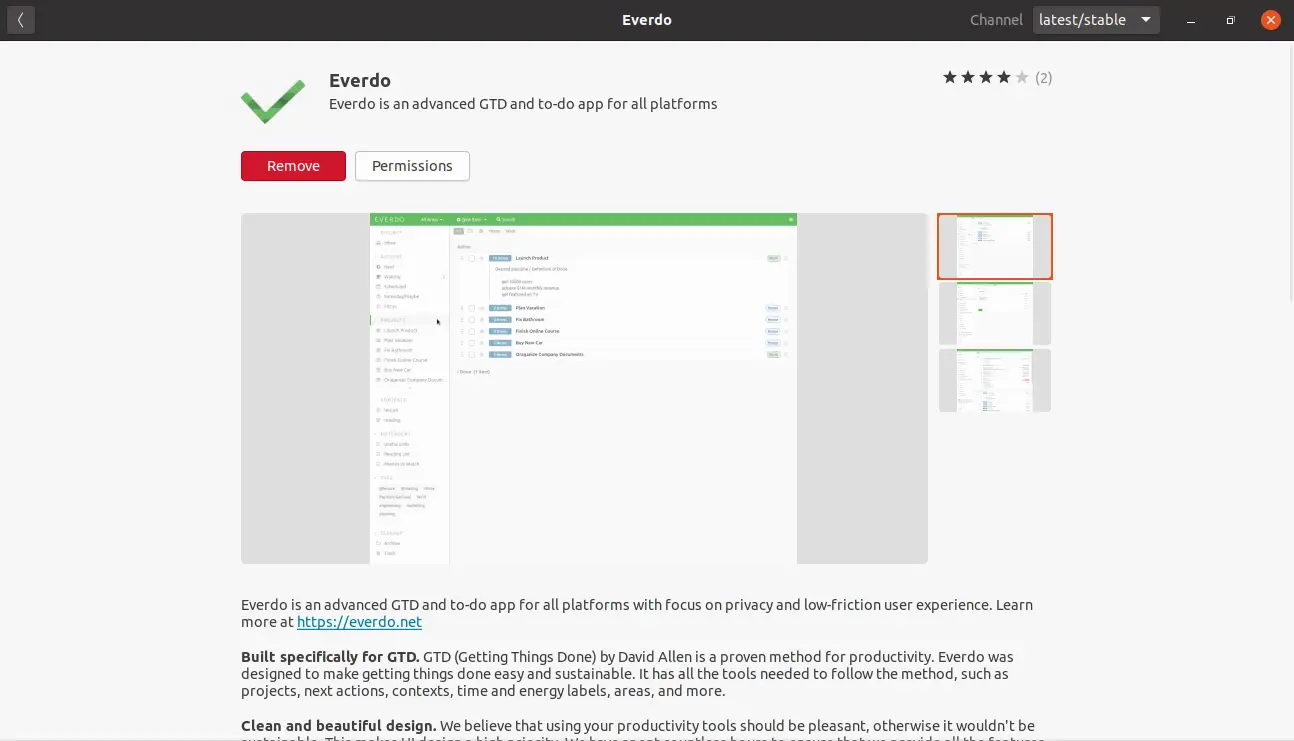 Another way is to do it from the terminal, executing the command:
sudo snap remove everdo
Conclusion
In this post, you have learned how to install Everdo in Ubuntu in two different ways. With this application, you will be able to have all your tasks organized in such a way that you won't miss any. It also uses a method that increases productivity.
You can learn more about it here.
So, did you know about this application?
Do you like it? How is it?
Leave us a comment and share this post.