AnyDesk is an application that allows you to connect and manipulate your computer from another device. To do this, you need to install the base application on your computer and install the client on another device such as another computer or a mobile phone.
AnyDesk is one of the best remote desktop applications you can find. Especially useful in these times where a lot of work is done remotely with AnyDesk we will have a powerful ally.
Its main functions are control and remote access, through a secure connection and a simple interface that we can all take advantage of without problems.
Some features of AnyDesk are the following:
Multiplatform support. There are applications for Windows, Linux, macOS, Android, iOS. This makes it hassle-free for you to use it.
It allows you to work from anywhere because you can make remote connections to your computer.
Light and easy to download: because the clients do not weigh too much and there are the official stores of their operating systems. In the chaos of Ubuntu, we only have to add a repository to the system.
And many more that can make AnyDesk an ideal solution for remote connections.
Install AnyDesk on Ubuntu 20.04
The first thing you have to do is open a terminal from the main menu or by pressing the keys CTRL + ALT + T.
Then make sure that Ubuntu is fully updated so that you have the system with the latest security patches.
sudo apt update
sudo apt upgrade
Next, add the AnyDesk repository key to the system.
wget -qO - https://keys.anydesk.com/repos/DEB-GPG-KEY | sudo apt-key add -
OK
Now you can add the repository to the system. This repository is compatible with Ubuntu 20.04 and 18.04 so the installation works on both systems and derivatives like Linux Mint.
echo "deb http://deb.anydesk.com/ all main" | sudo tee /etc/apt/sources.list.d/anydesk-stable.list
Refresh APT to make packages from the new repository available.
sudo apt update
Now install AnyDesk by running
sudo apt install anydesk
When finished, you can run it from the main menu or with the command
anydesk
The AnyDesk interface
The operation of the program is very simple, when we run it, it assigns us an identifier number that we have to give to the client.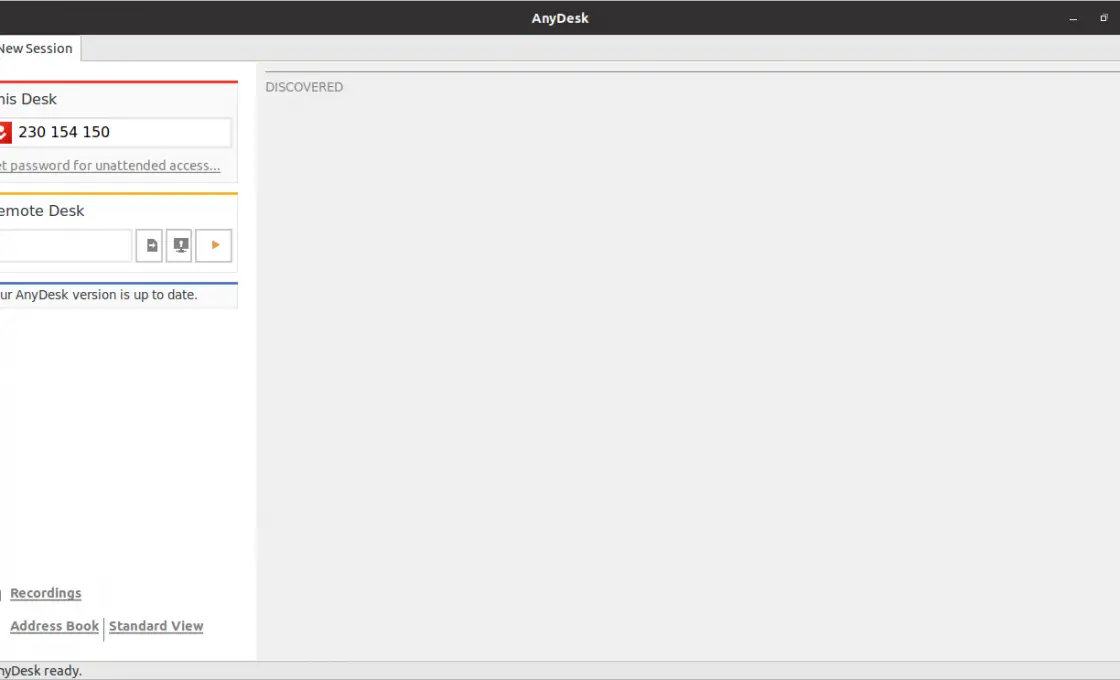 Another thing you can check are the options of the application where you can modify everything. Image quality, security and other preferences.
Uninstall AnyDesk on Ubuntu 20.04
If you no longer want to use AnyDesk, you can uninstall it using the terminal.
To do so, just run
sudo apt autoremove anydesk
And also, you can remove the repository that you have added.
sudo rm /etc/apt/sources.list.d/anydesk-stable.list
Next, refresh APT
sudo apt update
Now you won't have any problems and AnyDesk has been removed from the system along with its repository.
Conclusion
AnyDesk is important in many situations where we have to manage a computer that we are not physically close to. It is therefore useful in a lot of current situations such as technical support or working from home.
As you have been able to notice, the installation process is simple and within everyone's reach and this is a merit of the AnyDesk development team.