Although the catalog of games for Linux is not yet equal to that of Windows in quantity, there are indeed many available. One of the best is 0AD and today you will learn how to install it on Ubuntu 20.04.
What is 0AD about?
0AD is an open-source and totally free real strategy game (RTS) that is similar to the legendary Age of Empires. Although it is an alpha, the reality is that it is perfectly playable both single and multiplayer.
In 0AD you are the leader of an ancient civilization, you must gather the resources you need to raise a military force and dominate your enemies.
0AD is completely downloadable at no cost and always will be. No "freemium" model, no in-game advertising, no catch. This is our iron-clad guarantee. Although you might find some people selling copies of 0 A.D. on physical media, remember, you will always have the option to download 0AD totally free on the internet, directly from the developers.
One of the best things about 0AD is that it is a community project and open source. This shows that many open source projects can be of equal or equal quality to proprietary software. This means that the graphics, sound, and gameplay are so good that it even looks like a paid game.
So let's install it.
Install 0AD on Ubuntu 20.04
As it is a game with a lot of technological implications and can be said to be a flagship of open source software, the developers have provided a lot of support for Linux. This translates into several ways in which we can install 0AD on Ubuntu 20.04
So we recommend you only use one of these methods.
Install 0AD via APT
0AD is present in the official Ubuntu 20.04 repositories so to install and play it just run this pair of commands in a terminal.
sudo apt update
sudo apt install 0ad
Then it will start downloading all the necessary packages. Although the game is quite complete and has very good graphics, it's not too heavy so it shouldn't take too long.
After the process is finished, you can run it from the main menu.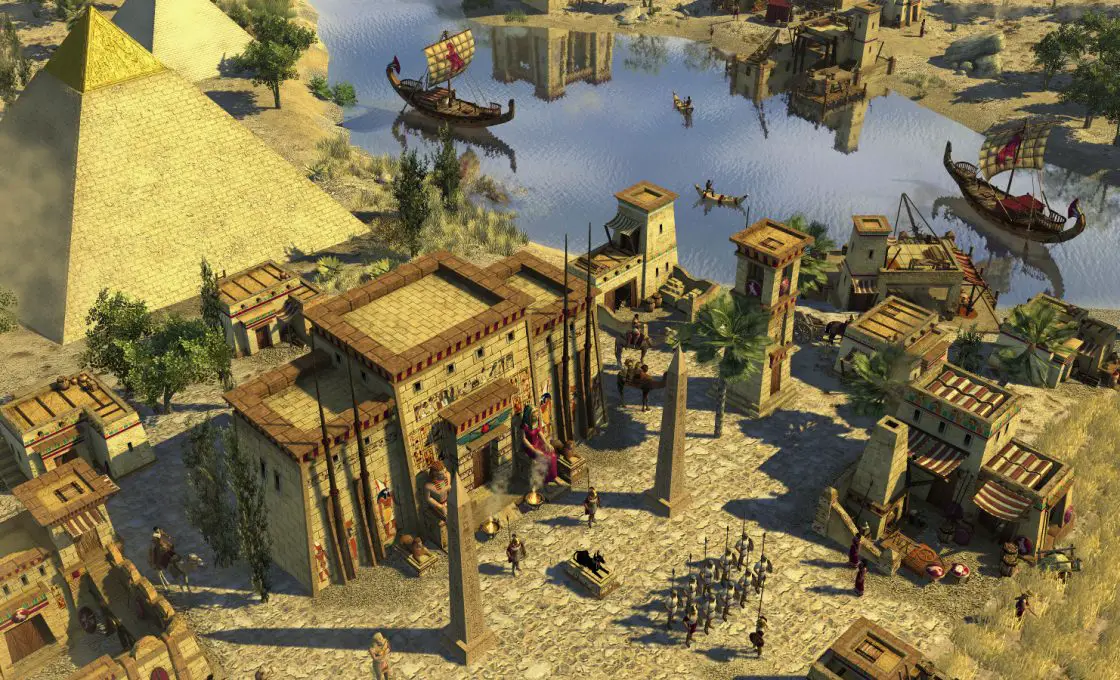 Install 0AD on Ubuntu 20.04 using the Software Center
The previous method, although practically infallible, has a big problem and that is that it doesn't provide us with the latest version of the game. This is fundamental because we are talking about a game that is in the alpha phase, so each new version is full of improvements and bug fixes.
As it could not be otherwise, 0AD is also present in the Ubuntu software center which is one of the most important shops that exist.
So, open it from the main menu, and when you open it in the search engine type 0AD.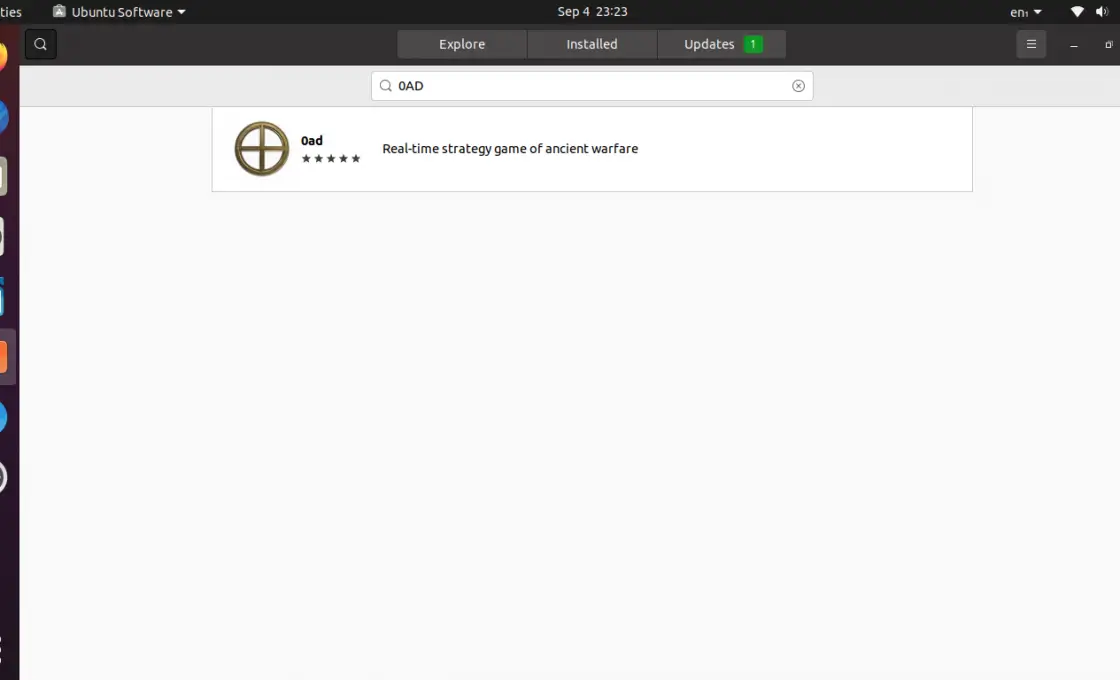 A few results will appear, where you will have to choose the first one that refers to the game.
When you open it you will see a screen where you will see the game information and the green Install button. Click on it to start the installation without problems.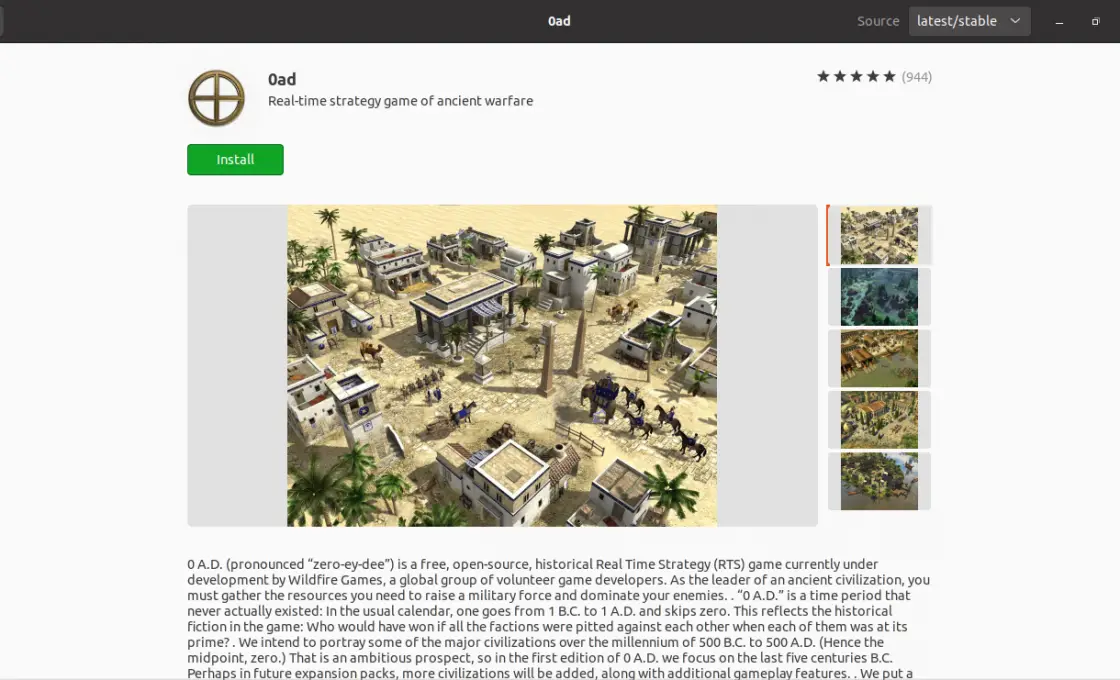 When finished, you will be able to run the game from the main menu.
This method is easy even for beginners but unlike the previous one, here you will be able to install the latest version available.
Install 0AD using the snap command
The third method is to use the snap command. This command is to handle the snap packaging technology that is Ubuntu.
sudo snap install 0ad
As in the previous method, in this method, you can have the latest version of the game available.
Removing 0AD
If you no longer wish to play the game and want to remove it from the system, then the procedure will vary according to the installation method.
If you installed 0AD using the official Ubuntu repository, then all you have to do is run the following command
sudo apt remove 0ad
After entering the password, the uninstallation process will start.
In case you installed it using the Ubuntu Software Center, then open it again and search again for 0AD.
When you are shown the search result, click on the package that refers to the game.
Then click on the Remove button that will be present.
Finally, if you installed it using the snap command, then remove it from the system by running
sudo snap remove 0ad
This way, there will no longer be any trace of the game on the system.
Conclusion
0AD is a great project that leaves us with a completely free open-source RTS. If you like this genre, then you will love it a lot. Installing it on Ubuntu 20.04 as we have seen is a no-brainer. I hope you enjoyed the post and the game.
So, share this post and leave us a comment.