Thunderbird is one of the best and most classic email clients for Linux. However, there are also concrete alternatives that want to make a place for themselves in all this. So today we will show you a solid, professional, and attractive alternative.
Today you will learn how to install Mailspring on Ubuntu 20.04
MailSpring for Ubuntu
Mailspring is a desktop email client with modern features like a unified inbox, snoozing, reminders, templates, offline search, and support for Gmail labels. It even has built-in "dark" and "ubuntu" themes so you can style it to match your desktop. Move to Mailspring and breathe life back into your tired inbox!
Mailspring features:
Multiple accounts (IMAP & Office 365)

Touch and gesture support

Advanced shortcuts

Lightning-fast search

Undo send

Themes and layouts (including dark mode)

Localized into 9 languages
Another important aspect of the application is that it has versions for Windows and macOS as well. So if you have already used it on these systems, you will feel at home.
The application also has a paid version with many more features that make it ideal for professional environments.
Install Mailspring on Ubuntu 20.04
Mailspring is a third party application that has nothing to do with Ubuntu. Therefore, it is not in the main distribution repositories. Although this does not hinder the installation process.
Method 1: Install Mailspring on Ubuntu with the DEB package
The first method we suggest is to use the DEB package provided by the Mailspring website.
To do this, download the package from the following link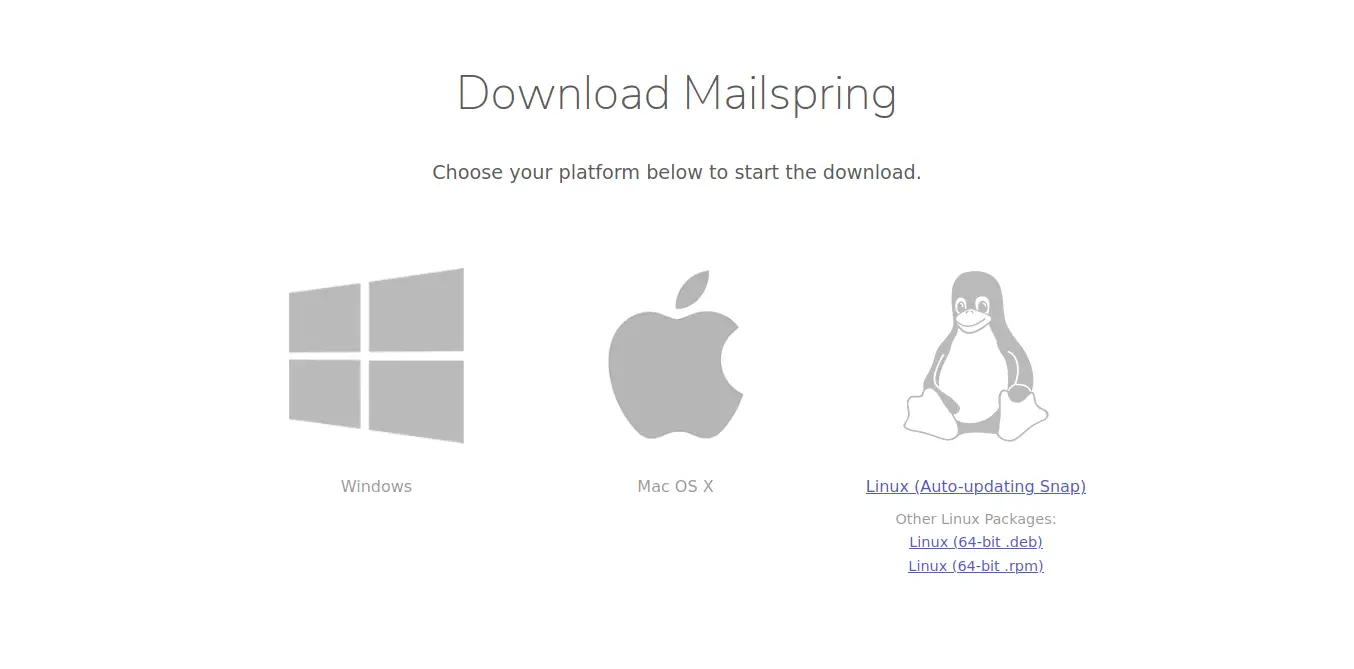 When the installation is complete, you can open a terminal and navigate to the folder where the download was made. In my case, it's in the Downloads folder.
cd Downloads/
Now install it with the help of the APT command.
sudo apt install ./mailspring-1.7.8-amd64.deb
Important: The name of the package will change as the version of the application changes. You only have to change it.
Then you can run it from the main menu.
Method 2: Mailspring is available from the Ubuntu Software Center
An even easier alternative to the first method is to use the Ubuntu Software Center.
The Ubuntu Software Center is one of the most complete application shops in all of Linux. And Mailspring is also included so you can install it with just a few clicks.
So, open it from the Ubuntu main menu and search for Mailspring in the search engine.
Then, select the best result which in this case is the first one.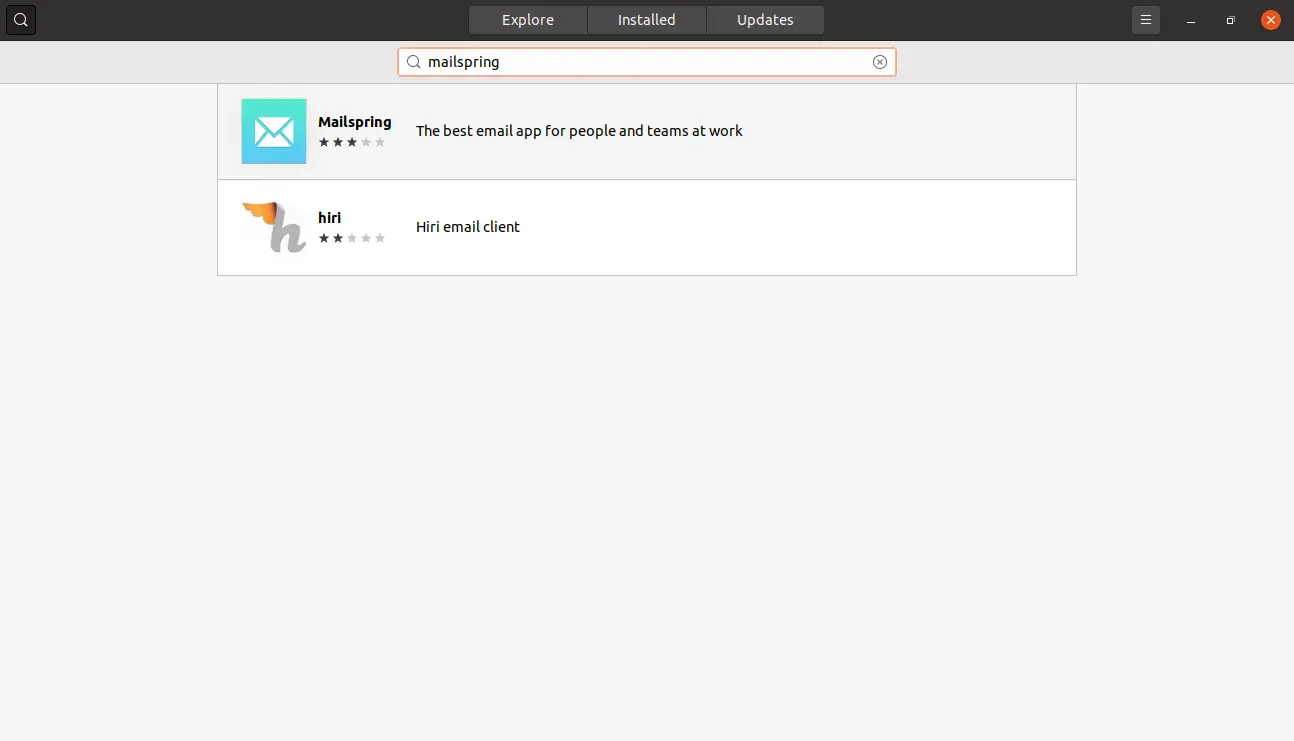 When you click on the result, you will see a lot of information about Mailspring and to install it you just have to click on the Install button.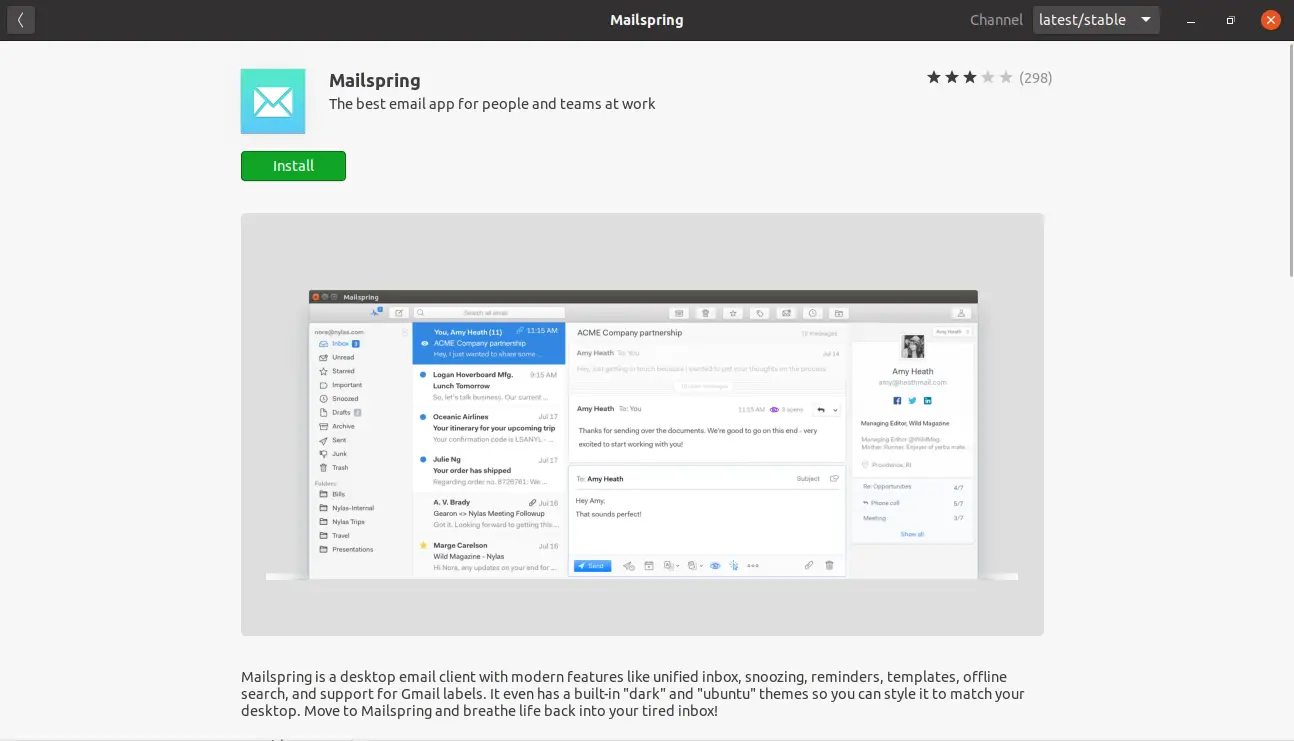 Likewise, after introducing the user's password, the download and installation will start. Then you can search the launcher from the main menu.
Method 3: The Snap command is also an easy method to install Mailspring on Ubuntu
There is a third method that is still easier than the other two and this is thanks to the Snap command. Snap is the command that manages Canonical's snap technology.
So, open a new terminal and run it:
sudo snap install mailspring
And so you will have Mailspring ready to run from the main menu.
How to use Mailspring
Now that Mailspring is installed, you can open it from the Ubuntu main menu.
You will see the welcome screen where you will be welcomed to Mailspring.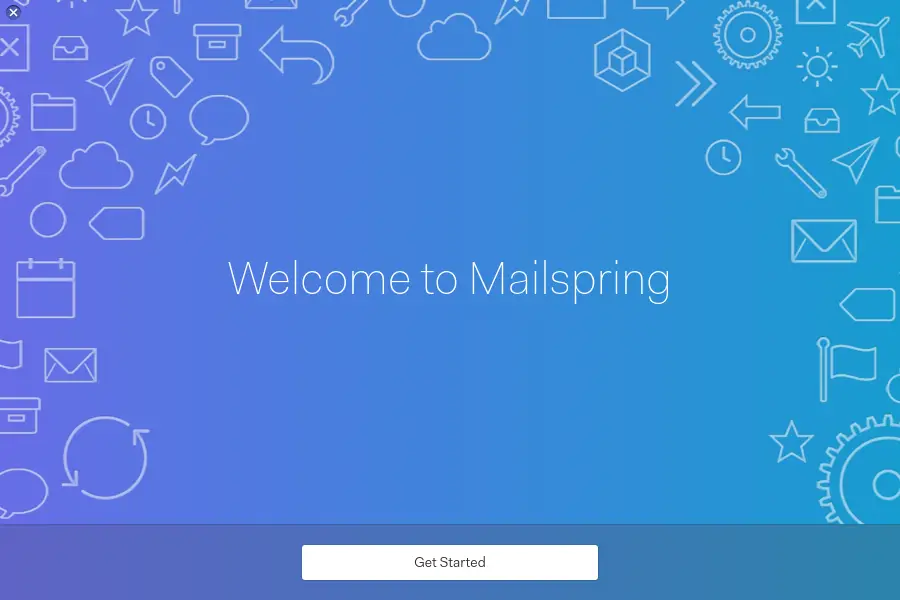 Then, the wizard will show a series of slides with the main features of the application. We could say that it is a kind of tour.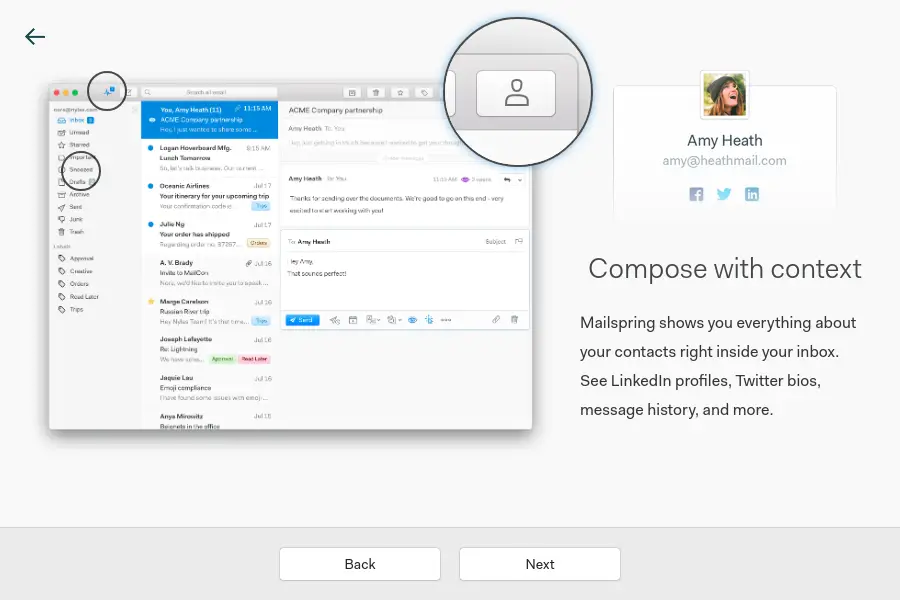 Mailspring requires its account to be used. So on the next screen after the tour, you can log in with your Mailspring account or create one.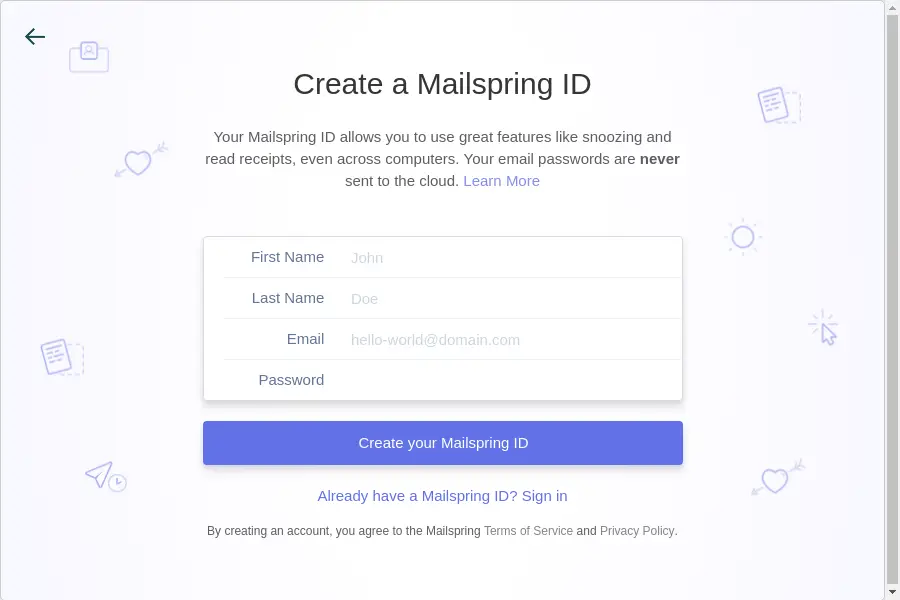 Then you can add an Email account. There are several options, so choose your provider.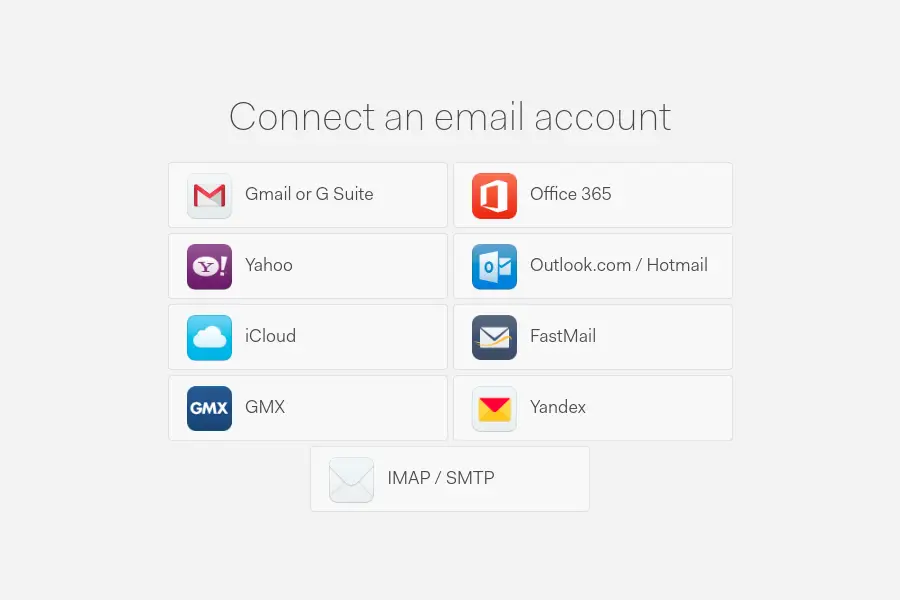 After that, you can configure the layout of the panels in Mailspring.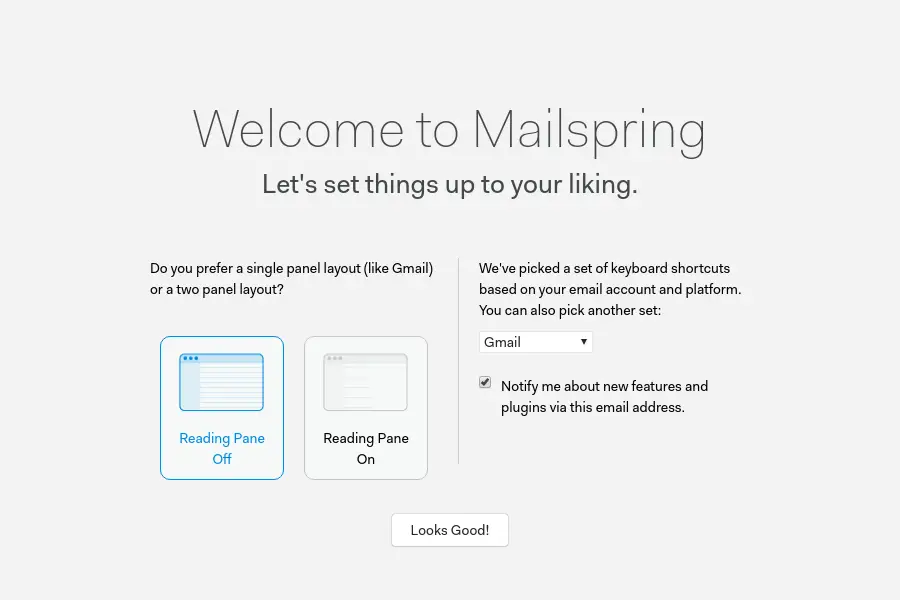 Finally, you will see the main screen of the application and your email.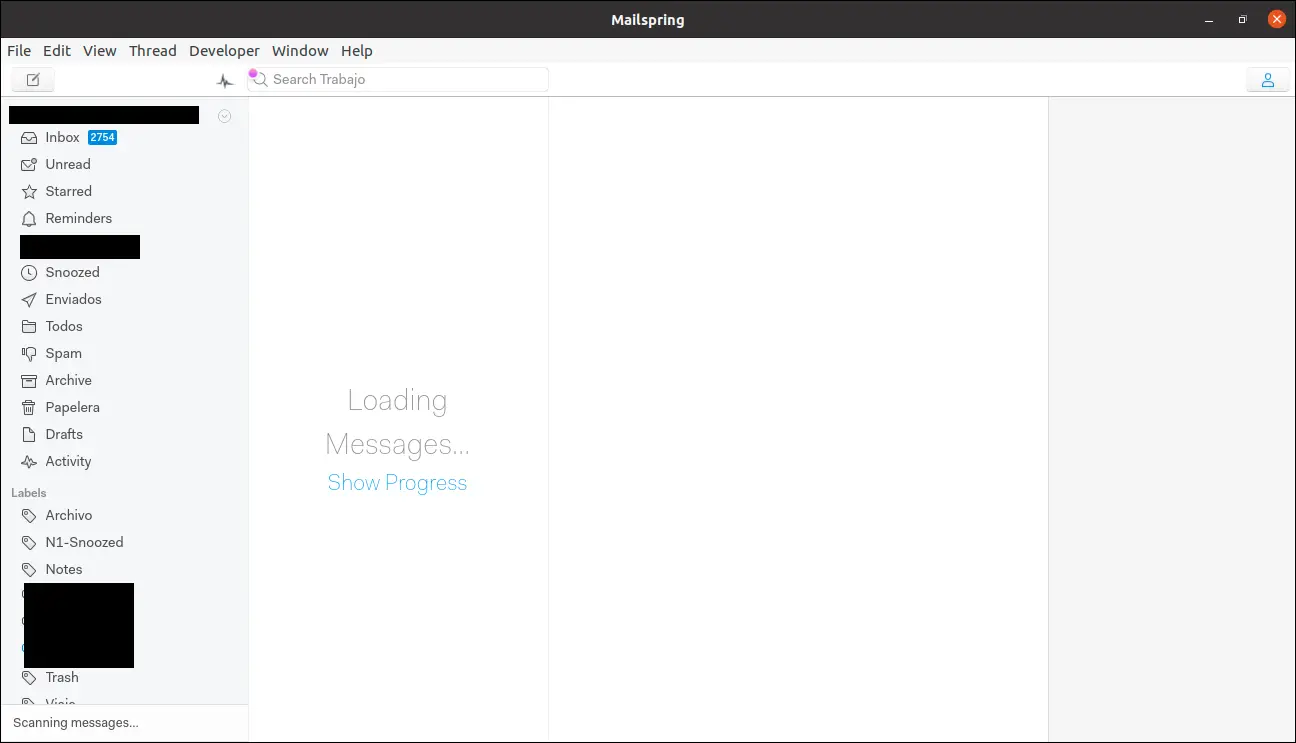 Just below the File menu, there is the button to create a new email. The use is quite simple.
Remove Mailspring on Ubuntu 20.04
Removing Mailspring on Ubuntu is quite simple and will depend on the method you have chosen.
If you used method 1, open a terminal and run:
sudo apt autoremove mailspring
Enter the user's password and the uninstallation will begin.
If you have used either method 2 or method 3 just open the terminal, and run:
sudo snap remove mailspring
As you can see it's nothing that can't be solved in a few seconds.
Conclusion
Mailspring wants to succeed as a modern application that brings our email to the Ubuntu desktop. It faces the well-known Thunderbird but its features and graphical interface indeed make it very attractive.
Tell us about yourself, have you used Mailspring? do you like it? or do you simply continue with Thunderbird? Leave us a comment and share our post.
Thank you for reading.