Image by storyset on Freepik
Privacy on the web is practically violated in every way. However, from the open-source community, there are solutions that help mitigate these effects. Today you will learn how to install Waterfox, a web browser based on Firefox with a special focus on privacy and the user.
Waterfox is an open source, cross-platform, Firefox-derived web browser that is focused on user privacy while using it.
What do you mean by privacy? Well, Watefox prevents trackers from following you around the internet and collecting data about your browsing habits. In addition to this, Watefox features Private Browsing, which, it does not save your browsing data, such as history or cookies, and does not leave a trail once you log out.
Moreover, Telemetry is disabled within the browser – and only limited data collection is used to keep your browser up to date and secure.
Being a Firefox derivative, you can be sure to use a modern web browser compatible with current technologies. You can also use the thousands of extensions available or synchronize your browsing data.
In short, The browser is all about balance of privacy and usability. This balance allows the user to enjoy comfortable web browsing without too much hassle, while still having a layer of protection.
Install Waterfox on Ubuntu
Despite being an open-source project and derived from Firefox, it is not present in the official repositories of the distribution. However, there are several methods you can explore to get it installed.
Method 1: Official method directly from the Waterfox website
Installation method 1, is the one considered official by the Waterfox developers. It consists in downloading a Linux compatible tarball.
This method should also work on other similar distributions, since it is a Linux binary in general.
So, visit the download section of Waterfox and download the file for Linux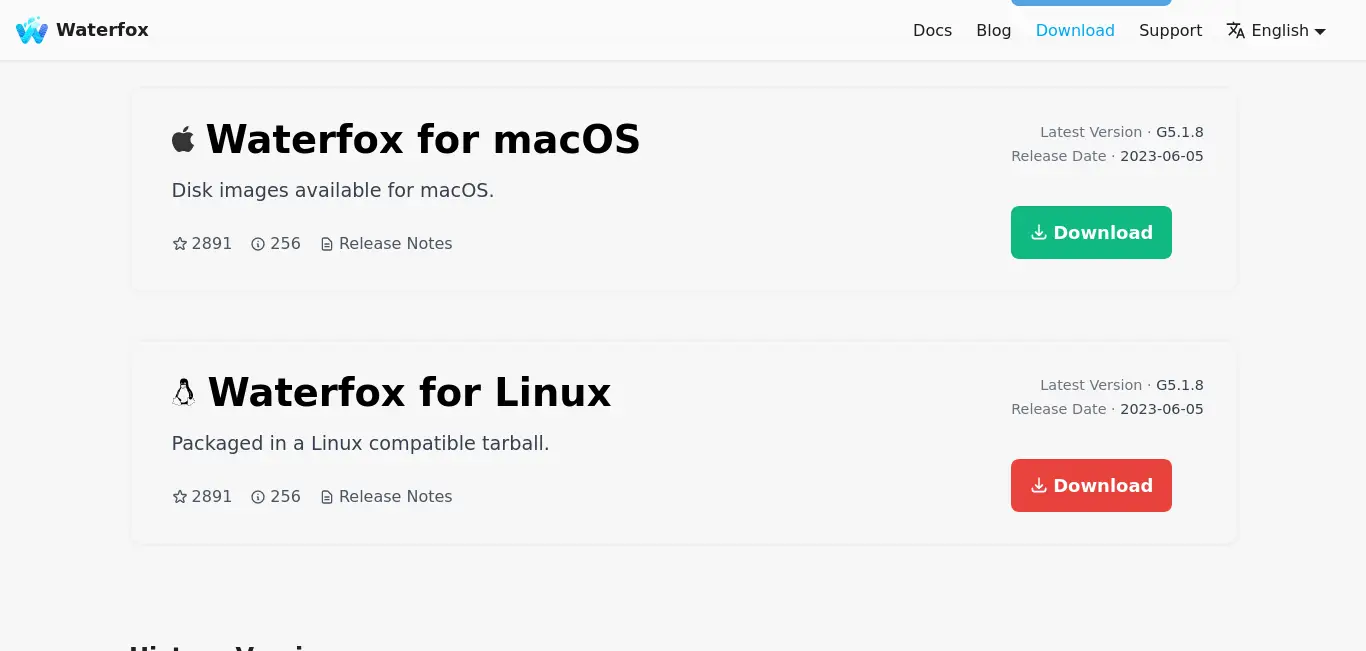 As soon as you click on the file, it will start the whole download process. When it finishes, you can extract it using the Ubuntu file browser.
Inside the generated folder, you will see a file called waterfox that you will have to run by double-clicking on it.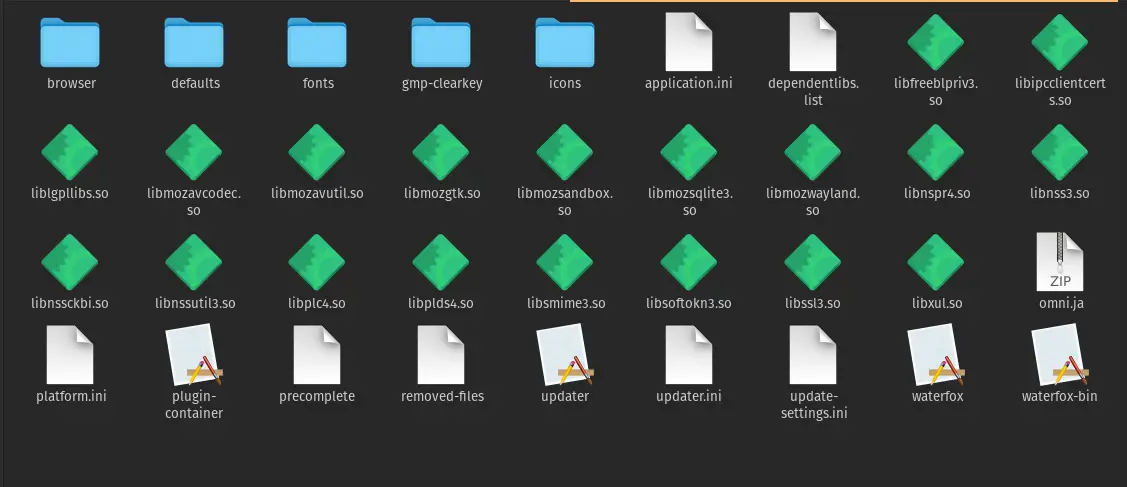 There it will start Waterfox.
Method 2: Using Flatpak to install Waterfox
If you rely more on Flatpak packages, then Waterfox also has one. So, first you have to install Flatpak.
In the case of Linux Mint, there is not much to do, since it is already installed and configured by default.
However, in the case of Ubuntu, you will have to install it and set it up.
First, open a terminal and update the system.
sudo apt update
sudo apt upgrade
Now add the Flatpak repository to get a recent version
sudo add-apt-repository ppa:flatpak/stable
Refresh APT
sudo apt update
Finally, you can install Flatpak using the following command:
sudo apt install flatpak
Then, add the Flathub repository which is where the Waterfox package is hosted
flatpak remote-add --if-not-exists flathub https://flathub.org/repo/flathub.flatpakrepo
Now install Waterfox
flatpak install flathub net.waterfox.waterfox
You can also run it from the main menu or by running
flatpak run net.waterfox.waterfox
Method 3: Adding an external repository to install Waterfox
This method is also considered as unofficial, but it integrates perfectly with the system, so I leave it to you anyway.
It involves adding an external community repository where the DEB package for Ubuntu is hosted.
First, install some necessary packages
sudo apt install apt-transport-https software-properties-common curl gnupg2
Next, add GPG key from the repository to the system
curl -fsSL https://download.opensuse.org/repositories/home:hawkeye116477:waterfox/xUbuntu_22.04/Release.key | gpg --dearmor | sudo tee /etc/apt/trusted.gpg.d/home_hawkeye116477_waterfox.gpg > /dev/null
Now the repository in question
echo 'deb http://download.opensuse.org/repositories/home:/hawkeye116477:/waterfox/xUbuntu_22.04/ /' | sudo tee /etc/apt/sources.list.d/home:hawkeye116477:waterfox.list
Refresh APT
sudo apt update
Finally, install Waterfox by running
sudo apt install waterfox-g-kpe
You will also be able to run it from the main menu when finished.
Waterfox at a glance
As soon as you run Waterfox you will see this interface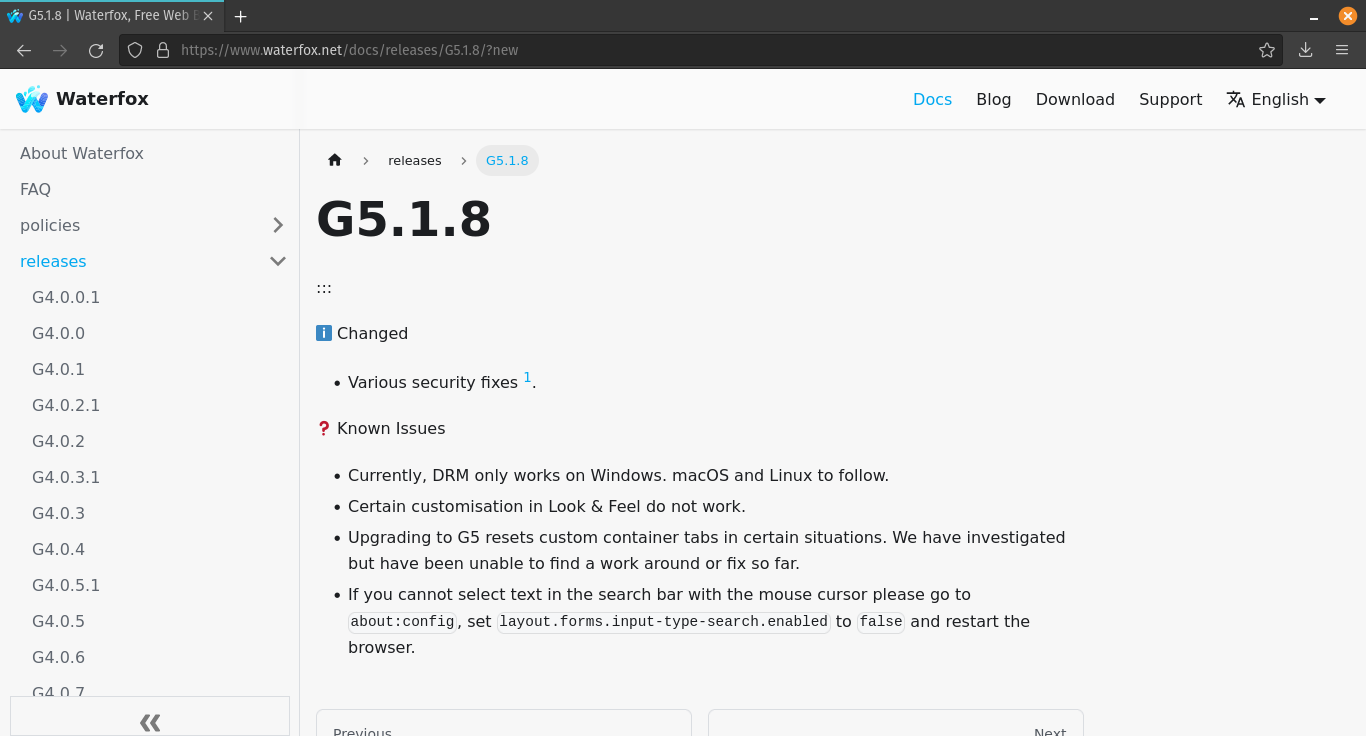 As you can see, the graphical interface is very similar to Firefox. From there you can start browsing or take a look at the extensions from the main menu.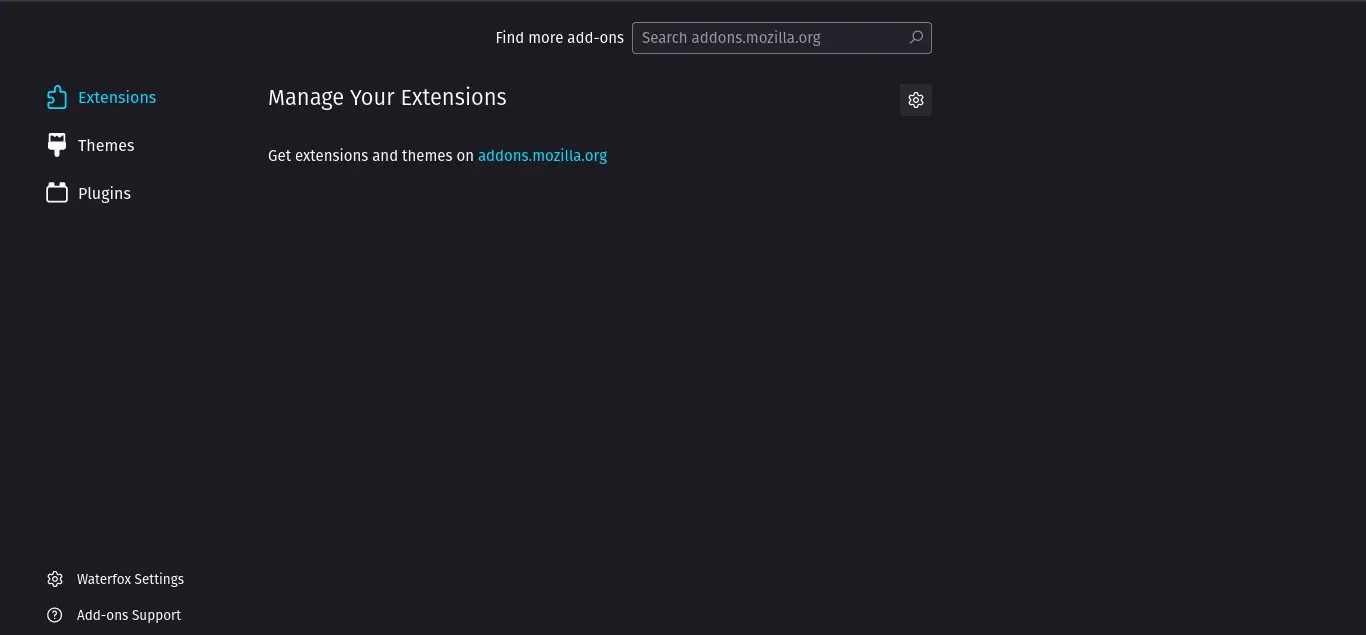 Another thing you can do, it is to access the options, so you can customize it.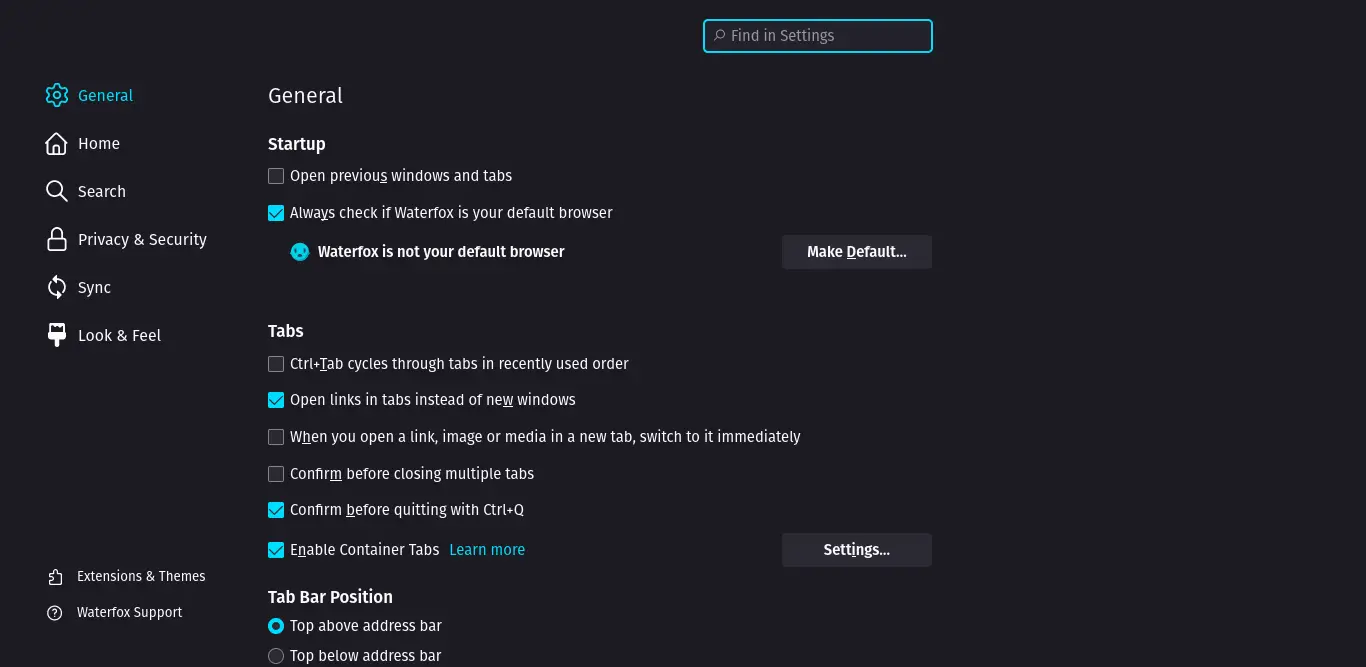 If you have a Firefox account, you can access your data and start the data synchronization. This can also be done from the main menu.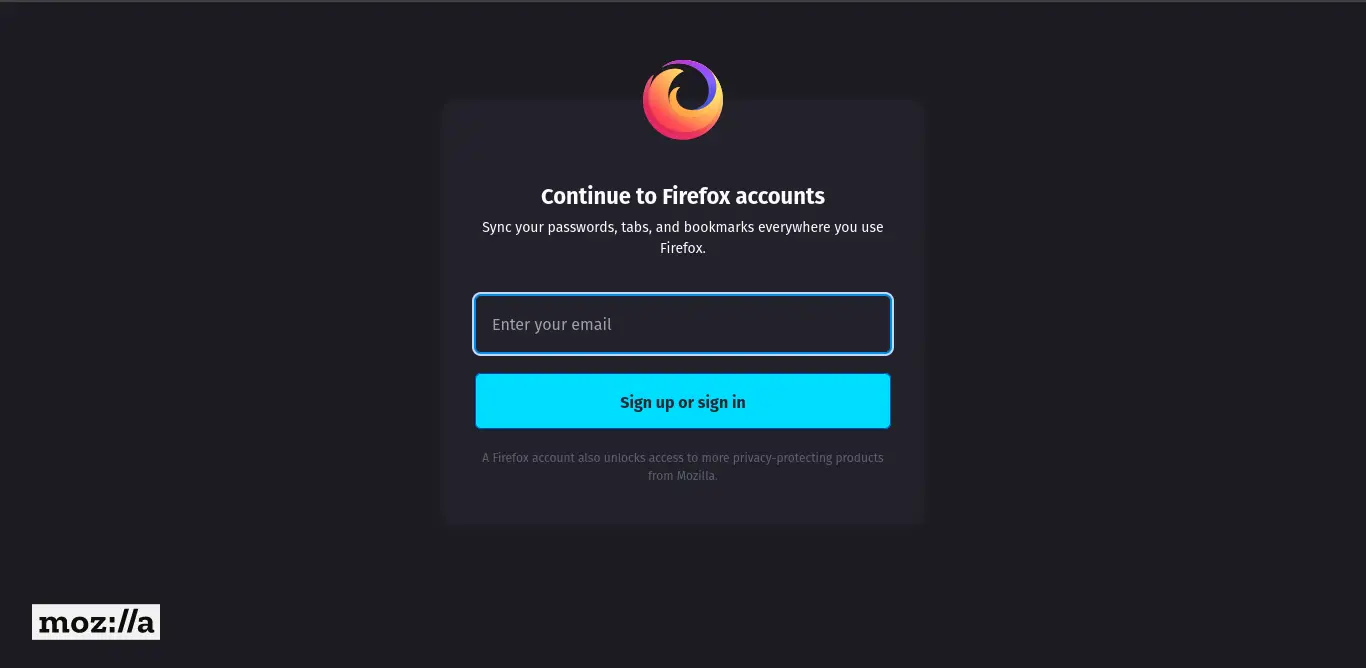 Uninstall WaterFox
If you would rather not use Waterfox anymore, you can remove it from your system to save disk space.
If you installed it using method 1, all you have to do is remove the downloaded package. This can be done using the file browser or from the console.
For the Flatpak package, you just need to run
flatpak uninstall net.waterfox.waterfox
Finally, for the last method, you have to follow these steps, remove the Waterfox package, then GPG key, the repository, and refresh APT.
sudo apt remove waterfox-g4-kpe fonts-lyx ffmpeg -y
sudo rm /etc/apt/trusted.gpg.d/home_hawkeye116477_waterfox.gpg
sudo rm /etc/apt/sources.list.d/home:hawkeye116477:waterfox.list
sudo apt update
This way, it will no longer be on the system.
Conclusion
Waterfox emerges as a more private alternative to the classic Firefox and Chrome. Although with little market share, these options are welcome because they open the range for users concerned about their data.
I hope you liked this post and you can share it.