When Linux distributions started to appear, one of the main complaints was that not many programs were available. And not only that but the few that were did not work in the best way. Fortunately, this has changed and now there are many options to choose from. This is also the case for text editors, which have many fantastic ones. But which one to choose? Which one should I use? Well, in this post, we will tell you which are the 3 best text editors for Linux.
In Linux text editors are powerful
If you come from Windows you will know perfectly well that the text editing application is quite simple. In fact, so much so that the real usefulness of them has been rethought.
In Linux the opposite is true. From the beginning, the text editors have been conceived as tools that can also be used by a programmer or system administrator. That is to say that they have characteristics that can help the study of the text like, for example, the syntax highlighting.
Similarly, very advanced text editors have emerged that are used by programmers to develop their applications. And even many system administrators use it to elaborate task scripts or edit configuration files. So it is easy to say that in Linux text editors are powerful in features but also are very stable.
Text editors in the terminal?
Yes, in Linux there are not only text editors with graphic interface and thought in daily use. There are also editors that can be used in the terminal.
Certainly, these text editors are thought for other types of more advanced users. Also for the handling of Linux computers that do not have a graphic interface like the servers, but the fact is that to get out of a jam quickly they are useful.
Every Linux distribution installs by default some of these editors like Nano or Vi.
So, what are the 3 best text editors for Linux?
Before we start, I want to clarify two things:
These three text editors that we consider the best are not intended for use in the terminal.
If you install a Linux distribution like Ubuntu, Fedora, Linux Mint or OpenSUSE they already include a text editor according to the chosen desktop environment. It can be, Gedit, Xed or Kate. All of them do their job but we are looking for real Swiss army knives to make professional with Linux.
So let us get started.
text editor

for the 21st Century

Atom: A hackable

I start with an application that promises to be what we want it to be in terms of text editing.

Atom is a powerful text editor that stands out for its ability to customize. It is built with web technologies such as Node.js, CoffeeScript, JS, CSS, and HTML along with the power of C++. This makes it cross-platform and quite upgradeable.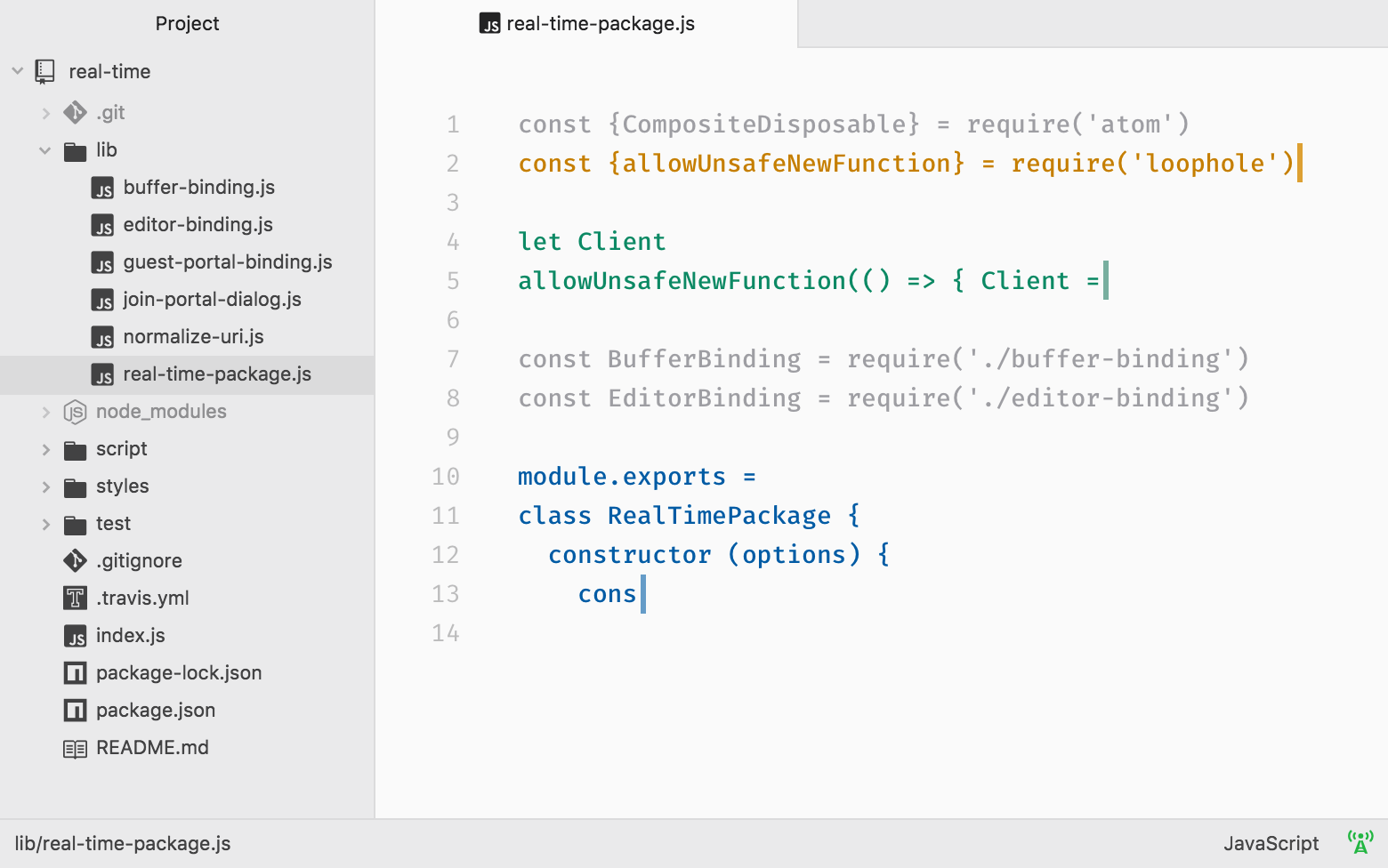 On the other hand, Atom is released under the MIT license which allows you to "hack" it without any licensing issues.
With Atom you can edit any kind of text, be it program source code, scripts or just plain text. It has support for syntax highlighting, searches, auto-completion and all with a modern graphical interface.
Some of the main features of Atom are:
It is possible to modify its user interface with CSS and the ability to add new features with HTML or Javascript.
Being a developer by the people of GIT, it achieves a perfect integration with the latter. If you are a developer you will appreciate it.
Easily browse and open a single file, a whole project, or multiple projects in one window.
To install it on Linux, you can download the DEB package if you use Debian, Ubuntu, Linux Mint and derivatives. Or the RPM package if you use Fedora, OpenSUSE or CentOS.
Also, it is also available as a Flatpak package found on Flathub.
Visual Code Studio
If 10 years ago we said that Microsoft was going to develop some application for Linux, it would have been an insult. Fortunately, all this has changed and Microsoft has decided to create a Linux version of Visual Code Studio.
Visual Code Studio is a powerful text editor that is used a lot by developers because of its large amount of available extensions. In addition to this, it has many advanced features such as having a terminal integrated into the editor.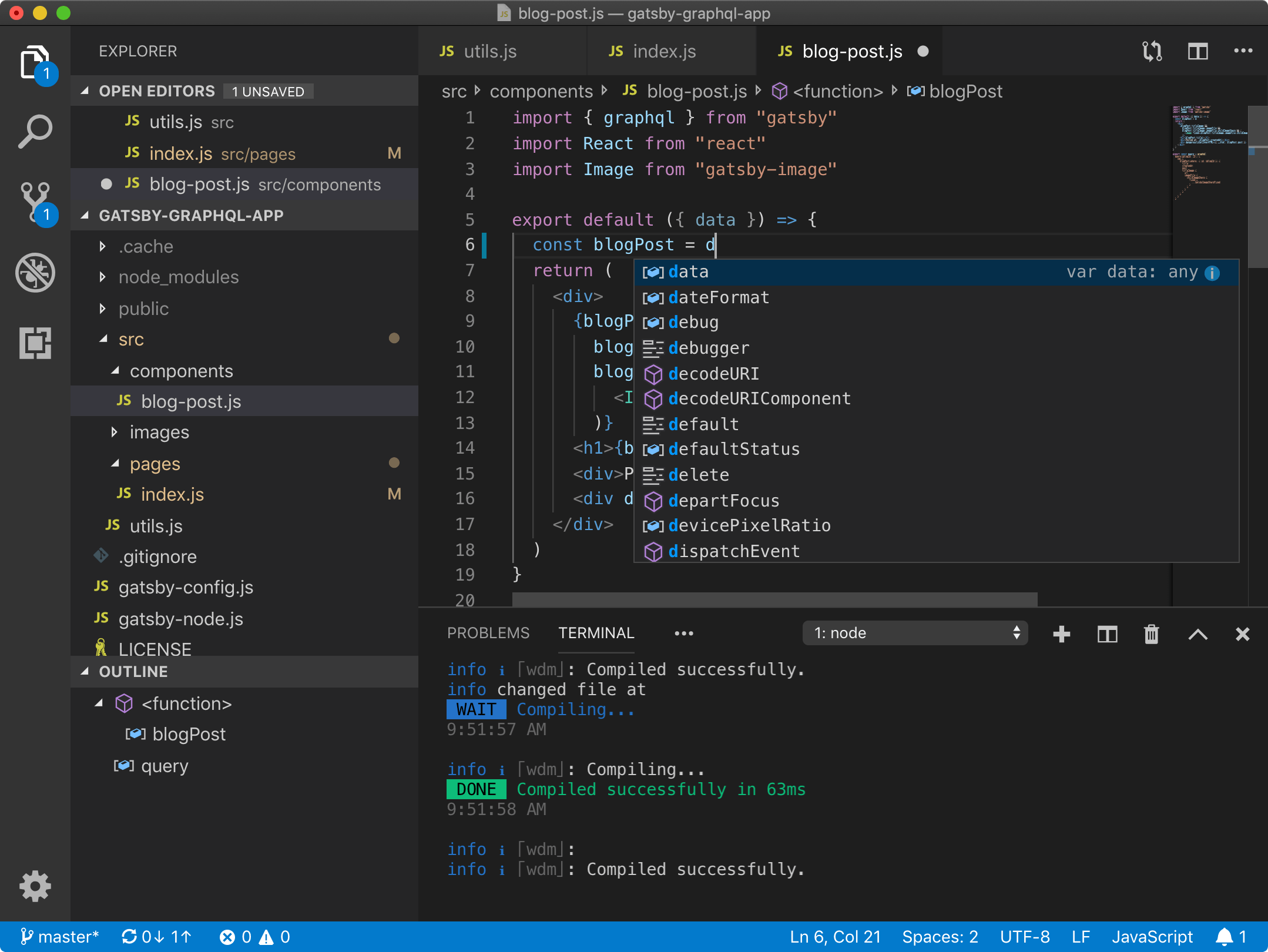 Moreover, the program is released under MIT license so you will not have problems examining the source code either.
Some of its main features are the following:
Syntax highlighting and autocomplete. This saves a lot of time when writing.
Integration with GIT allows you to update the source code and text using this program.
Built-in debugging support.
It is possible to install many extensions and thus improve the functionality of the program.
Debug code right from the editor.
To install it on Linux you can download the DEB and RPM packages, depending on your Linux distribution. Also, you can install it via Snap.
Geany
Atom and Visual Code Studio are both brutal applications. However, you may not need as much or you may want to have something like a lightweight IDE.
In order to be a lightweight text editor but with features similar to those of an IDE, Geany was born.
Geany is a veteran program within Linux that accomplishes its goal in the best possible way. Because without so many frills and features you can edit your texts and source code quickly.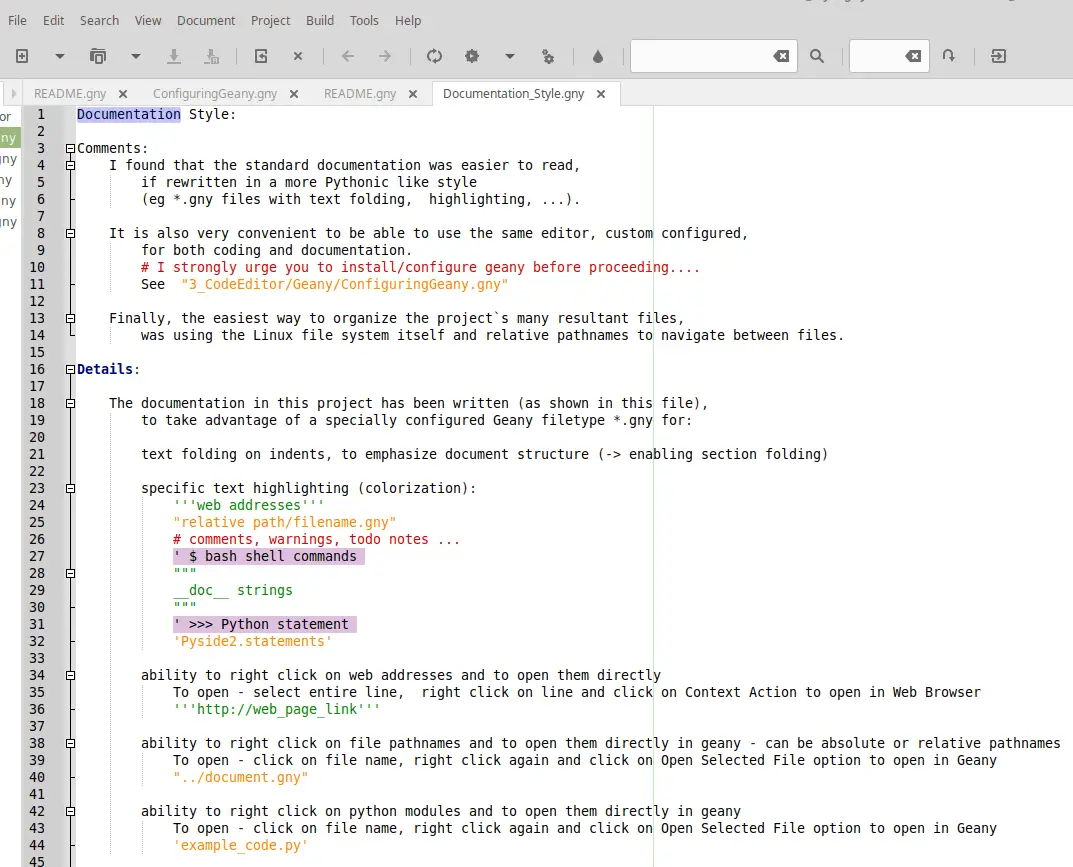 Available in almost all Linux distributions, Geany is a valid option to be a text editor for everyday use. It supports extensions and also features syntax highlighting, search and replacement.
Some of the features that make Geany a great application are:
Syntax highlighting
Code completion
Symbol lists
Embedded terminal emulation
Extensibility through plugins
As you see with Geany you have a text editor closer to being an IDE. This guarantees you solidity, stability, and functionality.
Geany is included in many official repositories, so you only need to use a command to install it:
For Debian, Ubuntu, Linux Mint and derivatives:
:~$ sudo apt install geany
If you use OpenSUSE:
:~$ sudo zypper in geany
On the other hand, if you use CentOS or Fedora:
:~$ sudo dnf install geany
In case you use Arch Linux or any of its derivatives such as Manjaro
:~$ sudo pacman -S geany
However, you can also install it via Flatpak.
Conclusion
By default, any Linux distribution includes a text editor. However, it may not always be enough.
During this post, you have seen that there is life beyond them and that there are applications to edit texts so professional that even programmers use it. That tells you about the power, stability, and features they have.
So today you have seen which are the best text editors for Linux. Which one do you choose?